THE HOLLYWOOD REPORTER | Oct. 21, 2003
By DEBORAH WILKER
If you want to blow up a bridge and score a tax incentive while you do it, Florida Gov. Jeb Bush is your man. An unabashed movie fan who hits his local multiplex nearly every weekend, Bush revels in his state's status as the third-most-active production hub (after California and New York) and in Miami's role as the global center of Latin entertainment.
But Bush is particularly a fan of the industry's high-paying jobs and its annual $1.16 billion infusion to the Florida economy. Whether facilitating "impossible" shots or luring studios with creative incentives, the governor is eager to get involved — directly.
Married for 28 years, Jeb and Columba Bush have three grown children: Jeb Jr., George and Noelle, the latter of whom has endured a long, often-public struggle with drug addiction. As with all politicians, Bush has his critics — something with which he is innately familiar as a son of former President George Bush and brother of chief of state George W. Bush — but, in general, Jeb is a well-liked governor.
Bush has been admired for keeping Florida's economy on track during tough times. Where other states have struggled, Florida's tourism, agriculture, real estate and import/export businesses have held steady. By the time his second term expires in 2007, Bush would like to see the interrelated film, TV and music industries included in that top group.
Still, the governor has taken heat — as have other state governments of late — for cutting funds for grass-roots arts programs, which ultimately feed the professional ranks. Pressing needs in education, health care, and vital state services left little choice.
But Bush is determined to show his support for the entertainment industry. He recently made a special stop in Tampa to check in on the cast and crew of Artisan's "The Punisher," which on that day was occupying a breathtaking stretch of Gulf of Mexico sand called Honeymoon Island, a stand-in for Puerto Rico.
During that beachside visit, Bush set aside time for an exclusive interview with Hollywood Reporter bureau chief Deborah Wilker, during which he discussed a range of industry topics:
The Hollywood Reporter: You seem to enjoy making the industry feel welcome.
Jeb Bush: I do. I was an active participant in organizing some of the shooting for (Sony's summer hit) "Bad Boys II." It required quite a lot of effort on our part to get the communities to go along with it: That showstopper chase scene basically shut down traffic for three days.
THR: That it did.
Bush: But it was worth it. It sent a pretty good signal, particularly in the case of Miami, that we were serious about doing what it took to make it a hospitable place.
THR: How important has the entertainment industry become to the state?
Bush: Tourism probably generates the most revenue, but we have a very diverse economy. The film industry is important because it generates high-wage jobs. Florida leads the nation in job growth, but my aspiration is that we constantly see rising personal income. These are just really good jobs, and we've developed a cadre of really talented indigenous folks who are all out there working right now. Also, it allows us to show off the state, in most cases in a very positive way.
THR: Beyond economic incentives, what do you do personally to let Hollywood know you're serious?
Bush: Cheerleading, I guess, is part of the job — but it's also using my office to tear down barriers, to make sure that some of these things that are going on in some of these movies get done. They're pretty extraordinary, if you think about it — and sometimes they defy one's imagination, and it requires a little bit of assistance to get these concepts approved. We do that regularly.
The other things that we can do relate to building more of an indigenous industry. We do pretty well in terms of the location business, but most often the postproduction work inevitably finds its way back to California or other places. The Latino (sector) of the entertainment business is now centered in Miami and has become that center from a global perspective — and that's where we're starting to see more of what I'm describing in terms of postproduction.
THR: What do you believe is the best strategy when competing for location business with other states and such Canadian cities as Toronto and Vancouver? There are obviously plenty of filmmakers who like to play Illinois against Louisiana, and so on, to get the best deal — and you can't always win at that game.
Bush: No, you can't. It's like any economic development: It's a competitive process, and that same process applies to everything ranging from automobile facilities to software companies. I phone a business a day to make a Florida case in all sorts of different industries. We do better with the motion picture business, but it is hard to compete with Canada when the (dollar is low) and they're offering a tax credit of 25% — that's an incredible incentive. California faces the same problem. So if it's just dollars and cents, we're not going to get every one of them. But some (projects) are site-specific, obviously; we're apparently sitting here in Puerto Rico right now. (Laughs)
THR: Let's switch gears for a moment. You must have some thoughts about what is going on politically in California; the world isn't laughing at Florida, for once.
Bush: (Laughs) That's why I'm laughing. Actually, I feel badly for California, having gone through a minor version of what they're going through.
THR: Can entertainers become effective politicians?
Bush: Yes, if they've got a plan and they explain it. Being a famous person, a celebrity — whether you're an entertainer or in some other field — gets you in the door, but you've got to be able to make the case. President Reagan did a pretty good job as (California) governor and president, and other (celebrities) have as well. But some have failed; they may have taken their celebrity too seriously and not the servant nature of the job.
THR: Tell me about your favorite movies and TV shows.
Bush: My favorite show growing up was "Bonanza" — not because of the show, but because I just have really fond family memories. We'd all put on our pajamas. . . This is just us little guys, other than the president — he was older, and he's not included in this. But (with) my two brothers and sister, we would watch "Bonanza" and "The Wonderful World of Disney" on my parents' bed. It made a lasting impression on my life.
THR: And movies?
Bush: I like a lot of movies. My wife and I typically go once a week.
THR: Do you go to whatever opens big, or do you stay off the beaten path?
Bush: We do both. We saw (Buena Vista's) "Open Range" the other day; it was a little long, but Robert Duvall would be one of those actors I love — he's incredible. And I thought (Universal's) "Seabiscuit" was fantastic.
THR: You go to the "real movies" in the neighborhood — you don't watch at home?
Bush: I don't think watching at home compares; we go to the big screen. To me, personally, it's my own world: The lights go off; no one bugs you; there's good popcorn and a Diet Coke — sign me up.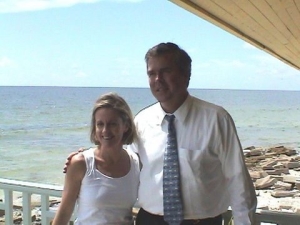 THR: Are you saying we might run into you at the Tallahassee 12?
Bush: It's the Tallahassee 20, actually. I spend about half my time on the weekends in Miami, and we're a quarter of a mile from an AMC theater there.
THR: How do you think the industry has been handling the never-ending balancing act among enforcing rating systems, protecting free speech and watching out for children? By that, I mean music, movies and television.
Bush: I think, generally, they do a pretty good job. So long as there's enough information for parents to be informed, it's really parental responsibility. The music industry has probably been less helpful; there's no rating system in music, that I'm aware of.
THR: But certain CDs carry parental advisory stickers, for what they're worth.
Bush: Yes, but the kids aren't getting carded; they can still buy the R-rated equivalent music, and there's no consequence for doing it, as I understand, right? But the good news is, if you look at the major movies and what people really go to see, they typically find the great stories — and (Buena Vista's) "Finding Nemo" is a perfect example. There is something to be said for people voting with their pocketbooks.
THR: Let's talk about Cuba and the passion it evokes in Miami, particularly when it comes to Cuban musicians appearing onstage during awards shows. Do you believe that some of the constant debate and protesting simply are a way for certain factions to seize a media opportunity, or is there genuine fear that all Cuban musicians are out to sing the praises of Fidel Castro?
Bush: Passions are high because inside Cuba, people die for dissent, or their families are separated for a generation. All those things bring passions out. What would be worse is if there was no passion at all; we should admire it and admire political expression.
THR: You disagreed openly with the president recently — which is rare for you — when you challenged him about a group of Cubans who were intercepted (while trying to immigrate to the United States) and sent back. I know you don't often disagree with him.
Bush: No, I don't — but this a complicated process. There needs to be a balance: We don't want to have mass exodus from any country that would have a disproportionate impact on South Florida or the state. At the same time, there needs to be recognition that if you express your disagreement with the Castro regime, you can go the slammer for 20 years — and that's changed for the worse in the last year. In my opinion, the regime is desperate, and they're cracking down on dissent. This is the time for us to be maintaining that balance but be sensitive to that. The web of connections between Florida and Cuba is so extensive; I think, as governor, it would be negligent on my part not to be concerned about it.
THR: Have you and your brother spoken further about that subject?
Bush: I spoke to him briefly about it; he actually shares my views on this, in a lot of ways. So it was a minor disagreement, in the whole scheme of things — trust me.