PRIME MAGAZINE | Nov. 22, 2015
By DEBORAH WILKER
It had already been a busy couple of years when Peter Frampton got back on the road last month for an all-new tour — his first-ever run of acoustic shows. The dates came after a summer on tour with Cheap Trick, a stop at the Dear Jerry tribute concert to Jerry Garcia, a visit to the Grand Ole Opry and his well-received Guitar Circus tours with legends such as the late B.B. King.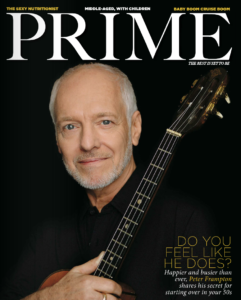 Now 65, the writer of hits such as Show Me The Way, Baby, I Love Your Way and the epic jam Do You Feel Like We Do, maintains a relentless touring schedule, even more demanding than the itineraries of his Frampton Comes Alive! days of the mid 1970s.
"Yes, I have been called relentless," Frampton says, laughing at himself. "I'm still wanting to be out there as much as possible."
That Frampton has such varied options at this stage in life — and after much turmoil — is a source of great joy and relief for him.
"You learn from the downfalls," he says. "You learn from the fork in the road. You took the wrong fork for a while. And sometimes it's your fault and sometimes it's not. But no matter what you do for your living, we have ups and downs and it's how we deal with them."
That fork of course was the chaos that followed his boundless 1976 double set, Frampton Comes Alive! — a perfect moment in rock history that became what was then the best-selling live album of all time.
But before the record even had a chance to cool, his career was unraveling. The bare-chested photos, the hurried follow-up, bad movie and other poor decisions are well chronicled.
His credibility evaporated overnight.
"I've just had this survival instinct that as many times as I've been knocked down, through mistakes of my own I'll be very honest — I dust myself off, I get back up. It might take me a couple of months. I just get my hat on again and I keep going."
FRAMPTON'S CAREER had mostly been a charmed rocket ride in its first 10 years, beginning with stints fronting The Herd and Humble Pie as a teenager in England during the 1960s. At barely 20 years old, his guitar skills were so well defined that George Harrison asked him to sit in on his landmark solo set All Things Must Pass. 
"I felt I had always had that industry respect — until the post-Comes Alive onslaught of magazine covers with my clothes off," he says. "And gradually, by allowing all that, I had turned myself into this sex symbol pop star, as opposed to a musician."
In an interview with PRIME magazine from his Nashville home last month, Frampton recounted years of stalled comebacks and the relentless optimism that finally put him back on track.
That this turn-around took hold while he was in his mid-50s seems all the more inspiring.
What advice does he have for the rest of us who may feel stalled at mid-life, unfulfilled by careers gone awry or just plain due for a change? Keep an open mind, he says. Passion plays a huge role too.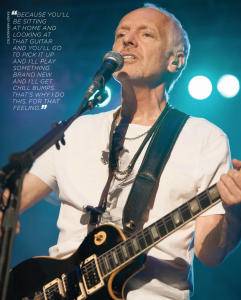 "Everybody's different, obviously. But I believe in what I do. I think it's the passion that I have for the music that always in those instances — just when you're saying that's it, I've given up, I can't do this anymore — the passion reinvents itself.
"Because you'll be sitting at home and looking at that guitar and you'll go to pick it up and I'll play something brand new and I'll get chill bumps. That's why I do this, for that feeling."
FRAMPTON's early cracks at rebuilding had some interesting moments. Despite the critical success of his 1986 album Premonition, he was at that point relegated to opening-act status on the road, warming the stage for headliner Stevie Nicks.
Just years earlier it was Nicks and her band Fleetwood Mac who had opened for Frampton. The acts went neck-and-neck for a while, but now the Mac's superstar front-woman had so fully eclipsed him – with not one, but two dazzling careers of her own — it was a humbling juxtaposition. Frampton remained undeterred, mind open, grateful for the opportunity.
A year later he fielded an offer from childhood friend David Bowie, with whom he had jammed in the school stairwells while the two were growing up in South London.
The man who had once held giant stadiums rapt on his own wouldn't even be playing his own material this time. Rather, he was joining Bowie's band as lead guitarist on his Glass Spider stadium tour.
To be viewed again simply as a musician, he says, was enough.
He was then, as he is now, philosophical about the reversals that can hit anyone — and the attitude required to push through.
"Things change. Whether you like it or not, you have to accept it," he says. "David introducing me as the guitarist was the greatest gift anyone could give me at that point in my career, and I'll never forget it."
While there were well-received club shows and more albums, there were other setbacks through the '90s, including the death of his Humble Pie bandmate Steve Marriott in a house fire, just as the two were reuniting.
In 1998, Frampton aligned with a new management team and slowly a new career evolved. Fans point to a surprise 2006 appearance with the Allman Brothers Band during one of their storied Beacon Theater runs, as a turning point. While his presence at the hard-core jam show momentarily threw a few fans, his fiery work on the band's barnburner, Southbound, quickly quieted non-believers.
Months later he would appear on the prestige PBS concert series Soundstage, and then pick up a first-ever Grammy for his instrumental album Fingerprints.
The momentum continued as the social media era dawned. His homespun posts about family life with his son and daughters, his cherished guitars, life in the studio and on the road — and owning a catalogue that really holds up — have endeared him to millions of fans old and new.
"What Fingerprints did was solidify respect for me from peers as a musician again, and that was an amazing feeling. It was really a stepping-off point for where we are today.
"It started with me becoming sober 12 years ago and I have relished every moment since," Frampton says. "It was a wonderful change in my life and I am so thankful for that."
When his favorite custom Les Paul guitar — thought to be lost in a 1980 plane crash — was miraculously returned to him in 2011, he told CBS News, "If you think about it, my career started to ebb and the guitar went away. Things have been going remarkably well over the last few years, and I get my guitar back. It's almost like the guitar said, 'OK, you're worthy again.' "
JUST AHEAD, another first: He'll headline the Rock Legends Cruise IV, with Gregg Allman and Randy Bachman, sailing from Fort Lauderdale on Jan. 21. After that he'll be back on the road this winter with more acoustic dates, featuring bare versions of his classic hits that will also have an accompanying album. His son, singer-songwriter Julian Frampton, tours with him, making the shows all the sweeter.
"It's my first time ditching all electronics," says the master of the talk box. "I guess I never felt comfortable doing that until now."
These days he's still agile and wiry on stage, prone to 20-minute Do You Feel jams and the same powerful vocals and jazzy noodlings that have been his trademark for decades. He maintains his energy by working out, "eating less" and staying in constant motion.
"If you're a musician I don't think you ever retire. You just slow down a little bit, but you keep moving, otherwise you'll stop!"
In the past year he's been in the news frequently as part of the ongoing discussion about smart-phones in concert venues (and Broadway theaters and movie theaters and everywhere else).
At a show last year at The Palladium in Carmel, Ind., Frampton became so agitated by one fan's ongoing use of flash videography, he stopped the show and asked the man to show him what he had recorded. When the fan handed him the phone, Frampton hastily tossed it behind the stage.
The episode impressed some fans and artists, but perplexed others. The flash of anger seemed out of character for the genial Frampton, long known as easy-going and grateful for every fan.
"I think we're just gonna end up with nubs for hands or maybe just have a bolt on the end of our arms to click into the iPhone," he says, laughing in resignation. "Don't get me wrong, I am as addicted to my phone as everyone else, but when I go to see a band or a movie I turn it off. I live in the moment.
"But I know I'm fighting a losing battle."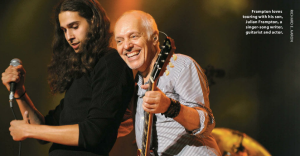 SO WHILE  many artists lately seem to be saying "bring on the cameras — feel free to show the world how awesome we are," Frampton isn't in that camp, something that's perhaps at odds with the potent social media presence he continues to build.
But if his followers don't always get to see some of his lightning-in-a-bottle performances on YouTube, he can live with it.
"I feel as soon as fans pick up that phone, they're no longer in the room. I've lost them. Sometimes it's good to just have it in the memory."
He's found a balance now by asking concert-goers to shoot only during the first three songs at his shows, the same access accorded professional photographers.
He is flattered that his all-ages fans still want photos of him — and content that he appears to have sealed his status as rock legend. When he runs into his old tunes on the car radio he'll typically change the station, but if he's in a store, he says he'll pause for a moment.
"It makes me smile," he says. "I can't fight the monster that was Frampton Comes Alive! It's not that I haven't done good work since, but if that's what I'm remembered for most, it's OK. It's a great album and I'm very proud of it."