THE HOLLYWOOD REPORTER | 2:34 PM PDT 4/15/2017
By DEBORAH WILKER
LOS ANGELES — It's not a fluke that film composer Hans Zimmer landed a starring slot this weekend and next at The Coachella Valley Music and Arts Festival — arbiter of all that is hip. While the paunchy 59-year-old doesn't fit the rock-star paradigm in almost any sense, Zimmer is a hero to millennials whose worship of him was in evidence Friday night at the Microsoft Theater in Los Angeles, where he played his first-ever full-scale American concert after decades in the music and movie business.
"It took 30 years for me to get out of my dark windowless room," Zimmer joked as he kicked off a three-hour review of his best-known work and favorite moviemaking stories — the start of a world tour titled Hans Zimmer Revealed, which includes pieces from Gladiator, The Da Vinci Code, The Dark Knight, Man of Steel and many more.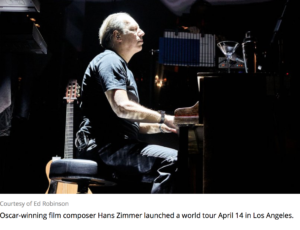 The 7,100-seat Microsoft was sold out — much of the audience comprised of fans in their 20s and early 30s, raising their fists in time with every guitar flourish, while hoisting their phones to capture it all. Their enthusiasm was also apparent at the merchandise stand, where the lines were long for $50 shirts bearing a "Z" across the chest in the familiar style of Superman's "S."
What accounts for all this fervor? Many in the crowd were teenagers when Zimmer penned the scores for Madagascar and the first Pirates of the Caribbean movies — themes now romanticized in the brain, much as previous generations remain tethered to The Backstreet Boys, Prince and Mick Jagger. Millennials and Gen-Xers have also lately been fueling the thriving market for live "gaming music" — similar symphonic events featuring philharmonic orchestras performing the scores to Final Fantasy, The Legend of Zelda and others.
While Zimmer doesn't go completely old-school on the orchestra bit, he does pull off a neat trick here, deftly balancing the roles of both conductor and rock-band frontman. A congenial statesman, Zimmer ably corrals more than 50 musicians and vocalists in a bold, uplifting show. Yet lights, scenic design and visual projections are downright rudimentary by 2017 standards, so determined he seems to let his music stand on its own.
Zimmer's core band includes 19 members and was supplemented for the evening by the Hollywood Studio Orchestra and the 16-person LA Film Choir — configurations that will change slightly as he tours the world, picking up local musicians at each stop.
He opened Friday's show with the jaunty theme for 1989's Driving Miss Daisy — music which both then and now somehow embodies the pluck of Jessica Tandy and Morgan Freeman in the Oscar-winning film. A barely noticeable segue led to a staccato piece from Sherlock Holmes, throughout which one could imagine a sly Robert Downey Jr. looking down upon us all. Then it was off to the more urgent notes of Crimson Tide and Angels & Demons.
Playing a variety of keyboards and guitars on stage, Zimmer was flanked by a roaming accordionist, Nick Glennie-Smith (who also plays keyboards and serves as musical director), several percussionists and a striking string trio of beautiful young women.
"Everything starts off with someone saying to me, 'I wanna tell you a story,'" Zimmer said of his creative process, adding that one of his favorite career moments was wandering the empty Louvre at night during the Da Vinci shoot.
The scope of Zimmer's work is vast. His charm is that he can convey the down-but-not-quite-out woes of Thelma & Louise as adroitly as the hope that drives The Lion King (for which he won an Oscar in 1995).
Zimmer's most heartfelt words were for South African vocalist Lebo M., whose iconic chant over the opening strains of The Lion King (both in the film 23 years ago and on stage Friday night) appeared to tug deeply at the childhood memories of many in the audience.
"From Soweto to Los Angeles, this is my brother, this is the real guy," Zimmer said to a thunderous ovation from fans, whose elation at seeing the actual gentleman from the soundtrack seemed almost too much to process.
And so, if by the end the highly synthesized pieces from the Dark Knight trilogy, The Thin Red Line and the science-fiction thrillers Interstellar and Inception seemed to run together, all was forgiven. Zimmer is an emissary whose allure has legions of young people turning out to see orchestras, and that's a hopeful sign.
"Hans Zimmer Revealed" plays Coachella on Sunday, with dates in San Francisco and Las Vegas before returning to the Indio, Calif., fest on April 23. The international portion of the tour kicks off April 29 in New Zealand, returning to the U.S. on July 13 in Dallas and playing Los Angeles again Aug. 11 at the Shrine Auditorium.
Venue: Microsoft Theater, Los Angeles
Director: Peter Asher
Producers: Harvey Goldsmith, Steven Kofsky