---
TRIBUNE PUBLISHING | Sept. 2013
Story By DEBORAH WILKER
Photos By HOWARD STERN
Howard Stern has spent many a radio hour professing his love for Florida. The weather. The air. The lack of chaos (compared to New York, anyway). He's mused often about retiring here or continuing his morning radio show from here. Of course booking top celebrity guests would be something of a hassle – but such details are hardly worth pondering at this point, right?
As it turns out, Mr. and Mrs. Howard Stern are becoming Floridians. Earlier this year they purchased a $50 million oceanfront mansion in Palm Beach, which they plan to live in part time for now – and full time later on.
Just when 'later' will be, is the question. Stern has two years to go on his latest contract with Sirius XM in New York, and has talked about not wanting to re-sign; possibly moving to a streaming model perhaps via a Pandora-like service, or even doing something completely on his own.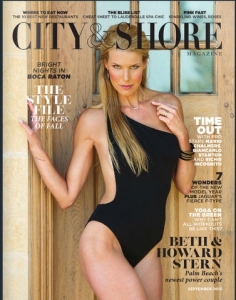 Of course the Sterns could have purchased property anywhere in the world. As FM's industry leader for two decades, he had already amassed a fortune before he jumped to Sirius in 2006, a move that made him rich beyond imagination. Since 2012, there's also been a hefty paycheck from NBC, for his role as a judge on America's Got Talent, and new status in Hollywood as he has morphed from purveyor of strippers and porn stars to  premiere celebrity interviewer.
That the truth-telling, often polarizing King of All Media and his wife have opted for one of South Florida's most exclusive – and serene – neighborhoods over trendier hot-spots, is not a shock.
Life with Beth and Howard Stern is typically quiet and structured: Lots of prep-work for his shows, clean eating, vigorous workouts, favorite TV programs and few late nights.
They are passionate advocates for animal welfare. Beth – relentlessly upbeat in stark contrast to her husband's all-consuming angst – continues to model and work in television. She also appears regularly on talk shows touting the North Shore Animal League of Long Island, for which she is a spokesperson.
In his scant spare time, Howard unwinds with TV shows like The Bachelorette, and in recent years has devoted himself to becoming a professional-grade photographer. (In fact, he shot all but one of the photos for this story).
Their idea of "wild and crazy?" The two stayed up late last New Year's Eve, making surprise phone calls to fans who tweeted their phone numbers to him on Twitter.
"People who are afraid that we're moving to Palm Beach and we're going to be the crazy neighbors – we're certainly not," Beth says, with a laugh. "Our lights are out at 8 p.m. Waking up at 4 a.m. has become a way of life."
Beth Ostrosky was in the midst of a burgeoning modeling career when she and Stern met at a friend-of-a-friend's dinner party 13 years ago. "Of course I knew who he was, but I had never followed his career. I was definitely intrigued though, that this larger-than-life figure would be sitting at our table."
She said they both knew fairly quickly it was a match and were married in 2008. In addition to the new place here, they also divide their time among homes in Manhattan and Southampton, N.Y.
So now what? Will they bravely crash Palm Beach society, bringing their animal rescue charities to the forefront? Do they even care about fitting in?
"I certainly hope people will be welcoming," Beth said by phone from her Southampton home during an exclusive interview with City & Shore. "I'm excited to be part of the community. I hope people are open to me participating."
So is she decorating the new place like mad? And why Palm Beach, instead of their rumored first choice, Jupiter Island? Can Beth tell us anything that her husband hasn't already said during thousands of hours on the air?
Yes.
Deborah Wilker: So what was the story with your house-hunt here? Did you really return to South Florida alone and make the final decision by yourself?
Beth Stern: No, I never came back alone. We decided together. We did look in Jupiter and Jupiter Island – we saw some beautiful homes there. I had never been there until we started this quest. I fell in love with that island. But ultimately we felt Palm Beach was the right choice for us. We have friends in Palm Beach and have spent many weekends, so we just ended up having a little life there, and we said let's start looking at houses.
DW: You're both from the Northeast, and both spent a lot of time in Florida as kids.
BS: I grew up in Pittsburgh, and every Spring Break we went to Clearwater; my parents ended up buying a place there and then my Grandma moved to Naples. I always felt my healthiest and happiest when I was in Florida. And when Howard was a little boy his grandfather lived in Miami and he would visit him all the time.
When we started dating we always talked about Florida. We said someday let's grow old there together. So that's always been the plan.
DW: Your new home is reportedly 19,000 square feet. That's a lot to renovate.
BS: We're just doing a few little tweaks. The house is so magnificent the way it is, that's one of the main reasons we fell in love with it. It's in perfect condition. And it's perfect for us.
DW: What do you think the neighbors will think? Your husband does not come without some preconceived notions.
BS: I don't really know what the word is on the street. Are people petrified that we've gotten a place there? I can just hope people get to know us and see us for who we really are.
DW: You've spent a lot of time in the last year fostering rescue animals that you ultimately place in new homes. Does it crush you to give these guys up, particularly after losing your own dog last year?
BS: I know, I'm just setting myself up for more heartbreak. It's been a rough year for us. Bianca
[their bulldog] passed away July 17, 2012. We're still recovering. I had put so much of my energy into her, I was never able to foster. So I thought this is my time to do it – before we adopt another dog. Maybe it's therapeutic in a way.
DW: You have a big fundraiser coming up in New York with The North Shore Animal League.
BS: Yes, it's a campaign to raise $7 million to add a second floor to the NSAL shelter – to create a cage-free feline center upstairs. We're going to name it 'Bianca's Furry Friends.' We're chairing a gala Nov. 11 at the Waldorf Astoria with Natalie Maines and Miranda Lambert.
DW: That sounds like an exciting – and rare – late night! If I was to headline this story, 'The Perfectly Normal, Almost-Boring Lives of Howard and Beth Stern,' would I be close?
BS: That would be true. For dinner it's the Early Bird Special! But I have to say – I do live a very exciting life. I'm married to one of the most incredible men in the world. I am so lucky. But behind closed doors our life is pretty normal. We're in such a nice routine – such a nice groove.
DW: Part of that is that you wake up with him every morning at 4?
BS: Yes, I want to be on his schedule. Also mornings are my favorite time of day, because I can exercise – I can get so much done.
DW: You also work out quite a bit together.
BS: Every day we like to be outside. We either take beach walks – or for example yesterday we did a 15-mile bike ride.
DW: You've also been working quite closely together on his photography. He really wants to be a professional photographer? Or does he just want to ensure that you look awesome in every magazine?
BS: Yes, he's doing this seriously. He's always anxious and eager to better himself. So he's shooting on a daily basis. I happen to be the only other human being in the house. Therefore I've become his muse. My cats see him coming with the camera equipment and they run the other way.
DW: He's taken some pretty breathtaking bikini shots of you. You just turned 41. What's your secret?
Beth: We're very conscientious about how we live and what we eat. I work out as much as I can. Some mornings I wake up and I don't want to, but then I do it because I know I'll feel healthier. I feel better now in my 40s than I did in my 20s.
DW: Do your mornings also include listening to The Howard Stern Show?
BS: If he's excited about an interview, and I know for example he's about to interview Jerry Seinfeld, I'll ask him what time. The way his mind works when he's conducting an interview – it's such a turn-on. And Jerry – Howard was really happy with that one. He came home from work happy that day.
DW: Tell me about some of your favorites.
BS: The ones with musicians in the studio, when they're performing, and Howard's really exploring their music and the way they write – I find it fascinating.
Billy Joel is a dear friend of ours. So it's also very interesting to listen when we have a personal relationship with his guest. I'm always curious what direction he's gonna go – and I always learn something new.
DW: Hasn't Billy Joel actually performed in your living room? Are some parts of your life maybe kind of surreal now – coming from a staunch Catholic middle-America household, into this superstar whirlwind? That had to be a bit of an adjustment initially.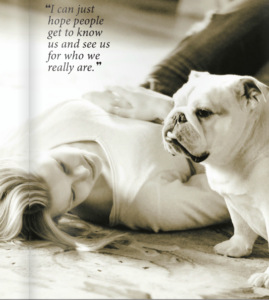 BS: It was definitely new to me at first – as well as people suddenly knowing my name and being talked about. But I met Howard when he was doing his thing, and I knew that it was part of the package.
That people know about my passion for animals – it's only been beneficial. I was never a super-model or anything like that. I was just a working model. I owe so much of what I am able to do now, to him.
DW: Part of the price, though, is that your lives are dissected before millions of listeners, and sometimes the details are quite intimate.
BS: It's all part of it. I'm a little bit shy when it comes to those things – but I feel very safe with what he says. It's Howard, so sometimes I have to roll my eyes, but most of the time I have a big smile on my face.
DW: He recently said, 'She knows who she married.' Do you think he knew with you, that he had met someone who could go toe-to-toe with him?
BS: He has treated me as his equal since Day One. I love that about him. He asks for my opinion. There's nothing lacking in our daily conversations – never moments when I'm struggling to keep up.
DW: Does it bug you when the tabloids call you 'his too-hot-for-him wife?'
BS: How dare they! I still melt when he walks into a room. He makes my heart stop.