THE HOLLYWOOD REPORTER | 7:45 AM PDT 7/11/2018
BY DEBORAH WILKER
SANTA MONICA — The tabloids dubbed it "The Bess Mess." And as falls from grace go, it was a steep one.
Beauty queen Bess Myerson — the regal former Miss America, outspoken activist, accomplished musician, author, journalist, TV personality and public servant to three presidents and two New York City mayors — had become the sudden centerpiece of a sleazy corruption scandal amid her affair with a married sewer contractor. It was the late 1980s — dawn of sordid syndicated shows like A Current Affair — and Myerson's eventual indictment, court appearances and sprints to her limo were nightly fodder.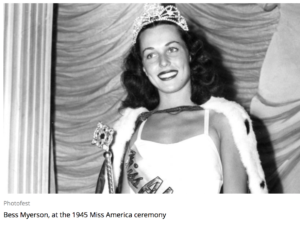 Then came a dismal bonus: Amid the Federal fraud and conspiracy charges against her, Myerson was arrested for shoplifting $44 worth of earrings and nail polish from a department store near Harrisburg, Pa., where she had gone to visit her boyfriend, who was then in prison for tax fraud.
Read This Story In The Hollywood Reporter
Still, she had her defenders. "They can't do that to Miss America!" seemed to be the collective cry from fans whenever news of Myerson's legal trouble​s​​ surfaced.​
But one of the people who knew her best was not as forgiving.
"My mom was a narcissist," says Barra Grant, the only child of Myerson, who died in 2014. "I would meet other women whose moms were narcissists and we would share stories — and they were appalling."
Grant's experiences now form the outline of her new play, Miss America's Ugly Daughter, premiering July 14 and running through Aug. 4 at The Edye in Santa Monica, the Broad Stage's 99-seat theater. It's a dark tale of growing up as the daughter of one of the world's most famous — and infamous — beauties, and it's also a comedy.
"I thought surely all women have some issues with their mothers and often they're hesitant to talk about them because it's irreverent and she's your mother," Grant said while on a late June rehearsal break at the Broad. "You think you gotta love her, that you have to be true to blood. People kind of take a minute — and then they understand, it's OK to laugh."
The play came about after director Eve Brandstein caught several of Grant's spoken-word performances and readings around town. Grant, a longtime actress, writer (she penned the 1978 film Slow Dancing in the Big City) and director, stars in this one-woman show, which also features the voice of actress Monica Piper as Myerson, heard in phone calls to her daughter.
"I grew up being introduced as, 'This is Bess Myerson's daughter.' My name was irrelevant," says Grant. "My identity was foreshadowed. But the stories I wrote…were very funny. I looked at aspects of her that were terrifying, damaging, horrific, but I tended to find the humor in it."
Grant's characterization of the Bronx-born beauty is likely at odds with the memories some people have of Myerson, who in 1945 became the first (and still the only) Jewish woman ever to be crowned Miss America. Making her way around the country after her victory, Myerson faced down anti-Semitism, becoming an outspoken champion for Jewish causes.
"She was a rebellious Miss America," says Brandstein. "She was this amazing, iconic, fierce woman. But — she was a terrible mother."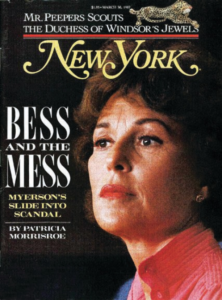 Myerson was a fixture on the Manhattan and Washington social and political scenes in the 1960s, '70s and '80s. Appointed by New York Mayor John Lindsay, she was the city's first-ever Commissioner of Consumer Affairs — a diligent activist who created groundbreaking protections for New Yorkers regarding the food they ate and other products for sale.
She gained attention by calling hamburgers that were not 100 percent beef "shamburgers," and in 1979 authored The Complete Consumer Book: How to Buy Everything Wisely and Well. 
In 1980 she launched a failed race for the U.S. Senate. Later, working for New York Mayor Ed Koch, she was a booster for the arts as the city's Commissioner of Cultural Affairs. She also advised Presidents Johnson, Ford and Carter, working on resolutions for crime, mental health issues and world hunger.
But while she toiled for the public good, Myerson was a menace at home, says Grant, who recalls a loveless childhood on the Upper East Side marked by her mother's cold indifference and extreme self-involvement. Everyday items such as clothing and furniture were scarce and when they were around they came secondhand, often obtained "for free from the sets of TV shows," Grant explains.
"She was very, very busy. She had an agenda and I didn't figure into it," Grant says. "And there were always men. She was always on a quest to get a new guy, a better guy, a more wealthy guy. She wanted to hide me because then people would know how old she was."
Brandstein said she understands Myerson's desire to secret her daughter away: "She came from the Depression era. There were no role models and few options. Staying young and beautiful was your power then. And in her mind if she could keep certain realities at bay, she could create her own reality."
Grant, Brandstein and the show's producer — five-time Tony-nominee Suzi Dietz (Fela!; Topdog/Underdog) — all vow Miss America's Ugly Daughter won't slip into Mommie Dearest cliches.
"This is [a piece] about the enlightenment of having had this mother and how we become the women we want to be," says Dietz.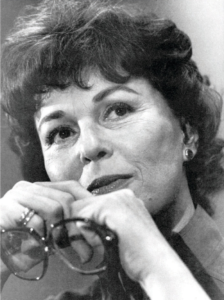 The show is based upon phone calls Myerson made to Grant — often in the middle of the night, when she was in her later years.
"As soon as the scandal happened and the world turned its back on her, I became very important in her life," Grant says.
Brandstein acknowledges that some theatergoers, particularly older ones, may feel as if "you shouldn't be hurting our icon." And she notes that that Myerson will always occupy a unique place in American Jewish history.
"They had just opened the concentration camps in May, that was…three-and-half months before she won Miss America in 1945," said Brandstein. "Can you imagine what the Jewish community felt when they saw her up there?"