TRIBUNE PUBLISHING | Feb. 4, 2013
By DEBORAH WILKER
  Back when Natalie Cole was a student at the University of Massachusetts, she had many dreams — but "nine-time Grammy-winner"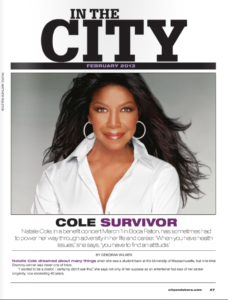 was never one of them.
  "I wanted to be a doctor. I certainly didn't see this," she says not only of her success as an entertainer – but also of her career longevity, now exceeding 40 years. 
  "I think coming into this New Year – I am once again just very, very grateful," she said during a telephone interview from her home in Los Angeles. "In 2009 – I was getting a kidney transplant and my sister was dying in the hospital bed next to me."
  No doubt, Natalie Cole has endured some bleak times. But the singer and actress — who will be in town March 1 to headline the Nat King Cole Generation Hope fundraiser – had powered through adversity in the past, and just assumed she'd do so again.
  "I was on dialysis for probably about 8 months. It's a hard road. But being in this business, you have an ego. You really don't want your fans to see you down and out. Even though they know you're struggling – you don't have to look like you're struggling."
  Despite the dual ordeals of her own health crisis and her sister Carole's losing cancer fight, Cole, now 63, was determined to honor every concert date on her calendar.  Throughout much of that time in 2008 and 2009 she trudged through airports worldwide with an oxygen tank, sometimes in a wheelchair, almost always exhausted – finding just enough energy to sparkle by show-time.
  At home she was often so weak, friends had to roust her out of bed — and out of the house.
  "They would take me to the hairdresser and to get my manicure, pedicure – just so I could feel like I could go on. When you're not feeling your best, it's important to figure out ways to get yourself together physically. If you gotta be in pajamas let them be cute pajamas!"
  For Cole, the singer of pop hits such as This Will Be and I've got Love On My Mind, grave health problems were not unfamiliar territory.  A perilous 1970s drug spiral sent her to rehab more than once, and left her battling the liver disease Hepatitis C. She suspects the kidney trouble resulted from the drugs used to treat her liver.
  Still, she continues to outlast many of her 1970s music contemporaries, and has now maintained a career nearly twice as long as that of her legendary father, Nat King Cole. One of music's all-time great vocalists and a jazz pianist as well, Cole was just 45 years old when he succumbed to cancer in 1965.
  Today, the not-for-profit Nat King Cole Generation Hope, Inc. honors his legacy by raising money for music education in public schools.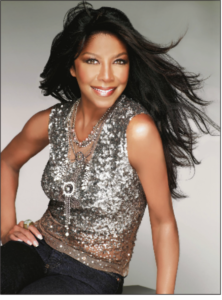 "The positive effects of music on child development are well known," Cole says. "But so much of our music curriculum in this country is just gone. And the ones that are still left in place, the kids don't have any instruments, or they're in bad shape. Right now we're just in Florida, but I would like to see it nationwide."
  Though the Nat King Cole estate could ensure her financial future, Cole says not working "is not an option."   
  She is constantly on tour with a roadshow she calls "diverse" – pop hits, jazz, R&B, and songbook standards, among them her Grammy-winning interpretations of her father's classics like Unforgettable.
  Two summers ago she branched out further than ever, joining southern rock great Gregg Allman and The Allman Brothers Band on stage at New York's Beacon Theatre for an event to raise awareness for liver disease. Allman has also suffered with Hepatitis C and recently underwent a successful liver transplant.
  Though Cole had always admired the band, she said their paths had never crossed during their mutual decades in the business. Among the numbers they performed together was the ABB's epic classic Whipping Post — a song Cole had grown up on during a period when she idolized rock icons such as Janis Joplin.
"I was flipping out," she said of The Beacon experience. "I couldn't believe it. To actually be standing with the guys who had created the whole situation — it was surreal."
 Doubters in the audience who gossiped that she had no business on such a stage, did not intimidate her.
"I overheard a friend's friend say 'Natalie Cole's gonna be singing with the Allman Brothers?' she said, imitating the man's dismissive tone. "But at the end he was like 'Oh man. I did not know she liked rock n' roll.' "
She seems game for any kind of acting role as well.  On a classic episode of Grey's Anatomy she memorably played Sylvia Booker, a woman whose brain aneurysm reinvigorates her dying marriage – and also lands her with a salad-fork in her neck after a public sex romp.
"Grey's, that was a very funny script," she said laughing. "I loved it. I love being a different character, which is sort of what you do when you're singing. You transport yourself. I'd love to do more. It's just hard to fit it in. Next time I step out I am hoping it will be in film."
Cole, who has sold more than 30 million albums, is currently back in the recording studio with producer David Foster, while continuing a rigorous touring schedule. But she isn't complaining about the workload.
"My immune system is still very compromised. I'll be on meds for the rest of my life. You're vulnerable, but what can you do? You gotta just suck it up. When you have health issues, you have to find an attitude. You have to find a mantra that you tell yourself every day. It's kinda like fake it till you make it."