CITY & SHORE | February 2016
By DEBORAH WILKER
Ben Vereen, the sublime song-and-dance man and award-winning actor, doesn't kick quite as high as he once did, but he still hits the high notes. As passionate about entertaining as he was more than 50 years ago, Vereen is now often referred to as a legend by his peers in the theater, something he's still getting used to.
"I've done some iconic things in my life and have shared the stage with legends. Now to be called a legend? I'm honored," says the Tony-winner, 69. "It went by so fast," he says of his long career. "You look up one day and you're a legend. I go, what? I'm just getting started."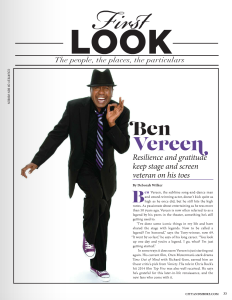 In some ways it does seem Vereen is just starting out again. His current film, Oren Moverman's stark drama Time Out of Mind with Richard Gere, earned him an Oscar critic's pick from Variety. His role in Chris Rock's hit 2014 film Top Five was also well received. He says he's grateful for this later-in-life renaissance, and the new fans who come with it.
"My show is about thanking my audience," he says of "Steppin' Out Live With Ben Vereen," an old-school evening with a jazz combo and vintage Fosse hip-shakes, which arrives Feb. 14 at the Aventura Arts & Cultural Center. "I'm excited to share with them these experiences I've had. It's the gratitude tour."
The evening also salutes Frank Sinatra, Sammy Davis Jr., hitmakers such as Elton John and other classic composers.
"We'll celebrate that love vibration throughout the planet that day," Vereen says of the Valentine's Day date. "There's going to be a lot of love in the audience and in the air."
With stage roles that stretch from the 1960s road tour of Sweet Charity to the Broadway casts of Pippin, Jesus Christ Superstar, Hair, Jelly's Last Jam, Chicago (on tour), Fosse and, more recently, Wicked, Vereen has plenty of material from which to choose.
Speaking from his home in Los Angeles, the actor — whose portrayal of Chicken George in the landmark 1977 mini series Roots still stands as one of television's finest hours — says he splits his time pretty evenly these days between New York and L.A.
To endure the rigors of touring, airports and live performances, he relies on protein shakes, a predominantly vegan diet and plenty of exercise. On this day he was about to hit the scenic hiking trails near Ojai, Calif., with his daughter.
"I still stretch," he says of the dancer's basics he usually incorporates into each day. "I still vocalize. I still do those things — not as well as I'd like to — but I do them because the body ages and so I find a way to work within the parameters."
A longtime student of the late New York jazz dance innovator Luigi Faccuito, Vereen says the dance master's rehabilitative work-outs and motto, "never stop moving," have guided him through much of his performing career. The Luigi method was particularly crucial after a 1992 accident on the Pacific Coast Highway in Malibu left him with massive internal injuries and a severely broken leg.
Doctors predicted he would be unlikely to dance again.
As generous as the 1970s had been to him with career-making roles on stage and screen, the '80s were full of hardships that sent him into a perilous drug spiral. Just as he had come out it, the accident set him back again.
But the lithe, spirited performer fought back, resuming his career within months. In more recent years he has guest starred on shows such as How I Met Your Mother, Hot In Cleveland, NCIS and Grey's Anatomy, for which he won a Prism Award.
Throughout his life Vereen has also relied on the wisdom of another late mentor, the Oscar-Emmy-Tony winning dance legend Bob Fosse, who first hired him in the 1960s. Though Fosse was then already ripping up Broadway's stodgy norms, Vereen says he had no idea what he was signing on for when they met.
"Sometimes ignorance is bliss!" says Vereen, who went on to become a key interpreter of Fosse's choreographic vision. "I didn't grow up in the theater. I grew up in the streets and the church. I was just grateful to have a job. To be working. I never stopped to go, 'wow.'
"Soon I recognized — I was working with a genius."
Fosse, who would also cast Vereen in Pippin and his autobiographical musical psychodrama All That Jazz, left him with performance lessons he incorporates to this day.
"Style! Less is more."