KNIGHT-RIDDER/TRIBUNE News Service | June 21, 1999
By DEBORAH WILKER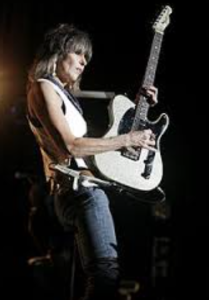 She traded music's fast track for the mommy track years ago, but Chrissie Hynde has never considered that a sacrifice.
"I never struggled with my decisions. Never. I had kids. I put them first. I was a single mother. That was that."
For more than two decades Hynde has been the face and voice of The Pretenders — certainly one of rock's more interesting bands, yet one that records and tours far less frequently than most active groups.
"Well, I'm under contract," Hynde says of Warner Bros., the one and only label for which she has recorded. "Seven albums in 20 years. That's not a lot. But they don't care how long it takes me. No one wants me to make a crap album. They won't benefit from that.
"They can always make money off someone else. I'm not seen as a moneymaking artist anyway. They just thank their lucky stars they got me."
Long praised as one of rock's most distinctive voices, Hynde is also one of few artists to sell lilting mainstream pop (I'll Stand by You, Don't Get Me Wrong) while holding fast to punk credibility.
"For some reason there has been this tendency to romanticize me," she said by phone from New York, where she was visiting for a round interviews.
"I don't live in America — I'm this runaway American girl," said this native of Akron, Ohio, who has lived in London for 25 years. "I don't go to premieres. I'm never seen in Hollywood with my latest flame. I'm mysterious I guess."
Part of that mystery has been the conviction with which she fronts what is essentially a male rock band — one of few women to do so.
"I don't think I've done anything special. All of my role models just happened to be guys, and I just wanted to be in a band.
"You know we all want the people we admire to be cooler than we are. So with me, it's all imagined. It's imagined that I'm cooler. I win by default."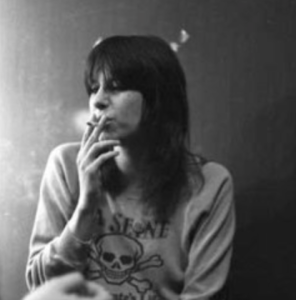 But can Chrissie still be cool? Can The Pretenders still matter in this day of techno-driven pop and disposable teen acts?
"No doubt, pop is having its moment right now," she says. "Disco-mania, techno-mania is here. But clearly rock is not dead. Guitar-based bands are still exciting. They'll always be around."
Still, it's been a musical lifetime since the band's last studio album, Last of the Independents in 1994. Returning to record stores this week with the smartly crafted Viva El Amor, The Pretenders face a vastly changed pop landscape.
Yet Hynde, 47, isn't overly concerned with commercial prospects. She'll sit for a few interviews; perform on Late Show With David Letterman on Thursday; start a limited U.S. concert tour (including a few weeks with the femme music fest Lilith Fair), and whatever happens, happens.
"There's no pressure. There's never been any pressure from anyone but myself."
The record — a catchy mix of pretty love songs, new-wavish rock, and a couple of edgy tracks that recall Janis Joplin and Jimi Hendrix — is just what fans would expect: tight, melodic and easily digested.
Despite numerous personnel changes and early, dramatic upheavals (the 1982 drug death of guitarist James Honeyman-Scott, the '83 drug death of ousted bassist Pete Farndon), Viva El Amor finds The Pretenders sounding much as they always have.
There are no attempts here to ape current trends; the album could just as well have been recorded in 1985. Not that it sounds dated — just engagingly familiar. There has never been any mistaking Hynde's work. As always, her new songs fit seamlessly with just about everything she's ever done.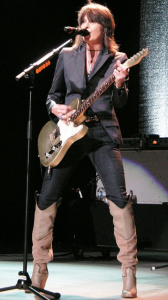 "I'm not a great musician," she says, "but I do lead the group to glory."
(The band's lineup has been stable since original drummer Martin Chambers returned five years ago; guitarist Adam Seymour and bassist Andy Hobson have also been on board since '94).
"I've just always tried to write and play what I would like myself," says Hynde, who wrote 10 of Amor's 12 tracks.
"I never pander. I grew up on 3 1/2-minute pop songs at a time when the transistor radio was it. We picked up Nashville, Detroit, all over. So in northeast Ohio, we were connoisseurs of all things rock and pop. I dare say that was my total musical education. I was never out to blaze a trail."
And if she can never again be quite as important or as famous as she was in the 1980s, that's fine with her?
"I'm big enough. I like life nice and tidy. Any more fame and it would jeopardize my freedom to walk down the street and do what I want."
But don't get her wrong: Between albums and tours there have always been profile-raising appearances on movie soundtracks (The Living Daylights, Boys On The Side, Indecent Proposal) and at fund-raisers for animal rights, human rights, Greenpeace and numerous causes.
Side projects have also included concerts with Urge Overkill and Lou Reed; recordings with the British reggae band UB40 and Frank Sinatra — and the 1995 UK chart-topper Love Can Build A Bridge with Neneh Cherry, Eric Clapton and Cher, benefiting British Comic Relief. That year Hynde also made a memorable appearance on NBC's Friends.
Yet a serene, "private, normal" family life has been her chief priority for years. Married since 1997 to sculptor Lucho Brieva, her daughters are now 16 and 14, born of relationships with mentor Ray Davies of the Kinks, and her 1984 marriage to vocalist Jim Kerr of Simple Minds, respectively.
"I didn't tour for eight years," she says of a semi-hiatus that began in late '87. "I had to keep it low-key for a while. I never wanted
[my children] to feel self-conscious about what their mother did for a living. They go to a regular local school near our house."
If all this quaint civility seems at odds with the menacing, shaggy-haired rock star who once boasted about fire-bombing the local McDonald's during the height of her anti-meat protest days, Hynde doesn't see it.
"Animal rights will always be my huge passion. What I was doing then made people think about it."
Through her activism she found a kindred spirit in close friend Linda McCartney, also a staunch vegetarian.
"We had a lot in common, other than that we were Americans in London."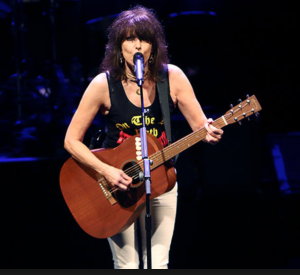 What Hynde admired most about the late wife of Paul McCartney, who succumbed to breast cancer last year, was the modest manner in which she reared their four children.
"Amid incredible wealth and unbelievable fame, she gave them a completely normal upbringing. How did they do that? She'll always inspire me."
Among the last projects McCartney undertook was a photographic portrait of Hynde, which is now the cover artwork for Viva El Amor.
"She took the picture and said, 'I'll see you in a couple weeks. I'm going to the States.' And a month later she was dead.
"A little while later someone brought me this envelope and said, 'Linda wanted you to have this.' And inside was the portrait.
"She knew she was dying. I think from the beginning she was a lot sicker than anyone knew, than they ever let on. But they wanted to fight the good fight, you know?"
Hynde has coped, she says, by "making a discipline of not looking back." She'll be 48 by summer's end, but says she doesn't feel limited by age or narrow radio formats that exclude the new music of senior rock stars.
"Oh, I'll probably make a couple more records. I'll keep going; keep playing — as long as my knees hold out."