THE HOLLYWOOD REPORTER | 4:02 PM PDT 8/25/2018
BY DEBORAH WILKER
In the divine vocals, chart-topping singles and supple dance moves of Ain't Too Proud — The Life and Times of The Temptations, audiences will surely find a lot to love next year when this much-anticipated production about the Motown trailblazers opens at New York's Imperial Theatre. But as a pop culture artifact and the latest entry in Broadway's glut of bio-musicals based on extraordinary performers and stellar music catalogs, Ain't Too Proud, at the moment at least, is also an example of missed opportunities.
When you've got some of the greatest, coolest, most remarkable songs ever written — and a glorious cast to interpret them — for the love of God, please don't keep interrupting them. What the heck is director Des McAnuff thinking, cutting short pop masterworks such as "Ball of Confusion," "(I Know) I'm Losing You," even the old Isley Brothers gem "Shout," so the performers can retreat into dialogue, stopping the momentum cold. These are electrifying songs to be showcased and left alone.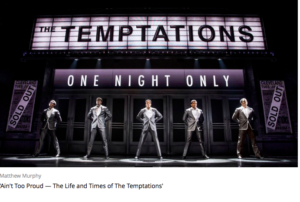 I know, I know — by inserting narration and conversations into musical numbers, McAnuff, who has become something of a specialist, with Jersey Boys, The Who's Tommy and Summer: The Donna Summer Musical also under his belt, is building drama and moving the action forward. And in this very crowded field of shows with familiar stories and hits plucked from decades of Billboard charts, no one on Broadway really wants the tag "jukebox musical." So attempts to weave the words and music together are admirable, but in Ain't Too Proud, those good intentions are misplaced. Sometimes it's OK just to let the jukebox play.
Still, there are lots of terrific moments in this production, which opened Friday night at the Ahmanson Theatre in Los Angeles, after setting box-office records at Berkley Repertory Theatre last year, and a run at the Kennedy Center in Washington, D.C., this summer. The show moves to Toronto next, before hitting New York at a date to be announced in spring 2019.
Will anything much change before it gets to Broadway? Unlikely. When the backbone of your show is a can't-miss catalog that also includes "Get Ready," "My Girl," "Just My Imagination (Running Away With Me)," the title track "Ain't Too Proud to Beg," plus chart-toppers from other Motown greats — and when choreographer Sergio Trujillo (On Your Feet!, Jersey Boys, Summer) is once again on board, mining his affinity for visual pop nostalgia — audiences will likely feel they got their money's worth.
Read this story In The Hollywood Reporter
But in glossing over what really made The Temptations a musical force — and a force for social change; in omitting years, context, numerous comebacks and even present-day touring so that the whole 58-year epic just sort of runs together like one decade-less music video; in telling the story only from the perspective of Otis Williams (the last surviving original Temptations member and owner of the group's name); and in not letting several of the Tempts' magnificent hits really breathe — this production doesn't quite do the subject-matter justice.
The story of course is probably familiar even to casual music fans: Under the guidance of Motown founder Berry Gordy and genius songwriters Smokey Robinson, Norman Whitfield and others, the Detroit-based Temptations rose in the 1960s as a smooth vocal quintet, then boldly took on social issues. Initially Gordy resisted — understandably preferring to stick to Motown's long-perfected playbook of sophisticated pop that deftly bridged what was then a segregated music scene.
But after dabbling in psychedelic funk with 1968's "Cloud Nine" and after Whitfield's "War" (originally written for The Temptations) became a No. 1 hit for Edwin Starr, Gordy and the group's prescient manager Shelly Berger steered The Tempts into the thick of the counterculture movement with "Ball of Confusion" and "Papa Was a Rolling Stone."
Though one of the group's (and really Whitfield's) finest moments from this era — 1973's epic jam "Masterpiece" — is tragically missing from this musical, the point is made: "You don't have to be an activist to make a difference."
There have been 24 members of The Temptations over six decades, with Otis Williams, Paul Williams, Melvin Franklin, Eddie Kendricks and David Ruffin regarded as the definitive lineup. Drug spirals, star trips, abuse, suicide, cancer and the soaring highs and lows amid the chase for platinum glory were all part of the scene. When Dennis Edwards (who died earlier this year) took over as lead singer in '68, tensions calmed, but only for a moment, explains the show's narrator Otis Williams, played by the terrific Derrick Baskin: "Because then we started dealing with Dennis' shit — he got Ruffin-itis."
With so much drama, the big cast has plenty of juicy material and there isn't a weak link among these players. Ephraim Sykes, a former Alvin Ailey dancer, as the tormented Ruffin, and Jeremy Pope as angelic-voiced Kendricks are standouts. Jawan M. Jackson as sweet-natured baritone Franklin and James Harkness as Paul Williams are spot-on as well. Jahi Kearse as Gordy, Saint Aubyn as Edwards, Joshua Morgan as Berger and Shawn Bowers as Otis Williams' son Lamont also are all first-rate.
Throughout the evening, this slew of knockout singer-dancers effortlessly slide in and out of The Temptations to reflect the ever-changing lineup: "Sometimes 'The Tempts' stood for 'temporary,'" deadpans Baskin.
Book writer Dominque Morisseau, a highly regarded playwright from Detroit whose works include Skeleton Crew and Pipeline, does indeed create snappy dialogue in places. But we can only wonder what this show might have been had she strayed even a little from Williams' memoir.
Projections by Peter Nigrini capture the mid-century excitement of a platinum act on the rise and then dominating the world, via simple theater marquees and big-city names splashed across the stage.
Tailored suits, spiffy jackets and a couple of gorgeous looks for Diana Ross and The Supremes (who performed frequently with The Tempts), created by costume designer Paul Tazewell (a Tony winner for Hamilton), capture a definitive era in music, thus described by Gordy in the show: "When America sees five black brothers on TV screens, they are going to see gentlemen."
The women also shine, particularly Rashidra Scott as Williams' wife Josephine, who stops the show with her portion of "If You Don't Know Me by Now." Not having her sing this all the way through to the climax it demands is another misstep.
Even the curtain call doesn't fully exploit its potential. What begins so promisingly with the entire cast decked out in dashing white jackets, performing an uplifting "Can't Get Next to You," ends way too quickly — just as the audience is about to cut loose and join in.
And one final quibble: While the real-life Gordy (looking terrific at 88), Berger, The Supremes' Mary Wilson and Otis Williams were all in the Ahmanson audience on opening night and received a salute from Baskin in an aftershow tribute — why was it left at that? Bringing Williams onstage for at least a couple of bars with this young troupe, while letting the world know that The Temptations are still somehow miraculously recording and touring to this day, would have been a fitting way to tie this sprawling story together.
Venue: Ahmanson Theatre, Los Angeles

Cast: Derrick Baskin, James Harkness, Jawan M. Jackson, Jeremy Pope, Ephraim Sykes, Saint Aubyn, Shawn Bowers, E. Clayton Cornelious, Taylor Symone Jackson, Jahi Kearse, Jarvis B. Manning Jr., Joshua Morgan, Rashidra Scott, Nasia Thomas, Christian Thompson, Candice Marie Woods, Esther Antoine, Rodney Earl Jackson Jr., Curtis Wiley
Director: Des McAnuff
Book: Dominique Morisseau, based on the book The Temptations by Otis Williams
Music and Lyrics: From The Legendary Motown Catalog
Set designer: Robert Brill
Costume designer: Paul Tazewell
Lighting designer: Howell Binkley
Sound designer: Steve Canyon Kennedy
Projection designer: Peter Nigrini
Orchestrations: Harold Wheeler
Music arrangements: Kenny Seymour
Choreographer: Sergio Trujillo
Presented by Ira Pittleman & Tom Hulce, Berkley Repertory Theatre, Sony ATV Music Publishing, EMI Entertainment World