THE HOLLYWOOD REPORTER | Tues April 5, 2016 6:00 a.m. PDT
By DEBORAH WILKER
The 'American Crime Story' actor plays the lead role of Hero in Pulitzer winner Suzan-Lori Parks' Homeric trilogy, having its West Coast premiere at the Mark Taper Forum.
He is mindful that the subject matter of ACS is tragic. Yet simmering all through this series is the romantic subtext between Darden and Marcia Clark (portrayed so perfectly by Sarah Paulson), which has introduced Brown to the world of "shippers" and super-couple hashtags, in this case #Darcia. "To 'ship' Chris and Marcia, I had to learn what that meant," the actor admits.
A graduate of both Stanford and NYU's Tisch School of the Arts, the soft-spoken St. Louis native caught the theater bug in high school after stints in Godspell and West Side Story. Brown originated the role of Hero in Father Comes Home at New York's Public Theater in fall 2014.
 The love story surprised you.
It did. Week by week it became clear just how strong the connection was for our audience. Then it started to hit me, oh — this is bigger than anything I could have possibly anticipated.
But does the almost-soap opera undermine the important issues?
I don't think so. Life is as it is. It's not all serious. It's not all comedy. You have to allow for all the different emotions. The intimacy between those two people was apparent then and hopefully it's apparent as we replayed it. If the show weren't entertaining, the themes of racism, sexism and the actual trial itself wouldn't receive the attention they're getting.
You took a lot of heat online during episode 7.
When we took our trip to the Bay Area and we do not kiss at her hotel door. Lord have mercy! It was all, "What are you doing, DUDE?!"
In one of the more pivotal scenes you say to Marcia Clark, "You wanted a black face but not a black voice." Was it difficult for you to explore these themes, particularly through Darden, who was seen as a traitor to his community, and then as a loser?
It was a lot to balance. I had similar feelings 20-21 years ago about him being a race traitor or an Uncle Tom. By virtue of the fact that there were two prominent black lawyers in this case — one of them was the hero, the other has to be the fall guy. It wasn't a fair role for him to be placed in. Being able to step into his shoes allowed me to release the judgment that I had, and overall that's what I think is fascinating about acting. You can't play someone and judge them at the same time.
With so much happening for you, tell me about your decision to continue with Father Comes Home From The Wars.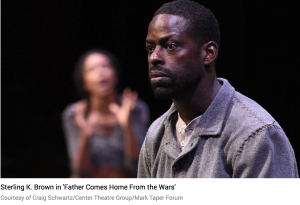 I love the stage. And I love this play. While it's set during the Civil War, it has a remarkable way of bringing things to light that are happening right now. This play recharges my batteries. One of my favorite things to do, when the ghost light is on and it's just an empty stage — I'll let my shadow spread right across the theater and I just say to myself, for the next few hours these folks are my responsibility. I get to share in something that is unique. It's like church.
Do you see yourself on Broadway?
Maybe. That's if my wife
[actress Ryan Michelle Bathe] is willing to uproot our family and she can also be fulfilled artistically.
The diversity conversation has changed dramatically in this last year. But is the landscape really changing?
I see it changing — incrementally. I remember the great work that Norman Lear did. That was an incredible heyday to be a black actor. My wife and I will often have conversations about Good Times and The Jeffersons and Sanford and Son. They were doing incredible stuff that was very funny but also very socially conscious. It feels now like we're entering a time where people are willing to push that envelope again.
Tell me about what's next. You just did an M. Night Shyamalan film?
Yes, it's called Split. It'll be out in the beginning of 2017. And there's The Untitled Dan Fogelman Pilot. We shot in February and we're waiting, hopefully, to see if we get picked up.
Well, now that the guy who played Darden is in it … 
If that makes any difference at all, I'll take it.