KNIGHT-RIDDER/TRIBUNE News Service | April 26, 1990
By DEBORAH WILKER
(MIAMI BEACH) — David Bowie is having breakfast: Marlboros and coffee. Three years after his glitzy Glass Spider tour blew around the world, a leaner, more humble David Bowie is back.
Despite the smoking and a lifetime spent on the road, he looks terrific. Relaxing on a plump sofa in a plush oceanside hotel, he's complaining about jet lag, but accepts the constant overseas travel as a necessary evil.
"I loathe it, but am now finally resigned to it," he says.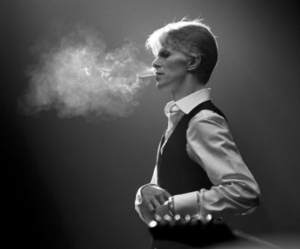 The new Bowie — dressed in casual cotton and silk — isn`t nearly as eclectic as the old one. This one is singing his Top 40 hits in a new retrospective show that has one aim: To please loyal fans.
Bowie has even gone so far as to set up a 900 phone number so fans can call in their song requests. (A percentage of the phone line profits are earmarked for various charities, among them Bowie`s favorite, Save The Children.)
His Sound + Vision tour, which has played in Canada and Europe, makes its American debut in Miami on Friday.
The all-request show was actually the idea of Rykodisc — the maverick Massachusetts record company that has acquired Bowie`s catalog and is now remastering and re-releasing it all on CD.
Ryko also recently released Changesbowie, a greatest hits set.
"They asked me to support the album, and I said I'd love to if I can do it in an interesting way," Bowie said. "Bands always support their albums on the road. It just so happens that this year my album is a greatest hits album."
Concerned that all this mainstream nostalgia might obscure or invalidate his current work with his new band, Tin Machine, Bowie insisted that this be a one-time outing.
"After this, I'm through with it all," he said. "You'll never hear those songs again. It's the '90s. A new decade. What better way to start out than by cleaning house, getting it out of the way and moving on."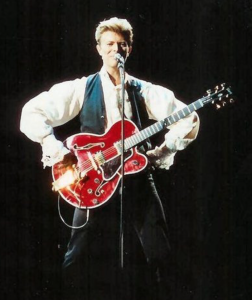 Reminded that many a performer has retired various works only to bring them back, Bowie remained firm.
"You may have heard this from others, but never from David Bowie. I promise you, there's no chance. I won't be singing Suffragette City when I'm 50."
And that being the case, Bowie has gone all-out with his fan-friendly hit fest. The peoples set list includes: Let's Dance, Fame, Young Americans, Changes, Suffragette City, Rebel Rebel and of course, Space Oddity — the song upon which he built his future-man image two decades ago.
Long a performer ahead of his time, Bowie really did appear to be from some other planet when he burst upon the world in the early 1970s. He was a video star before video — a visual performer who used the stage as his outlet in the age preceding MTV.
He was often called "the first great rock star of the 1970s" by critics who praised his innovative music but were perplexed by his eccentricities.
Cloaked in bizarre costumes, Bowie played various characters while creating stories with his lyrics. He was Aladdin Sane, The Thin White Duke and most often Ziggy Stardust.
He blushes when asked to recall those days.
"I keep thinking about those big red shoes," he says, motioning toward his feet. He's laughing now — almost hysterically. His cheeks have turned a deep shade of scarlet. Looking back on it, he admits the costumes "dehumanized" him.
There is an unexpected vulnerability about Bowie. He's confident, but not overwhelmed with himself — characteristics at odds with his theatric stage persona.
He is also not entirely comfortable discussing MTV. Though Bowie was among the earliest sight-and-sound groundbreakers with his ever-changing fashions, `80s icons such as Prince and Madonna have run away with the bulk of the credit.
Still based in Switzerland with his 18-year-old son Joey, Bowie will be on the road through August, traveling between the United States and Japan. (His son, who attends Cambridge University, plays American football and listens to "lots of rap, house music, Hendrix and Cream.")
Bowie has kept a low video profile during the past five years, wearing sleek business suits for his debut with Tin Machine. The group will release its second album at year's end. This tour should restore his commercial fortunes just enough to give Tin Machine a bigger springboard next time.
Though his current show is low on set pieces, he says it is no less dramatic.
Last time out he dragged along a crew of 150 and three mammoth Glass Spider sets that leapfrogged from city to city.
Of the massive stadium-sized stage gear he said, "I gave all that to the Stones," laughing at his own joke. "So now they're doing all that."
Rather than store the goods, Bowie and company burned the majority of the Glass Spider sets after their last show in New Zealand, "to make sure we`d never use it again."
Though some critics pummeled the over-produced tour, Bowie says there were aspects of it that he "really enjoyed."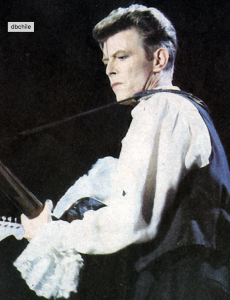 "It was very busy, yes, but it was a smorgasbord of ideas. Maybe I just squeezed too much into one thing. It's a much better show now on video because you actually have time to see just what was going on."
An art student and actor who has performed in offbeat films such as The Man Who Fell To Earth, Absolute Beginners and Labyrinth, Bowie also had a small role in The Last Temptation of Christ. In 1980 he starred on Broadway in The Elephant Man.
Though he had little formal stage training other than what he had learned as a musician, critics lauded his Broadway debut. Of the demanding title role, Bowie said the work was challenging at first, but then became "so boring."
"Six months of it was enough."
Initially frustrated that his film career had stalled, Bowie says he is no longer interested in acting roles.
"I don`t have the commitment anymore. If I want to do a good job I really should be studying, but I haven't got the will. I'm doing music 24 hours a day. It shows where my commitment lies."