TRIBUNE PUBLISHING | Tues. Nov. 8, 2016 8:23 am
By DEBORAH WILKER
Headlining for months at a time requires a special sort of endurance from the musicians who star in the world's biggest concert tours. Million-dollar paydays are helpful, but the grind is real.
Traveling with a toddler in tow is another level of perseverance altogether. Many performers have done it over the years, but few have been on the road as long — with a child as young, on a tour as big — as seven-time Grammy winner Carrie Underwood.
Her 85-date Storyteller tour, which cements her status as one of music's most bankable stars, is now in its final weeks. She and her 21-month-old son, Isaiah, have been on the road together since January.
"It's a small space to be confined in for long periods of time," Underwood says of her tour bus.
Not that she'd change anything.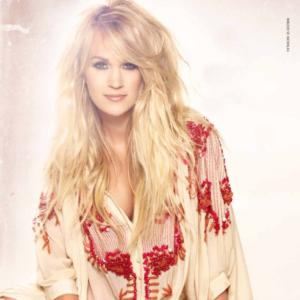 Since winning Season 4 of "American Idol" in 2005, and then quickly charging up the charts with "Jesus, Take the Wheel" and "Before He Cheats," Underwood, 33, has become the show's best-selling artist, a pop-country-crossover superstar and a global personality.
She was inducted into the Grand Ole Opry in 2008, while high-level brands such as Target, Hershey's, Olay, Skechers and Nintendo have all been in business with her. Her 2005 album "Some Hearts" was the fastest-selling country debut in chart history, according to Nielsen SoundScan.
Married since 2010 to the NHL's Mike Fisher (captain of the Nashville Predators), Underwood is also a fashion icon, celebrated for her sophisticated red-carpet looks. But when we caught up with her during a recent day off, she was far from icon mode. Rather, she was reorganizing the contents of her suitcases, doing laundry and planning a trip to the park with her son. Later, there would be an evening excursion with band members and crew.
"We're going out to a Dave & Buster's type place — but not Dave & Buster's — but one of those places to play some games," she said.
By the time Underwood's massive, in-the-round Storyteller tour — 17 trucks and eight buses strong — pulls into the BB&T Center Nov. 17, it will have grossed $50 million and counting. Two weeks later, she'll be off to Australia for a final leg, where she'll join co-headliner Keith Urban and wrap the thing for good just before Christmas.
"Then," Underwood says, "I'm taking a break."
Just when will the platinum-selling star get back in the studio, what is she most looking forward to this holiday season and how is she balancing this enormous show while making it look so easy? Carrie answers all.
How have you gotten through this past year? Your son was a little baby when this tour started.
It takes a village, for sure. There's lots of people to help. We've just been figuring everything out as we go along.
I'm so lucky. He's a pretty easy baby. We always try to give him things to do. We find parks to play in. He's pretty go-with-the-flow, and I feel like he's getting even more that way. He has a little crib in the back. It's right next to me.
Does he wake you up at night? 
A lot of times, he'll wake up and he'll be like, "Come pick me up, Mom. I can see you! Come get me!" So a lot of the time, he ends up in bed with me, which I know isn't the best for the long run, and I don't know what we're gonna do when we get back home 'cause he's gonna be like, "I'm used to sleeping here, mom!"
Do you go home to Nashville whenever you get a break?
I've been going home as much as I can. If I have a day off and I'm in a city where it's easy enough to hop on a plane and go home, I do.
My husband and I are used to being apart. When we were dating, we were both doing this
[pro hockey and music stardom]. When we got married, he lived in Ottawa for six months.
But the baby creates another element. We're fine not seeing each other, but I'm not fine — and neither is my husband — with the two of them not seeing each other. So it's definitely creating more travel for us, but [Isaiah] needs that.
You seem to be standing the test of time. Your career is now in its second decade. You're clearly not a one-and-done pop sensation. Was a long-term music career what you envisioned early on?
My game plan, and I even remember saying this to people, was I just wanted to sell enough of the first album to be able to make a second. With the second album, it was, "I just want to do well enough to be able to make a third." That was as much as I could let myself think. I just wanted to be able to keep doing it. My career has exceeded any expectations that I set for myself.
You're the most successful "AI" contestant ever and said to be the highest earner. Can you even process numbers like $50 million in tour grosses and $100 million in earnings?
[Laughs] I always wonder, "Where does it all go?" Because all the time, you're just kind of putting it all back into your business. I'm flabbergasted, really. It is pretty crazy to think that just from a show on television, so many incredible artists have come. I'm blown away by it.
You were only 22 when you recorded "Before He Cheats," but this was a mature song, and in the music video you sounded and looked much older. Were you worried about departing from your image so early in the game?
I think in the beginning, I was kind of leery about recording it. I knew I loved the song, but I didn't want people to think this was too aggressive. But I also love edgier stuff, and I was just hoping that people would understand that — and that there's enough room in country music that I could sing about Jesus and then turn around and sing about cheatin'.
And bashing your boyfriend's car with a baseball bat.
I'm thankful people responded to it so well. To this day, it's still a favorite and whenever it comes on, people are like, "Yes!"
You received something of a makeover after winning "AI," and it seems you've never looked back.
I'm a Southern girl. I like big hair and eyeliner, glitter and rhinestones. I just feel like I had more access to it after "American Idol." It's always been me saying I want this dress, or this is what I feel good in. It's always been me spearheading things.
Are there any special holiday traditions you'll be passing down to your son?
I feel like our traditions will start solidifying once my husband is retired. [Big laugh]. Because right now, our schedules are just so crazy. I always get Thanksgiving and Christmas off — but he doesn't.
So I feel like right now our traditions are … we travel. I haven't even looked at the schedule yet, but he only gets a couple of days off. I imagine it's not more than three days off. But we will go to see his family on Christmas, and I'll see my family either before or after Christmas, and that trip will just be me and Isaiah.
At some point, I know I'll love it when we can start saying to him, "We always did this and my earliest memories of Christmas are this." I want that for him and for us.
After this very long North American tour how did you decide to top it off with two weeks in Australia? Haven't you traveled enough?
We love it there, and we were going to go on our own originally, but then I found out Keith Urban was gonna be touring there in December, and we have a song together on his latest album, and I thought, "Why not?" Let's go together.
So we kind of hopped on to his tour. I'll be there for about 2 1/2 weeks, and I'm not taking Isaiah with me, and that will be the longest I've ever been away from him.
In 2013, you starred in NBC's live version of "The Sound of Music," and you've done some comedy, too, such as "How I Met Your Mother." Is acting something you want to pursue?
I don't really actively seek out things like that. Music is my life, and that's where my heart is, country music, specifically. But when interesting opportunities or things that sound like fun or a challenge come up, I can't say no. But no, it's not like I'm looking to move into that or anything.
What's the first thing you're going to do once you get a moment to relax this holiday season?
I think I'm just gonna enjoy being a hockey wife — and catching my breath a little bit and spending some quality time with the little guy. And we can just enjoy being at home. I'll take some time to decompress, but after January-February, I'll get to it. Yeah, I'll think about it after February.