Editor's note – Feb. 23, 2016:
When Joan Rivers died (senselessly) on Sept. 4, 2014, I had been asked by a colleague to assist with research for her obituary. Opening joanrivers.com that day, I was floored all over again. Rivers' planned itinerary read like something from a  globetrotter's fantasy. At age 81 she had personal appearances, stand-up gigs and television bookings scheduled all over the world, night after night, for months (maybe years) on end.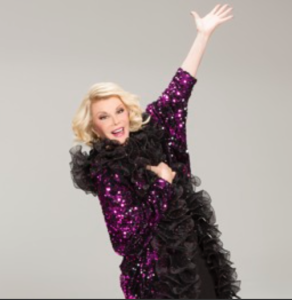 It wasn't really a surprise that Rivers loved to work. She was well known for her devotion to her career. (More on that in Ricki Stern's terrific 2010 documentary "Joan Rivers: A Piece of Work"). But because she was 81 I had just assumed, incorrectly, that she had slowed a bit.
This was similar to an assumption I had made — again incorrectly —  21 years earlier when I interviewed her for the 1993 piece that appears below.
We had talked by phone and again in person at The Sunrise Musical Theatre in advance of a show she was to perform there.  During both conversations I asked her about approaching her then-60th birthday and "didn't this seem like a logical winding down point" after so many years in the business? Did she really need to be doing all these stand-up dates?  
Both times her answer was the same: "Honey I'm just getting started." And she was.
In the early '90s I had caught Joan Rivers during a rebuilding period; things were on the upswing and she was determined that there would never again be a downswing. Just a few years later her mail-order businesses would become a billion dollar empire.
Rivers was one-of-a-kind — but she had much in common with many long-running superstars who find a way to keep going for decades. Her outsized resilience and optimism propelled her while peers would fade to the sidelines. (On the very night before the botched medical procedure that would eventually take her life, she had in fact been up late — on stage at the Laurie Beechman Theater in Manhattan — working as she often did, doing her act to rave reviews).

Rivers made a huge impression on me that day with her talk about re-starting at 60 – words I can still hear. If you really want something, it's never too late. And if you want to stay vital and content, even in your 80s – don't retire.
---
SOUTH FLORIDA SUN-SENTINEL | KNIGHT-RIDDER/TRIBUNE news service |February 3, 1993
By DEBORAH WILKER
For Joan Rivers, happily at the top again, memories of the bottom are still vivid.
"The elevator smelled like peanuts," she said of a sleazy hotel that was her home during an early Boston run some 30 years ago. "It was in a tenderloin neighborhood. They rented by the minute."
To ensure that no part of her pristine, Barnard College-educated self would touch such transient filth, she lined the bathtub with towels each night. "I'll never forget it. That was probably the low point."
That, and the boot she got from the Fox network in 1987; the subsequent suicide of husband and manager Edgar Rosenberg; her irrevocably broken relationship with mentor Johnny Carson; and the inevitable Hollywood blacklisting that followed.
Though many a career has enjoyed great revitalization during public misery, Rivers' personal and professional problems were so complex— and so sad— speculation was that the feisty, big-mouth comic would never make it back.
When she comes to the phone, there is no mistaking the voice. "So, how are you?" she says, like an old friend. "What's it like there? It's freezing here."
'Here' is her beloved New York, the city to which she returned five years ago after Los Angeles had had enough of her, and vice versa.
"L.A. is a company town," she says. "All show business. Movies are everything. TV is second. So I never made the A-list.
"But New York is a mecca for everything, and I'm very much a part of it. It's so alive."
Joan Rivers speaks with a passion about her life and work that is sometimes absent during interviews with many celebrities.
Soon to turn 60 years old, Rivers would seem to have reached a logical winding down point after almost three decades of international stardom. But in her mind, she's just getting started.
In addition to her Emmy-winning syndicated talk show, a weekly gossip show on cable's USA, and the touring stand-up act she will bring to The Sunrise Musical Theatre this week, Rivers also oversees three thriving enterprises she has created.
–The Joan Rivers Classic Collection is a costume jewelry line she designs and pitches on the QVC home shopping network; the line grossed $40 million last year. The company was recently purchased by Regal Communications and is now public.
–The Joan Rivers Classic Collection Catalogue is her mail-order clothing business and will undergo a national expansion in the fall.
–Melissasmom (read that: Melissa's Mom) is a company that produces and sells Rivers' line of cakes and cookies, and now produces infomercials, too.
"After I was fired from Fox, I said never again will I ever put all my eggs into one basket. I knew I was a good businesswoman, so I got busy."
The author of several books and screenplays, Rivers also has produced and directed her own TV movies and feature films, and is an activist for AIDS and cystic fibrosis charities.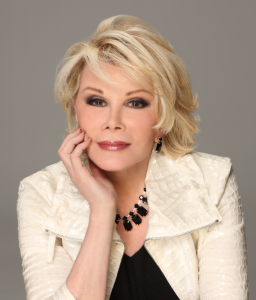 Starting out, her deepest desire was fame as an actress, a dream she  still pursues. In 1988 she returned to Broadway, stepping into the demanding role of Kate in Neil Simon`s Broadway Bound, winning fine notices. Soon after she played a Beverly Hills socialite in the CBS TV movie How To Marry A Millionaire. She is now working on a new script, in which she`ll play the lead.
And she still squeezes in at least two dozen stand-up dates a year, something she clearly does not have to subject herself to anymore, and something that would hardly seem to pay enough (relative to her other ventures) to make it worth the trip.
But she loves it. Stand-up keeps her sharp and happy, "though I'm crazy before I go on."
Her act, built on caustic one-liners, blunt celebrity gossip, manic energy, and her obsessive insecurity, is so high-strung that for years network executives, fearing a heartland backlash, have regularly ordered her to tone it down.
"People don't give Peoria enough credit," she says. And she has the box office receipts and the ratings to prove it.
Balancing her barbs with lots of self-deprecation doesn't hurt either. "I'm fat, I'm ugly and I have no friends," used to be her mantra. Lately, she's been tempering that line a bit: "OK, so I have friends."
Chief among them are her daily viewers, many of whom she senses often want to know the very same things about celebrities that she does. Often though, Rivers would seem to go too far, as in a recent interview with teen actress Jennie Garth, during which she inquired about the young star's virginity.
"I`m sorry if they're embarrassing," Rivers says of such squirm-inducing questions. "But if a lady at home is thinking 'ask her, ask her,' I have to ask. My allegiance is truly to the viewer, not the stars. I am doing the show for the people who are watching the show. All anyone ever has to say is 'I don't want to answer that.' That's fine. That never bothers me."
That she is not worried about offending Hollywood is rare in a world of fawning chat shows, all tripping over themselves in search of guests.
The Joan Rivers Show, about to enter its fifth year, bypasses all that. After an unfocused start, producers quickly found a niche by showcasing newspaper and magazine gossip reporters. Such guests now bookend every hour and often provide more lively chat than many celebrities would.
The format has been so successful, it has spawned a spinoff weekend show. Rivers isn`t worried that too much celeb tattling will turn Hollywood against her again.
"I don't report the gossip. I just ask about it. And what can you say about anyone that would really make a difference in a career anyway?"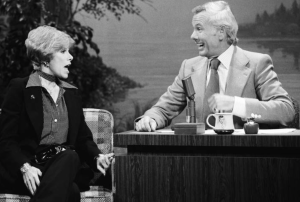 That attitude stems partly from Rivers' soured relationship with Carson, who she says "vilified me for leaving at the end of my contract.
"I truly could not understand it," she says of the bitter public episode that unfolded after she left her permanent Tonight Show guest host slot for her own show on Fox.
"Johnny is so damned competitive. He just can`t stand to see anyone else be a winner. Look what he`s done to Jay Leno, telling his people to go on Arsenio. It's terrible."
Like many people in his life, Carson wiped Rivers off his slate when he sensed she had crossed him. Then, she says, he ordered the NBC press relations department to smear her professionally.
But it was the personal lockout that proved the most crushing blow, since Rivers had been discovered by Carson on his show, and she had always viewed him as her mentor.
From the very day she left NBC in October of 1986, Carson refused her calls.
They have not spoken since.
Her only new attempt at contact came when Carson's son died in a 1991 accident. "I sent him a note," Rivers says. "You know, just because that`s what you do."
There was no response.
But by then, Rivers says, she had gotten past the pain. "I can't be bothered by other people's neuroses."
Only the suicide of her husband hit her harder, but Rivers says the ensuing years of self-examination and a renewed bond with her daughter Melissa (now an MTV reporter), have helped her move on and relish this new beginning.
"Every day I say 'thank you God for this good life.' "