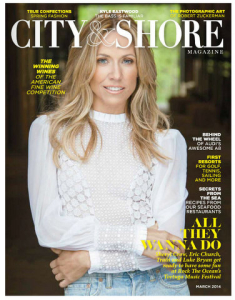 The last 10 years of Sheryl Crow's life play like something from sad, sad country song. Busted romances, bad men, breast cancer, single motherhood, a brain tumor. Then in 2013, another blow: Rogue ex-boyfriend and dethroned Tour De France champ Lance Armstrong had suddenly resurfaced for a soul-cleansing on Oprah's couch, admitting to years of illegal doping, some of which coincided with his 2003-2006 relationship with Crow. Detractors vilified her for not speaking up, saying she had to know.
At the time of this interview Sheryl Crow was in ignore-it-all mode, pressing on with a new tour, new music (her first real country record), and life as a full-time mom in Nashville.
---
TRIBUNE PUBLISHING | March 2014
Sheryl Crow Makes No Compromises in a Man's World
By DEBORAH WILKER
It's a busy morning at Sheryl Crow's house just outside Nashville. Her young boys are off to class, but bad weather looms, school officials just postponed the start of the day – and now Mom has to juggle.
"Yesterday school was canceled, and I cannot figure out why it was delayed today – it's beautiful here!"
Sheryl Crow has been rolling with snow-days, homework and all the rest that comes with parenthood for more than seven years now.
"I'm going back to pick up my three-year-old now," she says, before we get to the real reason for our chat – her appearance next month at Rock The Ocean's Tortuga Music Festival, on the sands of Fort Lauderdale Beach.
Could there be a more perfect ambassador for any two-day beach party?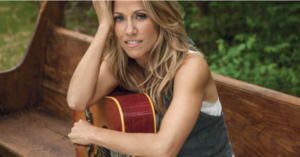 The nine-time Grammy-winner, now 52, is as well known for her breezy pop tunes as she is for her down-to-Earth glamour. Blue jeans, tank-top and a guitar are about all she needs to stop us cold. Hits such as All I Wanna Do and Soak Up The Sun could be this festival's official anthems.
Though Crow battled breast cancer eight years ago, and then discovered in 2012 that she had a benign brain tumor, she is as stunning as ever on the cover of her latest album Feels Like Home, the critically acclaimed country record she released here last fall, and more recently overseas.
Promoting it nationally and internationally over the past six months has meant a punishing schedule, but she's been up for it.
"I feel as well as I did 10 birthdays ago," she says.
As for looking so well in her 50s, particularly after those health scares, she credits her folks, and her busy life.
"I think we just got lucky in the gene pool. My parents are young-spirited and vital. My dad is in his eighties and my mom is in her late-seventies and they're always on the go. I am active, I have little kids, I've always been athletic and I think aging naturally certainly makes you look younger than getting everything fixed."
Though Crow's airy guitar songs have always flirted with a country feel, Feels Like Home is her first full-fledged Nashville record. She established full-time roots there soon after receiving the cancer diagnosis, which came just days after she parted ways with now-disgraced cyclist Lance Armstrong.
The break-up drama had been dead and buried – until early last year when Armstrong came forward in an interview with Oprah Winfrey to acknowledge that he had indeed been using performance-enhancing drugs, as had been alleged for years.
Stripped of his seven Tour de France titles and banned from his sport for life, Armstrong soon found himself in all kinds of trouble including legal action from top sponsor the U.S. Postal Service (and with it the U.S. Dept. of Justice), which wanted its money back.
At the same time, detractors pounced on Crow as if she was complicit in his fraud. Whistle-blowers suggested she "must have been aware" because they were a couple during part of his doping heyday.
"He holds no relevance to my life," she said of Armstrong in a recent interview with The Daily Telegraph in the UK. As for her accusers, she doesn't engage them: "Grace goes a long way."
While the high road is often best, it sure seems the low road could produce the perfect material for a country classic, couldn't it? But no, Crow won't bite.
With Nashville morphing from country capital to straight-up rock and pop songwriting center in recent years, Sheryl Crow could have easily fit right in today just making more of the same music she's always made. But her intent in recent years was to create a real country record with an old-school edge. Of her foray into this genre, she says the transition has been smooth – but it did test her. Packed with classic storytelling, heartbreak and nuanced observations, the effort has earned her some of the best reviews of her career.
Working with a handful of Nashville pros, Crow co-wrote eight of the 10 tracks, and likened the experience of learning to create this kind of sound to something of a musical boot camp.
"My music's always been country-tinged," she says. But today, she adds, country has become so broad, the format can be a bit confusing. "Today you hear everything from Taylor Swift to Hunter Hayes, which is definitely pop-oriented – to Southern rock with Eric Church and Florida Georgia Line.
"You do actually hear less traditional country music than ever before. But the one thing that remains consistent about the format is that it's still all about the songwriting. Other formats have gone more the way of beats – but country is still always about the hook and the story. I guess that's where I fit in."
Learning on-the-fly is not new to her. This former elementary school music teacher has been picking up tips from all kinds of superstars throughout her long career, including first boss Michael Jackson (for whom she sang back up), and later while guesting in concert with The Allman Brothers Band, The Rolling Stones, Luciano Pavarotti, and her idol, Stevie Nicks, among other greats.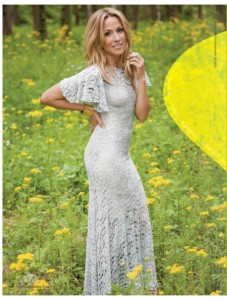 "It's like stepping on the tennis court with Andre Agassi – it just ups your game when you play with people who are amazing. It raises the bar. I've been really fortunate to perform with a lot of people who have been an inspiration to me."
Even trading licks with guitar God (and former boyfriend) Eric Clapton doesn't faze her. Nor does being the only woman on stage, as is often the case when she guests with other bands. She tends to hold her own especially well in such situations, never compromising a shred of femininity.
"Ah, that's nice. I don't know that I do that. I just show up and I play! I learn from them, I'm inspired by them – and I wanna be great. It keeps my enthusiasm for my work going – and after 20 years it's wonderful to be enthused."
At Tortuga she will in fact be the lone female headliner out of more than two dozen acts. As usual, she'll alter nothing about herself or her show to fit in.
"I don't really think of it in those terms. Unfortunately women are in the minority when it comes to almost every format of music. But I never view it as whether I'm a female or male. It's just all of us being peers."
Hold on, maybe she will change one thing.
"I am gonna tell you, I am definitely not going to straighten my hair that day. I can guarantee by two songs in, my hair will be completely curly standing there in front of all that water – which I love.
"This is a great cause," she says of the Tortuga fest's partner, Rock The Ocean – a Nashville non-profit that funds scientific research about issues affecting the oceans worldwide.
"There's nothing more inspiring than being out in nature," Crow says of the festival's unique oceanside setting. "I feel really fortunate to be a part of this, and with other artists I love. And you have the best possible stage production when you have nature as your backdrop. "
She says she felt fortunate as well to be asked by former Tonight Show host Jay Leno to be part of his final show last month. In a musical vignette set to Farewell from The Sound of Music, she bid the TV host good-bye along with Garth Brooks, Oprah Winfrey, Jack Black and Carol Burnett.
"I was touched that he thought of me, that he asked me, and that I was part of history-making," she said of Leno. I felt proud and humbled to be part of it."
After she tours with Rascal Flatts this summer, the next place she'll be – if all goes according to plan – is Broadway. Crow was asked a few years back by film director Barry Levinson to write the score for the stage adaption of his 1982 cult classic, Diner. After some early bumps and a change in the producing team, the musical is now back on track.
She'll join a long list of pop stars, among them Cyndi Lauper, Bono, Elton John, Billy Joel, Frankie Valli and Green Day, who have either written new songs or have refashioned their existing music for the Great White Way.
Though she grew up on show-tunes, Crow says she once again had to return to songwriting boot camp to get the Diner songbook just right.
"I wasn't given carte blanche to write pop songs. I was asked to write what would be appropriate to the time period. It was a great exercise for me — a great challenge.
"Hopefully critics will hear it and not even know that I wrote it! That's true success isn't it, when they can't tell who wrote the music?"