CITY & SHORE | July 2014
By DEBORAH WILKER
During his 15 years in the music business, singer-songwriter John Legend has racked up so many awards and critical accolades, it would be natural for some fans to assume there wasn't much left for him to accomplish.
Yet despite the Gold albums, nine Grammy awards and the hits he's worked on with The Black Eyed Peas, Janet Jackson, Lauryn Hill, Kanye West and Alicia Keys, Legend had never been able to create hit-radio success for himself.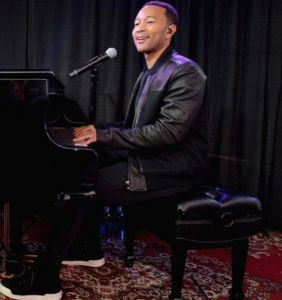 While his concerts and albums have sold well, his singles have been another story – never so much as cracking the top 20. Great tunes such as Ordinary People, Save Room and Green Light were well received, but just never broke all the way through.
And if that was to be Legend's reputation – an elegant concert-hall artist who won critics' hearts and never sold his soul – there wasn't much to complain about.
Then came All of Me. Few seemed to notice when Legend released this heart-on-his-sleeve ballad (from his latest album Love in The Future), in the summer of 2013.
Despite a strong promo tour that included knock-out performances on Late Show With David Letterman and The Howard Stern Show, the pretty love song meandered around the bottom of the charts for months— then all but disappeared.
But Legend, an Ivy League grad by age 20, isn't the type to give up. More than five months after the song's release, Legend dug the song from its grave for one last shot, gamely performing it on the Grammy Awards telecast last January.
Finally, digital sales and YouTube views took off. Teen girls swooped in, appropriating All of Me for the kind of homemade romance videos that populate Tumblr and other fan sites where star-crossed couples are worshipped.
In February superstar deejay Tiesto created a dance re-mix of the song, which chart analyst and music critic Chris Molanphy says "took it the last mile."
"John Legend had a perfectly solid career before this, but All of Me has changed everything," said Molanphy, author of the "Why is This Song No. 1" column for Slate.
"He's an interesting case because he's not someone who went from tiny indie to massive success," Molanphy said. "He's a major label artist with major label promotion with solid selling albums, who with this one song, has now gone into a different strata."
By May All of Me had finally reached No. 1, Legend's first chart-topper after a decade-and-a-half of trying.
The song's 10-month odyssey also makes it one of the slowest-climbers ever to top Billboard's Hot 100. Molanphy expects that the multi-format smash will linger on the charts a while longer – not just through summer, but likely as a recurring radio hit for at least the next two years.
Even if Legend never has another hit single, he's now created a completely different career trajectory for himself.
"He has this base career which will always be there – and then he has this calling card – this mega hit that will draw the more casual fan for years to come," Molanphy says.
"He can build a career that goes from amphitheaters now, to smaller saloon type dates 20 years from now. It will be a wedding staple forever. It's exactly the kind of hit record you want."
Even better news, he says, is that All of Me "is so much of apiece with everything Legend has been doing for the last 10 years," the new fan who loves the song and shows up for a show, won't be disappointed.
"He's got a quintessential-for-his-sound hit record."