MTV Unplugged was a revelation when it debuted in 1989, an ongoing example of the network's former cultural significance and early innovation. It was also a telling barometer: Who could actually play? Who should stay plugged in?
The show's influence was enormous in the early '90s. Eric Clapton's '92 appearance propelled his career into a new stratosphere, spawning the acoustic Layla, and a 10-million-selling live album that won six Grammy Awards.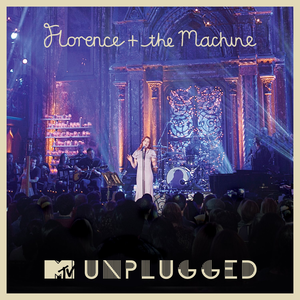 Today the show lives on as periodic specials, featuring in recent years, Miley Cyrus, Florence and The Machine and Lil Wayne. In 1996 it sired a similar show on the sister network, VH-1 Storytellers, during which musicians discuss in greater detail the circumstances around the writing of their hits, as well as their creative processes. It too lives on intermittently, with Ed Sheeran, Pink and Taylor Swift as more recent performers.
Fun-fact mentioned in this 1990 story: A mere nine years after its birth, MTV was already taking heat for moving away from its all-music-videos format — though the channel's executives at the time protested that would never be the case.
Update Fall 2017: MTV Unplugged is back on the air again!
---
KNIGHT-RIDDER/TRIBUNE News Service | Sept. 16, 1990
MTV Unplugged Asks Stars To Check Amps At The Door
By DEBORAH WILKER
NEW YORK — Aerosmith's lead vocalist, Steven Tyler, is getting ready for another really big show. But he isn't prancing around, wired with the usual manic energy. On this night he simply strolls out front, grabs a soda and quietly sits on a folding chair center stage at the old Ed Sullivan Theatre.
Tyler knows he's on hallowed turf. The Beatles, The Stones and The Doors were all introduced to America from this very spot. He`s ready to pay homage.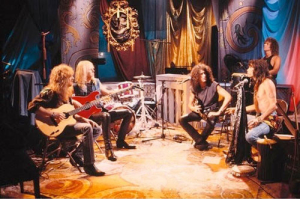 His bandmates — Joe Perry, Tom Hamilton, Joey Kramer and Brad Whitford — have each followed suit, settling into a small semicircle with him. Huddling over their mics, cradling battered guitars, the guys sink into an intimate coffeehouse set highlighted by Toys In The Attic, Dream On and The Doors classic, Love Me Two Times.
The fans — some 200 of them bussed in by a Jersey radio station — are in their glory. Talk about up close and personal. These fans, many of whom are sitting right on stage in a tight circle with the band, can practically taste the sweat beading up on their idols.
The hourlong show is pure acoustic guitar and grit, not at all similar to Aerosmith's usual high-voltage arena display. Though Tyler`s vocals — shot from years of hard living — could use a little backstage sweetening, on this night there is no backstage. What you see is what you get.
Welcome to MTV Unplugged — superstars and their music stripped bare. The show is one of the most popular features on cable TV, and in New York and Los Angeles the tapings themselves are among the most sought-after tickets in town.
Where else — how else — can the average music fan hope to catch their stadium favorites in such a private setting? Even when these concerts are eventually aired on television, long after the warm glow of the actual taping session has ebbed, they still exude a feeling of pure unguarded intimacy.
This is all very rare for television and particularly rock music. Everything about the intelligent MTV Unplugged doesn't feel like MTV. Perhaps it`s the Baroque-ish set featuring giant crystal chandeliers and flowing rainbow curtains. Maybe it's the ghosts that haunt this historic theater. Or maybe it's simply the casual attitude of the performers, many of whom seem thrilled to be out from under all that heavy gear.
A critical success and a real barometer of who can actually sing and play, the all-acoustic Unplugged relies heavily on the novelty of showcasing electric bands without their usual wattage, costumes, stage trappings, back-up singers, lasers and so on.
You can learn more about the hard rock business by noting who doesn't accept an invitation from Unplugged, than who does.
There also have been performances by those who make acoustic playing a regular part of their act. Artists such as 10,000 Maniacs' Natalie Merchant, Don Henley, CSN and Elton John. An appearance last spring by the late Stevie Ray Vaughn with Joe Satriani, made for one of the series' best shows.
The popular Unplugged is the very antithesis of everything that has made MTV so popular, the antithesis of what the music industry became through the `80s.
Now, with a strong back-to-basics undercurrent bubbling through the business, MTV seems once again just a few steps ahead of the game.
"We had been talking about an acoustic series for a while," said the show`s executive producer Joel Gallen, "but it didn't really have a focus until last year's Video Music Awards when Jon Bon Jovi and Richie Sambora said they wanted to play acoustic. It was so down to earth and right out of left field."
That awards show performance, which featured Bon Jovi and Sambora in a scaled down bid for respect, was all the inspiration Gallen needed to get Unplugged off the ground.
A try-out episode featuring Squeeze last fall lead to others with Crowded House and White Snake. The show was launched as a series in January and has for the most part been running every Sunday night at 11 since then.
Occasionally, as with the upcoming Aerosmith outing, (Thursday at 10 p.m.) Gallen turns Unplugged into a special, premiering it at a different day and time and then repeating it on Sunday.
To keep quality high, the series may indeed become just that — a succession of high profile specials airing roughly once a month during what the broadcast networks call "prime time."
"We don't want to simply be churning out a show 52 weeks a year just to get a new show on the air each Sunday," Gallen said. "We have to make sure we maintain the level we have already achieved."
In other words, once Gallen exhausts the illustrious roster of artists at his disposal, he doesn't want to sink to a b-list of disco starlets. Not that he has anything against the dance acts and chart kids who also sell lots of records. But artists with strong musical roots such as Heart, Aerosmith or Living Colour and greats like Eric Clapton make for better acoustic shows than, say, newcomers like Sweet Sensation.
The novelty of unplugging the amps may be important, but keeping the show at high caliber is crucial.
"We certainly wouldn't rule out dance acts, rap or pop vocalists," Gallen said. "It all depends. Someone like Taylor Dayne would be perfect because she has a terrific voice. Whitney Houston, too. We have to see where she's going with her next album. If it's geared to MTV (as opposed to the more adult- contemporary VH-1) she is certainly someone we`d love to have."
THE RIGHT CONDITIONS
Whether the show remains a weekly series will also depend on budget and scheduling.
Unplugged has attracted the industry's most established artists because MTV has also recently upgraded its production values.That expense has to be off-set by scheduling at least three tapings in one sitting — a difficult maneuver when dealing with the biggest, busiest bands.
On the day Aerosmith rolled into the Ed Sullivan Theatre (not cheap to rent), MTV also scheduled CSN as well as lesser acts Vixen and Ratt for tapings of separate editions of Unplugged.
"There have been times when we've had a studio for one act and wanted to get Van Halen or Clapton or Heart and they just couldn't make it on that particular day," Gallen said. "Getting everyone together at once time hasn't been easy."
But countering that has been the appeal of upgraded light and sound equipment — a big draw for artists who traditionally have shunned live television.
Pushing their albums with live performances on network shows such as Late Night With David Letterman, is often a nightmare for artists because the technical conditions are so poor.
Aside from having to play or sing with TV back-up bands, network sound equipment is generally not suitable for music. And even on shows that were specifically designed as hit parades, such as the old syndicated series Solid Gold and even American Bandstand, most artists often had no choice but to lip-sync to a recorded track since those shows were taped in older, less sophisticated studios.
Gallen, who also is a vice-president at MTV, says his network — the network that made lip-syncing to videos vital to every career — is now intent on preserving opportunities during which live music can be regularly showcased.
"Ideally, I`d like to see some kind of outlet at least once a week that features live performances." He also wants to include more jam sessions like the Vaughn/Satriani show and is working on a quarterly one-hour program that will focus on new music only.
Gallen says video fans needn't panic as videos still make up more than 85 percent of MTV's daily schedule and many of its long-form shows include videos. "No, we`re not moving away from music videos."
UNPLUGGED` WELCOME
Scheduling problems and keeping costs down are the only glitches in what has been a very smooth ride for this alternative show. Gallen says MTV has encountered no resistance from an industry that`s usually hellbent on preserving facades.
"Just about every person we've contacted has said yes. Maybe only once or twice has someone said, 'Look, the product I`m pushing now is very metal-oriented and going acoustic just wouldn't work for me at the moment.' "
MTV producers do lots of homework before sending out invitations to Unplugged so as not to embarrass anyone.
"We know the histories of everyone we ask," Gallen said. "We know they can play. We've never yet had anyone turn us down because they`re not qualified."