BILLBOARD | 11/15/2017 by Deborah Wilker
A panel discussion at Billboard's Touring Conference & Awards on Tuesday (Nov. 14) that was set to focus on the unique demands of full service talent agencies and expanding opportunities for artists in branding, digital and activism, changed course as concerns about ticket pricing and security at live events dominated the conversation.
Agents representing superstars such asJerry Seinfeld, Celine Dion, Katy Perry, Luke Bryan, Lorde and many others convened for the "Agent Power Panel" during the first afternoon of the two-day conference at the Montage Beverly Hills hotel.
"I was at the Katy Perry show last week and on the catering table was a laminated piece of paper
[explaining] what to do if there's an active shooter," said veteran agent Mitch Rose, co-head of contemporary music for North America, CAA. "This is the world we're now living in. It's really sobering. You're going to see dogs at every show, you're going to see metal detectors at every show."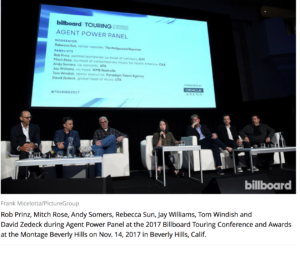 Top of mind throughout the day and during informal chats between sessions was how the live event business and adjacent hospitality industries chart a path after the most recent slaughters of outdoor concert-goers in Las Vegas and worshippers inside a tiny church Sutherland Springs, Texas
Jay Williams, co-head WME Nashville, said his industry is seeing "across the board changes" in security hiring. He also wondered "How is this going to change how you're going to check into a hotel?"
Rob Prinz, partner/worldwide co-head of concerts, ICM, made comparisons to the aviation industry of old, when anyone could walk freely among concourses and gates. "This is going to take an industry-wide effort to change the way we approach things."
But left unaddressed by the panel was just how expensive, time-consuming and intrusive venue security processes can be without alienating customers. Air travelers trade their time (and often their dignity) because typically they must get to another location. But concert-going and hotels are options.
The concert business alone is now a $25 billion-a-year global industry, which has thrived anew in the social media era. Calling music "a democratizer," moderator Rebecca Sun of The Hollywood Reporter also led the panel in a lively debate about ticket prices — another factor that could also threaten the industry's current good times.
Age old questions about thwarting scalpers, and who should benefit from the mark-up of tickets sold on the secondary market were front and center.
Andy Sommers, VP concerts, APA, recommended releasing tickets "at the last minute," via will-call. Tom Windish, senior executive Paradigm Talent Agency, called for agencies to unite and address issues together.
Agents agree that many artists continue to leave money on the table when they underprice their tickets — leaving a wide-open opportunity for resellers. But entertainers are also loathe to be viewed as gouging their fans.
"When a fan pays $2,400 to sit on the floor at an NBA game the price appears to be set by the team," said David Zedeck, global head of music, UTA. "In our world the fan blames the artist.
Ultimately the conversation did turn to dealmaking and evolving opportunities for artists. "Deals that reach billions of  people are pretty dramatic," Prinz said of what he called  "the Netflix phenomena."
Williams pointed out that there are simply "no barriers to break artists anymore," while also addressing the thorny issue of long-lead on-sales that force fans to ante up for shows a year or more in advance. "Do you know where you're going to be a year from now?"
And as if to sum up the conference itself,  Rose pointed out that never before have there been so many opportunities to create live events, particularly outside of music — from podcasters on tour to politicians giving speeches. Said Rose, "Former vice president Joe Biden now fills 3,000-seat venues."