CITY & SHORE | April 2016
By DEBORAH WILKER
Work has long been a balm for Rick Springfield, the hit song-maker and actor whose career has spanned continents, generations and genres. In his world, prestige projects with HBO, Meryl Streep and Dave Grohl mingle easily with kitsch cameos on General Hospital and his "Rick Springfield & Friends" events – resort getaways he hosts for devoted fans.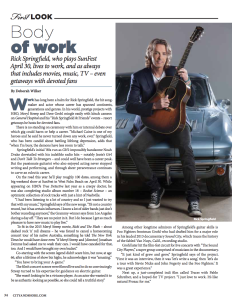 There is no standing on ceremony with him or internal debate over which gig could harm or help a career. "Michael Caine is one of my heroes and he said he never turned down any work, ever." Springfield, who has been candid about battling lifelong depression, adds that "when I'm busy, the demons have less room to talk."
Springfield's initial '80s run as GH's impossibly handsome Noah Drake dovetailed with his indelible radio hits – notably Jessie's Girl and Don't Talk To Strangers – and could well have been a career peak. But the passionate guitarist who also enjoyed acting never stopped writing and performing, and through sheer perseverance continues to carve an eclectic career.
On the road this year he'll play roughly 100 dates, among them a big weekend show at SunFest in West Palm Beach on April 30. While appearing on HBO's True Detective last year as a creepy doctor, he was also completing studio album number 18 – Rocket Science – an optimistic collection of rock tracks with just a hint of Nashville.
"I had been listening to a lot of country and so I just wanted to try that with my music," Springfield says of the new songs. "It's not a country record, but it has certain influences. I know a lot of older bands just don't bother recording anymore," the Grammy-winner says from Los Angeles during a day off. "They see no point in it. But I do because I get so much pleasure to have new music to play live."
To fit in the 2015 Meryl Streep movie, Ricki and The Flash – about dashed rock 'n' roll dreams – he was forced to cancel a homecoming concert tour of his native Australia, something he told The New York Times he would have done even "if Meryl Streep and
[director] Jonathan Demme had asked me to wash their cars. I would have canceled for that, too. And I would have brought my own bucket."
Co-starring with the screen legend didn't scare him, but now, at age 66, after a lifetime of show biz highs, he acknowledges it was "amazing."
"You have to bring your A-game."
The film's concert scenes were filmed live and to do so convincingly Streep turned to his expertise for guidance on electric guitar.
"She wasn't looking to be a virtuoso player. As an actor she wanted it to be as authentic-looking as possible, so she could tell a truthful story."
Among other longtime admirers of Springfield's guitar skills is Foo Fighters frontman Grohl who had drafted him for a major role in his lauded 2013 documentary Sound City, which traces the history of the fabled Van Nuys, Calif., recording studio.
Grohl later hit the film-fest circuit for live concerts with "The Sound City Players," a super group comprised of musicians in the documentary.
"It just kind of grew and grew," Springfield says of the project. "First it was an interview, then it was 'let's write a song,' then 'let's do a tour with Stevie Nicks and John Fogerty and the Foo Fighters.' It was a great experience."
Next up, a just-completed indie film called Traces with Pablo Schreiber, and a hoped-for TV project. "I just love to work. It's like natural Prozac for me."