PEBBLE BEACH THE MAGAZINE | June 2014
BY DEBORAH WILKER
Sam Mann wasn't on the hunt for a special car the day he stumbled upon a broken down '38 Delage in a Connecticut restoration shop. In fact, the car was "in pieces, shoved off in a corner with a bunch of junk piled on it."
But Mann, a renown car collector and four-time Pebble Beach Concours d'Elegance Best Of Show winner, said that like most improbable finds, this neglected treasure simply caught his eye. "It was virtually all apart, but the center section of the car was such a work of art – the cabin – it alone could have been taken away, placed on a pedestal, shown as pure sculpture and it would have been quite seductive."
Mann, an inventor and industrial designer by trade, was smitten. He offered to buy it but the owner wasn't interested.
"Every year for 10 years I'd make a phone call, and every year he'd say no. Then one day he calls me and says, 'I think I'm ready.' "
But as with most car chases, there were twists. The owner had reassembled the car, a Delage D8 120S – "not so it ran, just so it was together," Mann said – "and it looked terrible." Mann said no thanks and went home.
Months later however, he second-guessed himself.
"I went back — and sure enough he had sold the car!"
Now Mann had to have it. He called the new owner, only to hear him say: "I am deeply in love. I am keeping this car."
His pursuit started anew. He diligently phoned each year, learning along the way that the new owner had moved the car from one restoration shop to another, not really making much progress. Finally "he said to me, 'you're probably the guy to restore the car.' "
Victory at last.
The Delage was not only his, it went on to win the Concours Best of Show in 2005.
Mann, who has brought his cars to Pebble Beach all but one of the last 25 years, says winning is thrilling but "the hunt is romantic."
"It's always an adventure," Mann said by phone from New Jersey. "You often go to places that are strange or unfamiliar and you meet people who sometimes, philosophically, leave you different than when you met them."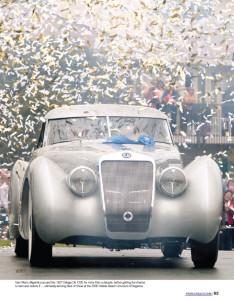 But just what is it that compels people to so intently pursue certain cars, perhaps for decades — and then care for them as ardently as a fine romance?
"Cars elicit such strong initial memories," says David Gooding, founder of Gooding & Company, the official auction house of the Concours. "It's that assault on the senses that is the trigger. You can hear them, you can smell the leather and the gasoline, the metal and the rubber. You can sit in them. They're three-dimensional. They're machines but they're animate objects. They come to life."
And, just like all of us, "sometimes they can be difficult. Sometimes they can be sweet."
But it is most often the tug of a youthful moment, particularly for those who grew up in the last century, that gets Gooding's phone ringing.
"Every year, if you were to walk around the field at Pebble Beach or walk around our auction – our clients all tend to have a memory," he says. "I remember when I saw this certain car, and that's what kindled my passion."
Ah passion. It's a word spoken unendingly among collectors. Passion for the cars, the hobby, the unparalleled experience of the Concours d'Elegance, and the collector community itself.
Love of cars is "the great leveler" says Louisville, Ky.-based philanthropist Jim Patterson, owner of a famed collection of French cars including the Delage D86 Roadster named 2010's Best in Show. "Whether billionaire chieftains of the corporate world, or guys with ponytails, when you get them together they're the same. You're there for the love of the automobile."
Jim Callahan, owner of family-run Piedmont Piano in Oakland, Calif., says entering a car at Pebble – let alone winning any kind of honor – was unimaginable to him when he first attended as a spectator in 1981. "But then the preservation class came along and I thought — maybe."
A yearly Concours attendee, Callahan acquired his first rare car just as he was graduating from Berkley in the late '70s.  Over the years he steadfastly refined a small collection, bringing a car to Pebble Beach for the first time in 2002 — a 1926 Deusenberg Model A, that ultimately won 2nd place in the Prewar Preservation class (a showcase for unrestored vehicles). In 2007 his 1928 Stutz won the class, as did his 1932 Stutz in 2012.
"When you're finally on that drive, that's just the top of the world," Callahan said of the Tour d'Elegance, the pre-show event during which owners take the wheel along the surrounding miles of scenic roadways. In fact Callahan and his friends drive their rare cars from their Bay Area homes all the way to the event, about 115 miles away. "It's too much fun not to," he says. "It's like going to the World Series."
Even revered collectors with stockpiles of blue ribbons, must quiet their nervous excitement as the competition lawn nears. Peter Mullin, the California philanthropist who has entered cars for more than 30 years, and whose 1934 Voisin C-25 Aerodyne was named 2011's Best of Show, admits can still contend with butterflies as the judging begins.
"You have a little bit of your heart in your mouth because you are among the rarest of the rare," Mullin said. "But then you remind yourself – I am not in the car business to win trophies – I'm in it because I love them."
Mullin's devotion is best understood by a visit to his Mullin Automotive Museum in Oxnard, Calif., which he opened in 2010 and which houses what is probably the finest collection of 1920s and '30s French cars in the world. So intent was he on showcasing his collection in just the right artistic context, his museum also displays rare Art Deco-era furniture, paintings, glassware, lighting, graphics – "just about anything surrounding the Art Deco movement," he says.
His favorite car, (perhaps until his Voisin won), is his 1938 Talbot Lago T150, or 'Teardrop,' which won its class at Pebble Beach in 2005, along with numerous honors over the years. "It was a long, diligent, slow pursuit," he said of a decades-long dream to make such a car his own. "I saw a picture of that car – well a car – a Talbot Lagot – and I looked at that picture probably every day for 20 years."
He speaks of the Teardrop just as any museum curator might: "It's the apex of sculptural automotive design — the most beautiful organically created piece of automotive art." In a 2012 interview with the New York Times, he delved more deeply into what drives him: "Collecting is a building passion. Interest becomes commitment, which becomes passion, which becomes sickness, which becomes terminal. The more you know, the more you want to learn."
2010-winner Patterson says that even though almost all such cars continue to appreciate, particularly in recent years, these super-charged pursuits, reverential restorations and rapturous displays, are pretty much just as they seem: Less about money and almost always about true love.
"Nobody goes into this thinking their car's going to be worth more five years from now," Patterson says. "It really is the enjoyment of ownership, love of the people, the art, and the beauty of the car. Why does somebody collect Picassos or Chagalls?"