THE HOLLYWOOD REPORTER | Oct. 28, 2005
By DEBORAH WILKER
CROZET, Va – While the numbers for recorded and live music have been mostly down again this year, one thriving small-town music operation is bucking industry trends. More than 500 artists – including the Rolling Stones, Dave Matthews Band, Eminem, 50 Cent, Kenny Chesney and John Mayer – now trust the marketing and sales of everything from concert tickets and CDs to posters, exclusive downloads, T-shirts, live recordings and more to little-known Musictoday, a booming artist services and promotion company that's wringing profits from just about every corner of the business.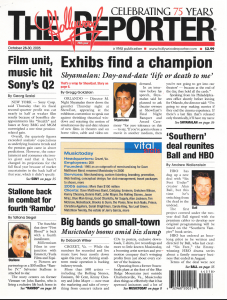 Operating from a former frozen-foods plant at the foot of the Blue Ridge Mountains just outside Charlottesville, Va., Musictoday does things so effectively that it has spawned imitators and a lot of curiosity – even from outside the music industry. Madison Square Garden just signed to have MT handle merchandise sales for the New York Knicks and Rangers. Tiger Woods also is a new client.
But moving millions of dollars in T-shirts and knickknacks is only a small part of the equation. What separates Musictoday from standard merchandisers is its founder, Coran Capshaw, best known for taking Dave Matthews Band from local club favorite to a multimillion-dollar empire – mostly outside conventional music channels.
"To the average person, Coran Capshaw is the guy who manages Dave," says Hawes Spencer, editor of "The Hook," a Charlottesville weekly. "I don't think many people realize that Musictoday works with the world's biggest bands. This is a very big business in its own right."
That's probably an understatement. With a staff of 200 and sales of more than $100 million this year, Musictoday appears to offer just about anything fans might want – and performers might need – from full-fledged branding to short-term services such as sprucing up websites or shipping out leftover tour souvenirs.
"Coran has always done really well at recognizing unrealized revenue streams," says Jonathan Mayers, founder of New York-based Superfly Prods. and promoters of the annual Tennessee jamfest Bonnaroo, in which Capshaw was an initial investor. "Whether it's custom tickets, live recordings, specialized merchandise, he just gets the scene. He gets the concert experience. He gets that it's for the long term, that music is a lifestyle. And he realizes how important it is to interact directly with fans."
That Capshaw identifies with the common man and has harnessed his own passion for live music into a lucrative business isn't a surprise to those who know him. A lifelong Grateful Dead fan, Capshaw was particularly enamored with that band's pioneering direct-mail ticket and merchandising business – approaches he adapted for the Internet age just as DMB was catching on in the early '90s.
"There was an opportunity to embrace a whole new model," Capshaw says of his decision more than a decade ago to take Matthews straight to the Internet. "I thought we could also create a fan club model, which in the past had been something that nobody really focused on. So I tied the ticketing to it, and both at once we put everything online.
"I guess it was just the right place, right time," he adds. "Then we just started doing all these other things for other artists … using what we've learned in the trenches to help a wide array of careers in a multitude of genres."
Musictoday's packed warehouse is testament to that – a mélange of clashing musical cultures ranging from artsy Santana posters to Ashlee Simpson sticker collections.
"What I like is that we've built a business that's really empowering artists and taking advantage of the technology," Capshaw says during a recent interview at his pastoral estate near Musictoday headquarters. "While we've got shrinking record sales in this industry, we're at least taking the same technology that's potentially helped cause some of that, and we've embraced it as a way for artists to connect with their fans."
Though DMB ultimately sold, and continues to sell, millions of albums, the group has indeed never been reliant on record label financing, radio airplay or traditional public relations and media attention to thrive. It's a blueprint that Capshaw believes can be adapted for all kinds of performers.
Like the Dead, DMB always has shared its news directly with fans and encourages its audience to tape and trade concert recordings – a style of doing business that makes fans feel as if they have a stake in things.
Capshaw also is a big believer in the details. For example, custom concert tickets that are imprinted with band artwork typically end up as bulletin-board keepsakes, while generic ones are often tossed away.
Such things are what make a "complete concert experience," he says, adding that when acts handle their own ticketing they also control the advertising space on the flip side and keep add-on fees to a minimum. (Artists can sell up to 10% of the house in Ticketmaster-contracted venues and control all tickets in venues that don't contract with the ticketing giant.)
More importantly, performers can collect the names of their fans and continue to market directly to them.
That Capshaw's company now quietly makes various decisions for a vast spectrum of artists – all from an out-of-the-way factory in this truly small town – has been something of a jolt within the industry.
"It's a very tangible set of services he's providing that others aren't able to put their head around," says Marc Geiger, vp at the William Morris Agency and a partner with Capshaw in Reincarnate Records. (Capshaw also founded the New York-based label ATO). "Coran's bands just make a lot more money than a lot of other acts because instead of bitching about not having success on the record side, they focus on communicating with their audience."
Those that Capshaw shepherds through his Red Light Management Co. include O.A.R, former Phish frontman Trey Anastasio, the Graham Colton Band and the John Butler Trio.
Geiger says such acts, which rely on building fan databases (rather than record sales), are taking the right approach in an evolving industry.
"If you haven't constructed your own pipeline and gotten away from the dependence from the single financier – which is the label and which has been under immense duress – you're not reading the tea leaves," Geiger says. "Coran was smart enough to know that's the case."
He has also been wise, say observers, to continue to base most of his operation in Charlottesville, where he has amassed a real estate empire that includes restaurants, offices and concert venues – and where a seemingly limitless talent pool of bright music enthusiasts from the nearby University of Virginia keeps him forward-thinking.
"We're not selling widgets, batteries and dinette sets," says Nathan Hubbard, vp and chief of staff for Red Light Management and Musictoday. "When you call us, you reach other music fans who can answer your questions. If a customer has a great experience, the bond with the artist becomes even tighter. That relationship is fragile, and it should be guarded and protected at all costs."
In fact, callers and online shoppers rarely know they're doing business with Musictoday. The company seems to be succeeding where Geiger's similar mid-'90s enterprise Artist Direct, did not, probably because it remains essentially unknown. MT has purposely never marketed itself as a brand, and the notoriously media-shy Capshaw is about as under-the-radar as it gets.
"Musictoday is very transparent," says Christopher Sabec, CEO and manager of the Jerry Garcia estate. "You can't tell that they're running the back end. It's all about the band. It's not about some big fulfillment company stuffing the envelopes, though that is in fact what's happening." Sabec also praises MT for taking risks with hundreds of unknown artists, among them the rising California jam band Tea Leaf Green, which he manages.
"The great equalizer is that with this kind of company behind you, a young band with potential can build an audience very quickly," Sabec says.
All of it is central to Capshaw's long-term approach, one that nurtures bands through old-fashioned road work, builds on regional success and then includes fans in a familial manner for the ride upward.
"We have to prospect in our own way just like the rest of the music industry," Hubbard says. "We certainly get the most bang for our buck when we work on big artists, but our company is positioned to help an artist grow and get big. Then when you do get to the status of the Dave Matthews Band, all of a sudden when we hit 'send' we're reaching half a million people with one e-mail."
Vital Stats
Musictoday
Headquarters: Crozet, Va.
Employees: 200
Founded: 1995 as an outgrowth of merchandising for Dave Matthews Band; renamed Musictoday in 2000
Services: Merchandising, custom ticketing, branding, promotion, Web hosting, conceptual design, fan club management, travel packages, more
2005 sales: More than $100 million
Clients: Dave Matthews Band, Coldplay, Eminem, Gretchen Wilson, Kenny Chesney, Bonnie Raitt, John Mayer, the Rolling Stones, Jason Mraz, Blue Man Group, Good Charlotte, Air Supply, Alan Jackson, Tim McGraw, Nickelback, Brooks & Dunn, the Pixies, Nine Inch Nails, Prince, Christina Aguilera, Sarah Brightman, Carole King, Tea Leaf Green, Matchbox Twenty, Jerry Garcia estate, more