KNIGHT-RIDDER/TRIBUNE News Service/SOUTH FLORIDA SUN-SENTINEL | October 5, 1988
By DEBORAH WILKER
NEW YORK — By any standard, Prince's eclectic, erotic, religiously steeped, two-day stand at Madison Square Garden, was a certain critical success. He could have left it at that and traveled on to the next city with his lavish Lovesexy tour, but Prince — ever the innovator, needed more.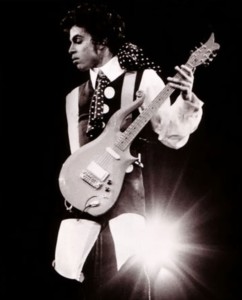 So in the middle of night, well after his Garden date on Sunday, he ambled on over to the old Roseland Ballroom (now a refurbished nightclub) and took the stage — unannounced — for about 90 minutes.
Talk about up close and personal. This was one of those extraordinary moments, when a superstar freed himself of his antiseptic arena trappings simply for the fun of it.
With 1,400 delirious fans cheering him on, Prince replayed much of his jazz and blues-laden arena set, but with more defiance and almost none of his public affectations. He rotated on several instruments, including lead guitar, drums and keyboards, then closed with Purple Rain and 1999 — radio songs that came somewhat unexpectedly in this setting, but nevertheless proved compelling.
A handful of photographers were invited, as were a couple of reporters. For the most part, the gig was not publicized — other than by word of mouth and a blurb on one local radio station.
Since his American tour began in Minneapolis three weeks ago, Prince has already played a few such club dates and is expected to continue this trend as he travels the country. He will tour through mid-'89, but a South Florida date is not yet on the schedule.
It's not quite clear where he gets all this energy. On Monday afternoon, after just a few hours of sleep, he was signing autographs at Sam Goody — the big New York record store. Later that night he played the Garden again, and then was reportedly headed to another smoky club.
While Prince's commercial fortunes have declined over the last three years, he remains an intense, magnetic force whose influence continually charges through pop music. He certainly does not need to play seedy clubs at three in the morning or smile through a store promotion 12 hours later, but for some reason, say his publicists at Warner Bros., Prince has been hit with a yearning to "return to the people."
Whether this accounts for the brilliance with which he performed at both Roseland and at the Garden on Monday, is another one of those ever-present Prince enigmas. Few know what makes him tick, or why he does much of what he does. But what is clear, however, is his continued creative growth.
As a pop entity he defies categorization. He plays a heavy metal guitar better than anyone. His sensitive touch with blues and soulful jazz has few equals in the pop realm. His theatrical visions — as evidenced by a dizzying multilevel, in-the-round set — is a first on the arena circuit.
But despite his ability to challenge Jimi Hendrix, Mick Jagger, James Brown and Michael Jackson all in one shot — Prince has seen his radio appeal slide.
He has deliberately selected weak singles from albums that have more than enough potential hit material. One suspects this is his way of keeping himself off MTV.
If you want to see him, you'll have to pay.
And his arena show really is something else. He enters in a white Thunderbird that circles his stage in the air. His eight-piece band is a marvelously tight, explosive unit. The stars are drummer Sheila E., who has improved enormously, and tenor sax player Eric Leeds, whose sound is now a crucial part of Prince's music.
Song-for-song this is probably the most taxing pop show ever assembled. Throughout the two-hour set, Prince is in perpetual motion — preaching about God, playing off Cat Glover (his clumsy but earnest dancing foil), spinning a basketball on his index finger, or simulating sexual acts on a bed that shoots out of center-floor. It's a confusing juxtaposition — religion and eroticism — but that's Prince.
With every song, Prince has altered the key, sped up the arrangement and extended the melody to dazzling proportions. There are no breaks between numbers. The entire evening, staged in two acts, features portions of about 30 tunes all in one continuous sweep.
But what really makes your jaw drop is the staging and dramatic punch with which all this is presented. Focusing primarily on material from Lovesexy and last year's Sign O' The Times, Prince also played several unrecorded tunes and snippets of others such as Take The A Train and (at Rosleand) bits of Terence Trent D`Arby`s Wishing Well.
At the Garden he opened with Erotic City, then sped into Delirious, When Doves Cry, Glam Slam, U Got The Look, and Little Red Corvette. The big moment came when he took to the piano on Anna Stesia while riding a heart-shaped, elevated platform toward the sky.
Coming close, but not quite topping that, was I Wish U Heaven — his hypnotic next single — delivered here amid a swirl of fluttering white sheets and milky strobe lights.
While his mass appeal may never revert to its '84 high, it`s clear that Prince is finally comfortable with his unofficial role as maker of standards for all of pop music.