THE HOLLYWOOD REPORTER/REUTERS: Business-Music | Tues Nov. 7, 2006 4:00am PST
By DEBORAH WILKER
NEW YORK (Hollywood Reporter) — While sales of recorded music and attendance at concerts continue to slide, profits in the increasingly legitimate secondary ticketing market have surged so dramatically in the past year that music dealmakers now liken the industry climate to a Wild West gold rush.
With FM radio no longer shaping American musical tastes and music labels seemingly less focused on artist development, agents and promoters now have a vital new channel for artist financing, consumer data-mining and direct-to-consumer promotion. But just how the music industry will quantify, capture and make use of all that potential data and revenue is still shaking out.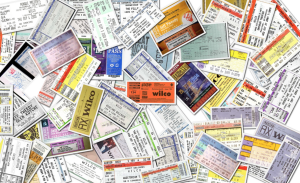 "Right now it's a huge jigsaw puzzle," says veteran concert promoter John Scher, co-CEO of New York-based Metropolitan Entertainment. "With certain genres not even present on radio or MTV anymore, which of these new ticketing companies is going to help you market your show, help efficiently sell your tickets — and candidly — which is going to participate in the building and development of artists so that there are new headliners 10 years from now?"
Once the sole province of scalpers and only slightly more scrupulous ticket brokers, the secondary ticketing market — defined here as the legal reselling of tickets to live entertainment and sporting events — is estimated to be a $4 billion-plus industry, now powered by Internet middlemen, corporate packaging, individual sellers and, increasingly, performers themselves.
As ineffective state laws limiting resales have fallen by the wayside and as broadband access has become the standard, such familiar names as TicketsNow, StubHub and Tickets.com — as well as eBay and the classified ad site Craigslist — are becoming concert industry forces.
Now Ticketmaster, a unit of Barry Diller's IAC/InterActiveCorp and the titan of by-the-book electronic ticketing for decades, offers a resale forum called TicketExchange. That fan-to-fan site is in addition to the ticket auctions it introduced three years ago, in which fans also have a hand in setting prices.
The company, which once rigorously protected its turf by supporting anti-scalping laws, is now part of a broad industry lobbying effort to undo them.
"It's incredibly chaotic," talent agent Marty Diamond says of the explosive activity in the secondary market. "The technology is out of control. We're all scrambling to keep up with it."
Diamond, whose clients at his New York-based Little Big Man agency include the bands Coldplay and Scissor Sisters, says it isn't just brokers and entrepreneurs who are stoking the action. For hot shows, it's concertgoers themselves who are buying an extra pair to sell in the hope of defraying the cost of their own tickets.
"In all fairness, (face value) prices have careened out of control," Diamond says. "Kids have figured out that, 'I can buy four tickets, sell two, keep two, and I've got my tickets for free.' But at the end of the day I have a responsibility to protect my clients — and if someone's creating another revenue stream off them, it's suspect."
Some sports teams and a growing list of touring artists are bringing some order to the marketplace by entering into promotional agreements with secondary sellers that steer fans to sanctioned resales, where there is the guarantee that such tickets are authentic.
Artists also are taking advantage of new opportunities, formalizing partnerships that package tickets with CDs, merchandise, VIP fan club packages and travel or that assist them in setting up aftermarket sales platforms of their own.
"Every deal is customized," says Colin Evans, vp business development for San Francisco-based StubHub, the peer-to-peer resale site whose business has soared 13,000% in the past year. Of his company's burgeoning relationship with the music business, he says, "there are definitely many revenue-sharing opportunities here."
Just last month, StubHub hired Chuck LaVallee, previously of WMA, to head its new music business development department.
"It's no longer just ticketing, it's marketing, packages, merchandising, everything," Ticketmaster spokeswoman Bonnie Poindexter says. "All the different players in the business are sitting around the same table today."
Clay Aiken, the Eagles, Jewel, Coldplay, Christina Aguilera, Red Hot Chili Peppers, Tim McGraw and Faith Hill are just a few of the performers who have experimented with new promotional services offered to them by Ticketmaster and StubHub.
"There is no doubt there was a breach in the marketplace, a need not being met," says Nathan Hubbard, chief of staff of Charlottesville, Va.-based MusicToday, the artist merchandising company that has long led the way in direct artist-to-fan transactions, most notably through its lucrative partnership with Dave Matthews Band.
Hubbard acknowledges that artists could have been more alert in recent years to the fact that fans were clamoring for alternative ways to do business. He, too, sees the secondary ticketing market as "money left on the table," but his experience has taught him that if properly handled, it's income that can be easily captured. Artists can simply choose to control their own ticket inventory from start to finish, he says — making all manner of seating locations and tiered pricing available all along the selling window.
"Overall, I think there will be a shift in entertainment toward the consumer being interested in transacting directly with the brand," Hubbard says. "The natural evolution of the ticketing industry will be venues and artists controlling their own traffic, messaging, branding and relationship with the customer."
Ticketmaster president and chief operating officer Sean Moriarty says his company expects to retain its lead as the industry's top seller of tickets. While he agrees that such resellers as StubHub "have gained some early traction," he says Ticketmaster has the clear edge in reliability because it handles its resale market purely electronically, rather than via physical shipment of hard tickets.
Metropolitan's Scher says Ticketmaster's decades-long technology lead always has been important, but soon it might not matter.
"In the next 18 months, we're going to see a seismic change in this industry," he says. "It's very well known that (leading concert promoter) Live Nation's contract with Ticketmaster will soon be up. (Live Nation CEO) Michael Rapino has said time and again that ticket prices and service charges in this business are too high. So, as the leader, are they going to be able to negotiate a new paradigm with Ticketmaster — or are they going into the ticketing business for themselves or with someone else?"
Live Nation executives declined comment. But the company, recently on a buying binge, just purchased a substantial stake in MusicToday, creating a partnership that's well positioned to form an alternative ticketing venture if need be. Its deal with Ticketmaster expires in 2008, according to the Los Angeles Times.
"We're at a really interesting time in the ticketing space," StubHub's Evans says. "We're starting to see a lot of moving pieces that potentially could have a significant impact on Ticketmaster's hold over the market. There are now many very convenient options so you don't have to decide today what concert you are going to see seven months from now. The days of the big Saturday morning 'on-sale' are over."