By the time The Allman Brothers Band called it a day in 2014 with their final, epic run at the Beacon Theater, the band had played more than 230 shows there starting in 1989, continuing almost every year for more than 20 years. Rocked by early deaths, drugs, break-ups, make-ups and ongoing dysfunction, it wasn't until 2000-2001 when the new guitar partnership of Warren Haynes and prodigy Derek Trucks solidified, that the guys finally re-settled into a peaceful, productive groove.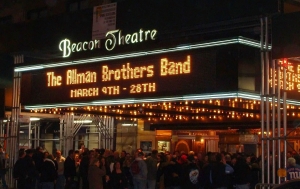 The second-wind that followed dovetailed perfectly with the growth of the jam scene and in its later years, filled a commercial and emotional niche ideal for the times. Their Beacon sell-outs — usually 12, 15 or more shows over three weeks every March — had morphed into its own Woodstock-like rite of spring on the Upper West Side of New York every year.
Before reviewing their 40th anniversary stand for The Hollywood Reporter in 2009, (generally regarded as the finest of their Beacon runs), I asked founding member Butch Trucks if the rumors were true: Would Eric Clapton really be sitting in and would "Layla" — the Derek and the Dominos classic to which Duane Allman contributed some of the most inventive licks of all time – be back in the set list? Trucks wouldn't specifically confirm, but he did suggest, "I wouldn't want to miss Thursday's show." Of Layla he said, "I guess if anybody has a right play it, we do."
---
THE HOLLYWOOD REPORTER/REUTERS: Lifestyle-Music | Wed Mar 11, 2009 9:15pm EDT
Allman Brothers Band peakin' at the Beacon
BY DEBORAH WILKER
NEW YORK (Hollywood Reporter) – With an all-ages appeal that plays as deftly to the classic-rock crowd as it does to young jam fans and blues buffs, the Allman Brothers Band is still testing itself artistically, all while making lots of money.
This is accomplished the old-fashioned way: unparalleled musicianship, a new set list every night and palatable pricing.
The band pulled into the Beacon Theater on Monday for a sold-out 15-show run — its own annual March madness, which it has been doing for the better part of 20 seasons at the storied venue.
With last year's stand canceled because of Gregg Allman's poor health at the time and this year's gigs marking the 40th anniversary of the band's formation (complete with tribute to late founder Duane Allman), these shows appear to be carrying extra energy and poignancy.
The first two nights — the band's 176th and 177th Beacon shows — saw the guys all over the musical map, with Levon Helm dropping by Monday with his entire band for "The Weight" and "I Shall Be Released." Bluesman Taj Mahal lent his formidable harmonica and vocals to "Leaving Trunk" and "Statesboro Blues," among others.
Members of Los Lobos added some blistering improvisation Tuesday, particularly on the off-the-rails encore "One Way Out." B.B. King and Eric Clapton are rumored to be dropping in as the run progresses.
Not that the Allman Brothers need any help. Purists were distraught when co-founder Dickey Betts was released from his contract nine years ago. But lead guitarists Warren Haynes and Derek Trucks continue to elevate each other and reinvent the band in ways that few musical acts have ever accomplished.
While Gregg Allman remains the paternal figure and commercial frontman, Haynes and 29-year-old prodigy Trucks (nephew of Allmans co-founder/drummer Butch Trucks) drive the engine.
There is a graceful interplay among the three leaders that is indeed unique — as when Allman initially takes charge of classics like "Wasted Words" but then quietly signals Haynes and Trucks to move on and create another of their mind-bending duels. All are meticulous caretakers of the band's legacy, but none is beyond mixing it up with psychedelic flourishes, including feedback on the gospel-rooted classic "Revival."
Allman was at his best on Tuesday's aching opener "Ain't Wastin' Time No More." He stepped out (tentatively) from behind his Hammond B3 organ just once, taking center stage with his acoustic guitar for "Melissa," a charming confection he wrote more than four decades ago that Haynes has for years been resculpting as a free-form electric ride.
All the men appeared to be genuinely moved during the Tuesday set-closer "No One to Run With," a mild 1994 hit penned by Betts that took on added pain as the big screen showed grainy footage of Duane Allman and the late Allmans and Gov't Mule bassist Allen Woody. Haynes could not keep himself from turning around to face the images — as if to be performing in unison with both.
The shows also included such songs as "Midnight Rider," "Blackhearted Woman," "Mountain Jam," "Stormy Monday," "And It Stoned Me" and "Little Martha." Fans will have to wait for "Whipping Post," "Jessica," "Blue Sky," "Desdemona" and the rest.
Set list for Monday, March 9th:
Set I
"Little Martha"
"Don't Want You No More"
"It's Not My Cross to Bear"
"I Walk on Gilded Splinters"
"The Same Thing"
"New Instrumental"
"Midnight Rider"
"Leave My Blues at Home"
"Leavin' Trunk" (w/Taj Mahal)
"Forty-Four Blues" (w/Taj Mahal)
"Statesboro Blues" (w/Taj Mahal)
Set II
"Ophelia" (w/ Levon Helm and others)
"I Shall Be Released" (w/ Levon Helm and others)
"The Weight" (w/ Levon Helm and others)
"Black Hearted Woman"
"Stormy Monday"
"Mountain Jam"
Encore
"Southbound"
Set list for Tuesday, March 10:
Set I
"Ain't Wastin' Time No More"
"Done Somebody Wrong"
"Hot 'Lanta"
"And It Stoned Me"
"Stand Back"
"Revival"
"Red House" (w/Johnny Winter)
"You Don't Love Me" (w/Johnny Winter)
"Highway 61 Revisited" (w/Johnny Winter)
Set II
"Les Brers in A Minor"
"Come and Go Blues"
"Melissa"
"Don't Keep Me Wonderin'" (with David Hidalgo and Cesar Rosas)
"Good Morning Little School Girl" (with David Hidalgo and Cesar Rosas)
"Wasted Words"
"No One to Run With"
Encore:
"Lobros Jam" (with David Hidalgo and Cesar Rosas)
"One Way Out" (with David Hidalgo and Cesar Rosas)