THE HOLLYWOOD REPORTER | 6:00 AM PDT 9/6/2017
by DEBORAH WILKER
It wasn't long after the Universal Ampitheatre opened in 1972 that a teenager named Rita Wilson — a born-and-bred Angeleno — found herself in the middle of all the musical action with a short list of questions.
"I remember literally aching when I would watch the shows, thinking, 'How do you get in?'" recalls Wilson of her time as a concert employee at the once popular, now closed Universal City venue. "I didn't know how to play an instrument. How do you get in a band? How do you write a song?"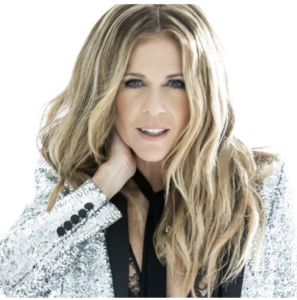 Safe to say that in the decades that have followed, Wilson, now an accomplished and admired singer, songwriter, actress and producer, has found a few answers and then some. But it's the latter question that is at the heart of Wilson's return to the Skirball stage at Geffen Playhouse tomorrow night for Liner Notes: Songwriters, Stories and Music with Rita Wilson and Friends.
Joined by Jeff Barry, Kristian Bush, Desmond Child, Dan Wilson, Liz Rose, Patty Smyth and Billy Steinberg, Wilson will perform with the hand-picked musicians and serve as a tour guide of sorts as they dish on the stories behind their songs. She hopes the eight-show concert-stand will inspire as well as entertain. "If there's one person thinking, 'Oh Rita's doing that, maybe I can do it,'" Wilson says that will make her day.
Despite being infatuated with the music industry since those early years, Wilson, 60, launched her music career just five years ago. "I started out loving music and wanting to do that more than anything, but acting happened at such a young age, 16. I got my SAG card and literally have not stopped since," she admits.
After decades on screen in hits such as Sleepless in Seattle and It's Complicated, she figured it out, releasing 2012's AM/FM, a well-received set of '60s and '70s covers. In 2016 she stepped it up by co-writing every track on Rita Wilson, a breezy pop collection inspired by her favorite '70s icons. She also has a cabaret act that she'll bring back to the Cafe Carlyle in New York from Oct. 10-21, as well as a straight-ahead pop show she performs on tour, as she did last year when she opened for classic rockers Chicago.
Her music career has unfolded these last few years amid roles on Girls and The Good Wife, as well as Larry David's 2015 Broadway comedy Fish in the Dark, in which she co-starred while powering through surgery and treatment for breast cancer. In an interview with The Hollywood Reporter at her Santa Monica office, Wilson reflected on her breakneck work pace, changing up her career in her 50s, why female energy needs to be more present in the world and why songwriting is like sex.
Fair warning: At the end, you may be left with a question of your own. How does Rita Wilson do it all? (For the record, she's also executive producing and starring in the indie Simple Wedding and has an executive producing role on the Mamma Mia! sequel.)
Starting a music career at age 55 seems daunting. Yet you say you're not particularly fearless?
I'm not. I do things that scare me because I feel like that's how you grow. If something is terrifying, you should probably be doing it. I'm a big believer in risk-taking, but it doesn't mean that you're fearless.
In 2006, when you played Roxie Hart in Chicago on Broadway, that was the first time you ever sang professionally on stage?
Yes. I had been in my agent's office and they said, 'What are you interested in doing?' I said, 'I'd love to do a musical.' When I said it, I felt like I was standing there naked. I couldn't believe it came out of my mouth. I knew I could carry a tune, but I was not really trained in a Broadway way of singing. I had to learn how to do that.
Would you consider that to have been your boldest move?
Yes, because it was me saying to myself, "I love music. And if I don't immerse myself in music in some way I'm going to be a less happy person." I feel women can be limitless. Men have been able to go off and do many different things throughout their lives and nobody says anything. But sometimes we're categorized to do one thing only. I just I never thought of myself like that.
Tell me about creating "Liner Notes" and how it differs from the other concerts you do.
I had performed at a songwriters round in Nashville at the Bluebird — four songwriters in an acoustic show telling the stories behind their songs. And I had this idea that we could take it to the Skirball — the little tiny black box theater at the Geffen, and make it into a club like the Troubadour used to be. This will be our third time doing it there. It's so wonderful to hear Jeff Barry tell the story behind "Going to the Chapel," or Billy Steinberg tell the story about "Like A Virgin." I try to have people from different genres and eras so no matter who you are or what age, you're going to have a connection to some of the music. I called it Liner Notes because I used to sit on my bed and take out that album and the sleeves and read every single thing. I knew every single songwriter, musician, background vocalist, studio photographer. Now we've lost that ability to actually listen to album as a whole and really understand what the artist was trying to accomplish. But I'll still do albums even if people only buy one track.
Describe your songwriting process when working with other writers.
I call it this … You meet a complete stranger. You fall madly in love. You strip naked, emotionally. You have incredible musical intercourse. And you leave with a gorgeous song baby. You have to get so intimate with somebody. You have to reveal so much truth.
You've been an outspoken feminist for years and of course all around us the world is regressing in ways I'm not sure many of us could have imagined. How are you coping in this Trump era?
When Maria Shriver was first lady of the state of California she had an amazing womens conference, and one year she had Deepak Chopra speak — this has to have been 10 years ago now — and he said it's time for female energy to be more present in the world in terms of leadership. Because when men have ruled and they've gotten to the point where they have achieved the power that they want to achieve — they start killing each other. There has to be a shift at some point where women's voices are being valued. Because the way men have been doing it does not really work.
You got the worst possible news just as you were opening on Broadway with Larry David in Fish in the Dark. Yet you got back on stage just four weeks after major surgery. Looking back on it, how did you do it?
I just slept a lot. That's all I did basically. I slept until I did the show. I did the show — and then I went home and I slept. I had asked my doctors, "When do people usually go back to work?" And they said about three weeks after. And I said "OK great, I'll take four weeks because I'm doing a play." But it was too early. The concentration required and the physicality of being on stage and standing, doing eight shows a week. … But I am a person who honors my commitments. I felt I owed it to the cast, to Larry and our audiences. And I'm so glad I did it. I don't have any regrets.
Did it make you rethink the way you eat, work out or take care of yourself in general?
Yes. I eat much less red meat. I read Michael Pollan's book, In Defense of Food and I follow his Haiku: 'Eat food. Not too much. Mostly plants.' I've decreased alcohol consumption. I always exercised, so that wasn't an issue. I try to get really good sleep, and practice mindfulness and meditation.
What's next?
If I had a little mission statement it would be products for women that involve music.[/fusion_builder_column][/fusion_builder_row][/fusion_builder_container]