THE HOLLYWOOD REPORTER | 2:00 PM PST 11/8/2017
by DEBORAH WILKER
There's something just a bit meta about the tortured gestation of Love Never Dies, Andrew Lloyd Webber's sequel to his West End and Broadway blockbuster The Phantom of The Opera. Like the Phantom himself, this new show lives in anguish, yearning to reveal itself and be loved. Written, rewritten, closed, reopened, scrapped, remounted, shelved and brought back to life once more — Love Never Dies is now touring the U.S. for the first time since a critically drubbed 18-month West End run closed in 2011. This revamped version that debuted in Australia, directed by Simon Phillips, was more positively received, but plans to take it to Broadway so far have not materialized.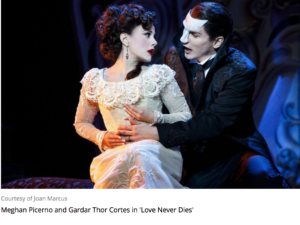 Now, with his recent work on School of Rock and the Broadway revivals of Sunset Boulevard and Catsbehind him, Lloyd Webber has turned his attention back to Love Never Dies, which launched a national tour last month, and is slated for more than 25 cities through September 2018, including Los Angeles. The musical opened in its fourth U.S. stop Tuesday at the Broward Center for the Performing Arts in South Florida.
Will it continue on to Broadway? Chatter is, that's the plan. Should it? Well, if there were merit points for earnestness and devotion to a project, Love Never Dies would be signing a lease in New York right now.
While this musical still isn't overwhelmingly compelling, it does have some Broadway requisites — characters we know, lavish orchestrations, obsessive love, spot-on performances and some of the most glorious costumes and sets ever to hit a stage. And with Phantom as predecessor (Broadway's longest-running show in history, now approaching its 30th anniversary), Love Never Dies can't help but arrive with built-in fans, factory-branded and ripe for consumption — despite its earlier missteps.
But that's a cynical way to view what is clearly a passion project for Lloyd Webber. His shows, which also include Evita and Jesus Christ Superstar, are billion-dollar earners; his mantle overflows with seven Tonys, four Grammys, an Oscar and countless other trophies. He certainly could have written this one off with no concern for his reputation. But as if taking a cue from his own title, his love for Love knows no bounds.
The story picks up in 1907, with the Phantom (Gardar Thor Cortes) now running a fetching Coney Island sideshow. Our heroine — the luminous soprano Christine (Meghan Picerno) — has just received a substantial offer from Oscar Hammerstein to perform on stage in New York. To cover the gambling debts of husband Raoul (Sean Thompson), she takes the gig. Her arrival in the city, complete with a dramatic Sunset Boulevard-style entrance and gilded carriage ride, also features the introduction of their little boy Gustave.
But before we even have a chance to get to know them or fully drink in designer Gabriela Tylesova's spectacular costumes and boardwalk pastiche, Christine is already back in the Phantom's clutches for a pair of aching duets — "Beneath a Moonless Sky" and "Once Upon Another Time."
Both Cortes and Picerno elevate the mostly sung-through score — their opera training put to the test with material that is inevitably haunting, stamped as it is with Phantom's DNA. Still, the songs, as pretty as some of them are — notably the Phantom's lament "'Til I Hear You Sing" — never seduce as deeply as "All I Ask of You," "Music of the Night" or the original Phantom's stirring title track.
What's also still missing, despite the rewrites and the four librettists now listed in the show's credits, is a gripping narrative, notably at the start. Act 2 picks up considerably, particularly the moments between father and son. And true to form, Lloyd Webber — ever the talent scout — has made another brilliant discovery, this time in Casey Lyons as the boy, whose angelic vocals and subdued acting are a marvel. (Jake Heston Miller alternates in the role at some performances.)
This reboot also reunites us with scheming Madame Giry (Karen Mason) and her starstruck daughter Meg (Mary Michael Patterson), whose bubbly turn in the burlesque-style "Bathing Beauty" is also worth noting, if only for its rippling Atlantic Ocean and six before-your-eyes costume changes. Amid it all, Tylesova's magical circus tent of stilt-walkers, jesters and under-the-rollercoaster creeps set the mood for danger and melodrama, though at times it veers much too closely to the Lifetime women-in-jeopardy playbook.
Cortes — a winning, suffering Phantom — rescues it all with a restrained final scene that ranks with anything in the Lloyd Webber arsenal of wrenching, show-closing moments. More of that intensity throughout might go a long way. Can the composer and his collaborators tweak this boardwalk drama into a successor on the level of Phantom? Probably not. But completely give up on love? Never.
Venue: Broward Center for the Performing Arts, Fort Lauderdale, Florida
Cast: Gardar Thor Cortes, Meghan Picerno, Katrina Kemp, Richard, Koons, Casey Lyons, Jake Heston Miller, Mary Michael Patterson, Stephen Petrovich, Sean Thompson and Karen Mason
Director: Simon Phillips
Book: Andrew Lloyd Webber & Ben Elton with Glenn Slater & Frederick Forsyth
Music: Andrew Lloyd Webber
Lyrics: Glenn Slater
Additional lyrics: Charles Hart
Set & costume designer: Gabriela Tylesova
Lighting designer: Nick Schlieper
Sound designer: Mick Potter
Orchestrations: David Cullen & Andrew Lloyd Webber
Music director: Dale Rieling
Choreographer: Graeme Murphy AO
Executive producer: Randall A. Buck
Presented by special arrangement with The Really Useful Group