THE HOLLYWOOD REPORTER | Theater Review | Wed Feb. 22, 2017 4:54pm PST
By DEBORAH WILKER
When Finding Neverland opened on Broadway in 2015 after a famously troubled incubation and took a critical hammering, the initial box-office receipts seemed to reflect a prevailing notion about the show: How could a musical about the birth of Peter Pan, with the likable stars from Glee and Frasier, be anything other than charming?
Read This Story In The Hollywood Reporter
But while this adaptation of the 2004 Johnny Depp film does have adorable children, a shaggy dog, pixie dust and a few truly stirring moments, it's also packed with dark themes, bland songs and bleak choreography, none of which are particularly kid-friendly.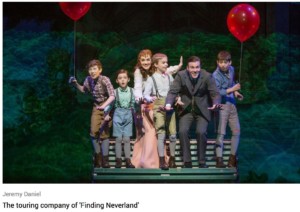 Though the touring version that arrives at the Pantages Theater in Los Angeles for a three-week run has been tweaked and honed for global consumption, it remains a hit-and-miss pastiche. There are some lovely moments in this story of how Scottish playwright J.M. Barrie came to write the beloved fantasy Peter Pan. But the good stuff — including what is probably the most enchanting use of glitter and chiffon ever on a Broadway stage — is mostly near the conclusion of the show, and the long first act demands some patience in getting there.
This fictionalized account of Barrie's life at the turn of the 20th century in London opens with the author at loose ends, unhappy in his marriage to an uptight social climber and struggling with his writing. Seeking solace, he retreats to Kensington Gardens, where he meets a beautiful widow, Sylvia Llewelyn Davies, and her four engaging boys. He falls for her, they all fall for one another and eventually the introspective son Peter becomes Barrie's muse.
Meanwhile the townspeople have been whispering. Barrie's '90s-style emotional affair with the widow is unseemly. Even worse, Sylvia has a very bad cough, which can only resolve itself one way during Edwardian times. Elsewhere in this ostensibly G-rated romp, Barrie's wife is also dallying around, in this case with the buffoonish Lord Cannan, one of several supporting characters whose exaggerated manner seems calculated for social-media stardom and little else.
Redemption comes in the form of the show's latest star, Billy Harrigan Tighe, who subtly conveys Barrie's sweetness — a lost man yearning to explore his inner pirate. Tighe, who just three weeks ago took over the role on tour from Kevin Kern (the part was originated on Broadway by Matthew Morrison), is a polished vocalist and comforting presence. Christine Dwyer as Sylvia (luminous Laura Michelle Kelly on Broadway) also does well as Barrie's steadying force and earth mother to all the young men.
Dashing Broadway veteran Tom Hewitt is the most fun, nailing the Kelsey Grammer roles as American theatrical producer Charles Frohman and Captain Hook, conjured out of Barrie's imagination. And the children at this performance — Ben Krieger as Peter, Finn Faulconer as George, Mitchell Wray as Jack and Jordan Cole as Michael — were likable, too, pulling off complex bits and songs like pros. They definitely deserved a hand.
But when you add up all this good work, the stately period costumes, cheery kids, delightful British accents and lovable dog, what you ultimately hope will happen — what your brain expects — is that someone will break into something really catchy, like a tune from Mary Poppins.
Overwrought note-grabbing and extra volume cannot save the cliched score by singer-songwriter Gary Barlow (frontman of '90s U.K. boy band Take That) and writing partner Eliot Kennedy. Barlow, who has all kinds of hit songs in his archives, just never finds his way here.
Emmy-winner Mia Michaels, known for her lively choreography on So You Think You Can Danceand for Cirque du Soleil, also missteps with dreary modern-themed performance art. Save for a brief moment when the boys imagine they can fly, very little of this show's movement ever lifts off.
The book by James Graham fares a bit better, particularly as it comes together in Act II. While the romance between Barrie and Sylvia is never fully explored, and some of the jokes are still eye-rolling groaners, Barrie's connection with the children does produce the requisite heart-tugs, an element the opening-night Pantages audience heartily embraced. There were "oohs" and cheers from the crowd throughout the evening, illustrating, it seems, that the hope purveyed by Tinkerbell and Peter Pan will always be seductive.
The notoriety that surrounded Finding Neverland after the wholesale replacement of its creative team early on centered mostly upon Harvey Weinstein, the film titan who was then taking his first crack as lead producer of a Broadway musical, and whose manner sometimes did not sit well with the theatrical community. (Notably, the show was completely shut out from that year's Tony nominations.) Though the headlines are now mostly forgotten, Weinstein's personal passion for this show (a West End version is also due) and his continuing desire to champion it seems no less intense.
Will Finding Neverland ever grow up into the musical it could be? With boundless faith and pixie dust, you never know.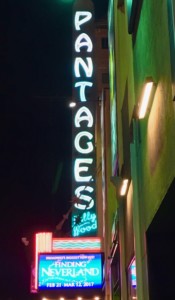 Venue: Hollywood Pantages Theatre, Los Angeles
Cast: Billy Harrigan Tighe, Christine Dwyer, Tom Hewitt, Karen Murphy, Jordan Cole, Finn Faulconer, Tyler Patrick Hennessy, Ben Krieger, Colin Wheeler, Mitchell Wray
Director: Diane Paulus
Music & lyrics: Gary Barlow, Eliot Kennedy
Book: James Graham, based on the Miramax Motion Picture written by David Magee, and the play The Man Who Was Peter Pan, by Allan Knee
Set designer: Scott Pask
Costume designer: Suttirat Anne Larlarb
Lighting designer: Kenneth Posner
Sound designer: Jonathan Deans
Projection designer: Jon Driscoll
Illusions: Paul Kieve
Music direction: Ryan Cantwell
Orchestrations: Simon Hale
Music supervision: Fred Lassen
Choreographer: Mia Michaels
Executive producers: Harvey Weinstein, Bryan Cranston
Presented by: Weinstein Live Entertainment and NETworks Presentation