TRIBUNE PUBLISHING | Oct 2014
By DEBORAH WILKER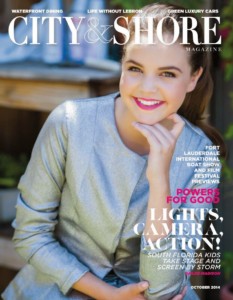 "I honestly don't even know how I got into acting," says 15-year-old Bailee Madison. "It happened so quickly. My mom and sister used to do commercials, and apparently when I was little I would unbuckle myself from the stroller and crash their auditions."
Today the South Florida teen has dozens of movie and TV credits, 350,000 Twitter followers and leading designers clamoring to dress her.
But she isn't overly impressed with any of it. She dreams of going to college, possibly becoming "a businesswoman" and if she is going to emulate anyone it will be fellow thesp-brainiacs Jodie Foster (Yale) and Natalie Portman (Harvard).
Madison who stars in the original Hallmark Channel holiday movie Northpole, also wants to add writing, producing and directing to her resume.
[Update: July 2015 Mar Vista Entertainment announced that Madison will debut as a producer in the film 
Annabelle Hooper And The Ghosts of Nantucket,
in which she will star in the title role as a mystery writer always on the lookout for her next bestseller. Shooting began Sept. 10, 2015.]
"I love all the behind-the-scenes work," she says. "I think when you dive into that, it sparks your interest even more."
Catching up with her while she was briefly visiting her family in bucolic Lauderdale-By-the Sea, took some coordinating. Her schedule is not only packed with the usual industry appearances, but with a workload that is truly demanding.
She is a co-star of the ABC Family series The Fosters — and Northpole is about to become an annual holiday event. Hallmark has also just signed her to its new series The Good Witch (filming in Toronto with Katherine Bell), and she recently completed a break-out year co-starring in ABC's short-lived Trophy Wife.
This is in addition to earlier roles as young Snow White on ABC's Once Upon A Time; as the granddaughter of Billy Crystal and Bette Midler in Parental Guidance and starring with Adam Sandler in Just Go With It. She has worked with Nicole Kidman, Tobey Maguire, Hilary Swank and Portman herself – and has had guest stints on Law & Order: SVU, CSI: NY, and House.
How does she balance it all with school and everyday life?
"I'm really thankful that my mom is so in the picture," Madison says. "She 'gets' the business – she's there for all of it. It's a whole-family process. And I am also grateful that she is just my mom. She hasn't tried to be my manager or my publicist. She is just always there."
Mom is South Florida actress Patricia Riley, star of many national TV commercials years ago – everything ranging from Pampers to Burger King and Home Depot.
Madison got her first big break at just two weeks of age, co-starring with her mother in an Office Depot spot. When she was three years old, the two worked together in a SeaWorld ad.
Even though her childhood friends are all starting high school now and visits to her family-home in South Florida are no longer as lengthy as she'd like, Madison says she does not feel she's missing out by traveling and not attending conventional school. She likes her worldwide shooting schedule, and life in Los Angeles too.
"I think I'm getting the most incredible education with the cultures around the world I have been able to experience, which is really rare for someone my age," she says.
"I joke that I live vicariously through my best friends. I get to ask them how high school is – and, to be quite honest it sounds like a very, very dramatic situation! I'm kinda happy that I am not in high school at the moment."