THE HOLLYWOOD REPORTER | Theater Review | 10:51 AM PDT 11/3/2016
by DEBORAH WILKER
Read This Story In The Hollywood Reporter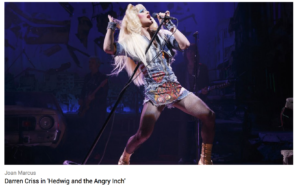 The premise as always features Hedwig — an East German rock singer who suffered a botched sex-change operation and is perhaps a man or maybe a woman — telling us of her hardships while performing a one-night-only concert, in this case at "the beautiful Pantages Theatre" at the request of "producer Bobby Nederlander."
As it turns out, the Pantages stage is free only because of the sudden closing ("last night at intermission") of Hurt Locker: The Musical. If you happen to be sitting in the first several rows, do not miss the mock Hurt Locker Playbills scattered on the floor, a show-biz send-up that's a hoot.
Then again, if you happen to be sitting in the first several rows, also consider yourself warned. Glee's Darren Criss, who portrayed Hedwig on Broadway in 2015 (one of a handful of star replacements for Tony winner Neil Patrick Harris), steps back in for the first two cities of the tour, and he will absolutely have some fun with you.
The saucy asides and local jokes come fast. "If I wanted to see a mess in an L.A. theater I could just see … L.A. Theater." There are shout-outs to Glee co-star Lea Michele, as well as its creator Ryan Murphy: "I'm the only scream queen on this stage!" And there's a broad swipe at Donald Trump, whose ugly boasts about Tic Tacs and sexual assault are taken apart in a well-written bit.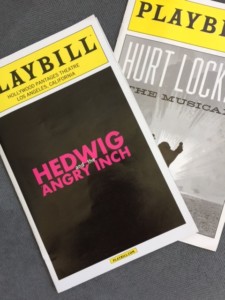 These shenanigans, of course, cannot mask the pain Hedwig endures as an "internationally ignored song stylist" whose mother was cold as ice and whose former boyfriend, Tommy, has stolen the hit songs they wrote together and gone on to rock superstardom.
Criss conveys the weary fatigue, anger and optimism all at odds in Hedwig's soul, appearing very much at home in one of the theater's most physically demanding roles — as well as with the potent rock score that dips into grunge, metal, hair bands and more. A forceful straight-ahead rock singer, particularly on the opener "Tear Me Down," he's even better on the bar-stool ballad "Wicked Little Town," which is reprised later in the show as a Green Day-style anthem. The plaintive "Wig in a Box," which builds dramatically, and "The Origin of Love" are also standouts.
Hedwig, the self-described "slip of a girly boy," is not exactly a waif in Criss' hands. His chiseled, muscular physique throws off an almost Olympian vibe, but Hedwig's bedazzled denim miniskirt (and, in fact, all the fashions by costume designer Arianne Phillips) is so great, it's easy to suspend reality.
The fictional rock band on stage — The Angry Inch — is still comprised of musicians Justin Craig, (guitars, keyboards), Matt Duncan, (bass, guitars, keyboards), Tim Mislock (guitar) and Peter Yanowitz (drums), the same quartet who played the Broadway run and who are really not a fictional band at all. Lena Hall also is reprising her Broadway role as Yitzhak, Hedwig's back-up singer husband, for which she, too, won the Tony. (In an interesting stunt, Hall takes over as Hedwig for the next three Sunday nights in Los Angeles as well as on Friday, Nov. 25, while Criss takes a rest and Shannon Conley steps in as Yitzhak).
Hedwig and the Angry Inch has long been noted for its nods to The Who, Green Day, Tina Turner, Iggy Pop and David Bowie, among others. But there's also a piece of Bette Midler, not only in the vaudeville-like atmosphere she creates in concert, but in the scathing topical jokes she tells on the road, written on-the-fly and tailored to each tour stop. The stark issues Hedwig takes on notwithstanding, the show at its heart is a joyous rock musical determined never to let us forget these pop-culture icons.
What began as a risqué cabaret act from creators Stephen Trask and John Cameron Mitchell, then morphed into a 1998 off-Broadway cult hit and 2001 film before finally hitting Broadway in 2014, is now — in a different era — a piece of Americana, safe enough to tour through Salt Lake City and San Antonio, but no less illuminating.
Venue: Hollywood Pantages Theatre, Los Angeles