THE HOLLYWOOD REPORTER  | 6:45 AM PST 2/14/2018
by DEBORAH WILKER
"I like to put him in a movie once in a while," says Frank Marshall of Jimmy Buffett, who has uncredited cameos in both Jurassic World movies, including June's Fallen Kingdom. "And he puts me onstage once in a while at his concerts. But we've never put our heads together and created something from scratch until now." What the longtime pals, both 71, have created is Escape to Margaritaville, a musical centered on Buffett's oeuvre — and the beach-bum lifestyle he trademarked (literally, with his empire of restaurants, products, even a retirement community) — that starts Broadway previews Feb. 16. Not only did their friendship survive the five-year journey to create the show, but "we had a blast doing it," says Marshall.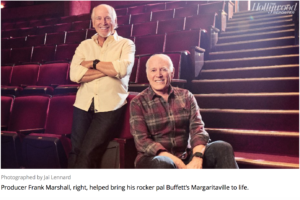 The two met 38 years ago at Harrison Ford's New Year's Eve party in Aspen, Colorado, where Buffett was performing. They bonded over sailing, sports and guitars. "Frank is a student of the guitar," says Buffett. "He can play 'Margaritaville' pretty well. So if I go down …"
"I'm kinda like the stand-in?" Marshall says.
"Well," says Buffett, "for that song. The rest of 'em … no."
It's a frigid February afternoon in New York and the two have just stepped into the Marquis Theatre after spending the day on an eleventh-hour rewrite of "It's My Job," an old song Buffett tweaked for the show. But he promises fans he hasn't tinkered with his catalog too much: "Never mess with the hooks and choruses. Let the choruses ride!" His biggest hits — among them "Come Monday," "Cheeseburger in Paradise," "Fins," "Son of a Son of a Sailor," "Volcano," "Changes in Latitudes, Changes in Attitudes," "Margaritaville" — are the backbone of this romantic comedy starring Paul Alexander Nolan as a bar-band troubadour, and Alison Luff as his love interest. It's loosely based on Buffet's early days in what he calls "The Holiday Inn Poolside Band."
Buffett isn't in the show, though he did make occasional curtain calls during out-of-town tryouts in cities like New Orleans, where the opening-night party, DJ'd by Buffett and Marshall, got shut down by local police ("When you've got Broadway dancers on the dance floor are you really gonna stop?" Marshall asks). Critics have been upbeat, calling Margaritaville "a sunny sing-along" and "Mamma Mia! for Parrotheads."
Forget the T-shirt. Buffett can sell you an actual house — your own "Five O'Clock Somewhere" sanctuary — and even the breezy furniture collection to go in it.
"Who ever knew there was going to be a real Margaritaville?" Buffett says, eying a couple of wayward beach balls rolling around the Marquis mezzanine. "I didn't write the song ever thinking it was gonna be a place you would live."
There will be no sales pitches in the lobby of the Marquis. Marketing is niche, mostly under the radar, much like Buffett's stealth musical career. But the theater, which is part of a shared space with the Marriott Marquis, has been transformed, complete with thatched-roof huts, surfboards and palm trees.
"We've got this theater in a hotel. Duh? It's the perfect tailgate spot," Buffett says. "I'm paying just as much attention to the lobby bars as I am to the show because I think it's essential."
If all this attention to detail and hard work (the rocker has also been on tour while launching this production) seems at odds with, say, the towering 14-foot flip-flop that welcomes guests at his Margaritaville Resort in Hollywood, Florida — it isn't. "The message is not 'Live life in a hammock,' " says Marshall. "Jimmy and I share this philosophy: If you find work that you enjoy, you have a good shot at being successful; and if not, you can still have a good time along the way."
Though it's being promoted as a getaway, Margaritaville arrives with the kind of creative DNA that raises expectations — director Christopher Ashley won a Tony in 2017 for Come From Away, and the book was penned by TV veterans Greg Garcia (My Name Is Earl) and Mike O'Malley (Shameless).
Marshall has been on Broadway twice before with shows that didn't work, but never as lead producer. "I watched and learned, and now I'm putting it to good use," he says of Margaritaville. "That's what I did in my movie career. I sat back and watched on three or four movies — I saw how everything worked. Then I became a producer."
Buffett is also blocking out the noise. "I've never won a Grammy. I'm not in the Rock and Roll Hall of Fame," says the five-decade rock fixture, who Forbes estimates is worth $550 million. Still one of the industry's top concert draws, it took him 30 years to land his first and only No. 1 album (2004's License to Chill). He'd love to see his show recognized at the Tony Awards, "but it's not what I'm out here to do," he says with a grin. "We're just a hard-workin' band. It was always more important to us to have a loyal fan base. It all goes back to: We're making a show that's fun — and God knows we need a little fun in the world today."
A version of this story first appeared in the Feb. 14 issue of The Hollywood Reporter magazine. To receive the magazine, click here to subscribe
[/fusion_builder_column][/fusion_builder_row][/fusion_builder_container]