MOVING PICTURES | November 2009
By DEBORAH WILKER
Back when John Cusack was getting his first look at Roland Emmerich's script for the end-of-days epic "2012," he wasn't entirely sure what to make of it. On the one hand, there were all kinds of promising nuances – well drawn characters, authentic dialogue — potential Cusack says, "for a disaster movie that would be far more thoughtful than it may appear to be at first glance."
But on the other hand?
"As I am reading I find here's this very interesting well written role — and then on the next page California falls into the ocean. I really didn't understand how they could film what they had written, the scale was so big."
Cusack, who's worked on nearly 60 movies over a 26-year career, and has seen pretty much every trick the business has to offer, says he was initially stumped by a script that essentially had the world disappearing out from under itself.
"I just really didn't know how anyone would go about shooting it, let alone how do you film that?"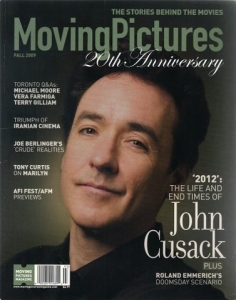 Calling from his car while driving through Mexico, Cusack says he's eager to talk about the film, mostly because he thinks it will "surprise people."
The sci-fi action-thriller, due Nov. 13, is Emmerich's take on the ancient Mayan prediction that a world-ending event is due in 2012. The writer-director of effects-laden projects such as "Independence Day,"  "The Day After Tomorrow,"  "Stargate" and "Godzilla," Emmerich is not necessarily known for his light touch.
But Cusack believes the human element that runs throughout "2012" is unique. The film's all-star ensemble includes Danny Glover, Thandie Newton, Oliver Platt, George Segal, Woody Harrelson and Amanda Peet.
"These people find out they have a finite amount of time and they quickly start separating what is essential from the non essential. They see a vision of the world where countries are gone."
If in fact Sony Pictures wanted to insure that "2012" would have a genuine chance with women and deep-thinking film-goers – a tough task in this genre – casting Cusack was a good start.
One of few seasoned actors whose appeal remains as strong with men as with women — and with fans of wide-ranging ages and interests — the agile Cusack has long been an everyman in thoughtful films, as well as a bankable star.
Yet when asked if he felt any personal pressure concerning "2012's" high-profile opening date – where it's positioned for prime holiday blockbustering – Cusack seemed initially to not understand the question.
"Are you asking am I  nervous because it's opening Friday the 13th?"
He says he doesn't dwell on marketing, grosses and related aspects of the business.
"First, most importantly I think, you should make movies you care about. In this case I enjoyed myself very much," he said quite believably.
He rarely maps out too far in advance what he'll be playing next. He has slipped as easily into big-studio fare like "Serendipity," " Con Air," " Must Love Dogs" and "America's Sweethearts" as he has into character roles in films such as "Being John Malkovich" and "Cradle Will Rock."
He played a classic con in "The Grifters;" an assassin at a crossroads in "Grosse Pointe Blank" (which he co-wrote); the lovesick record shop owner in "High Fidelity," a stolid war widower in the more recent "Grace is Gone," and was a quintessential geek in "Sixteen Candles," his second film role, back in '84.
Of course there has probably never been a John Cusack interview over the last 20 years during which he was not asked for his take on Lloyd Dobler.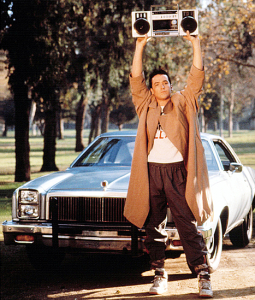 The lovestruck loner in 1989's "Say Anything," whose indelible grand gesture – boombox hoisted high overhead, Peter Gabriel mix-tape blaring – became the barometer by which many women judged all future boyfriends.
In the ensuing years this pop culture moment took on a life of its own. Fans of the iconic character have written reams of explanatory material about him, created infinite collectibles,(T-shirts coffee mugs et al.), dedicated fan pages and forums. The character has been endlessly parodied, so much so that decades later teens who never heard of the movie still get the reference; still know instantly that it's the ultimate move any guy can make.
There's even a fairly decent rock band that calls itself the The Lloyd Dobler Effect. We could go on. (And on).
Cusack has never much minded the attention that has followed this character. He realizes it's not often that an actor gets to create anything lasting on screen. He has never had the typical worries that Lloyd might typecast him into oblivion, or that The Dobler Effect might somehow seep into his other films.
"If somebody really loves something you did 20 years ago – it never struck me as something to worry about. I think it's a nice problem to have in this business."
He says he also still hears from friends and fans quite a bit about "Grosse Pointe Blank," "High Fidelity" and more recently "Grace Is Gone" – and freely admits that of the many movies he's made, he only really likes "maybe 10 or 15 of them."
"I never really counted. Some of them though, they just really worked." Diplomatically, Cusack says no more.
Moving so freely between "big movies like 2012, to a relatively tiny film" like the upcoming 'Shangai' (a drama in which he plays an American fighting corrupt Asian forces before the bombing of Pearl Harbor), also delights him he says. Though the Weinstein Company recently announced that the film's U.S. release date has been delayed, Cusack doesn't seem worried. Maybe that's because he always has another gem in his back pocket.
In this case it's the just wrapped "Hot Tub Time Machine," due next Spring, in which he stars with a group of aging guys who long to party as they did years ago. Inevitably they'll time-travel in uproarious style.
"It's certainly the most important hot tub movie ever made. Maybe the most important movie of all time. I think the title encapsulates all you need to know. It's just a bawdy R-rated studio comedy."
He is aware that few actors get so long a run, with such a varied script.
"I know I've been really lucky that way."
He gives part of the credit for his longevity to his family. He likes working with his sisters Joan and Ann; siblings Susie and Bill are actors too. Growing up in Evanston, Ill., they attended the Piven Theatre Workshop, founded by the parents of their friend Jeremy Piven, (with whom Cusack also frequently co-stars). Cusack's late father was a documentary filmmaker.
Though it's been a life steeped in familial performing from the earliest of days, he says please don't call the Cusacks a show biz dynasty.
"We're really not a show biz family. We're just a family from Chicago who got into the business. We came out here to L.A.
We didn't know anybody, we had no connections. For some reason now we've just stuck around."
That they still lean on one another softens the rigors of Hollywood life, he said.
"As people get older and they have their own families, it becomes very hard to find time to just hang out. But if I can hire my sister for 12 hours a day and pull her away from her own family and have fun on a set – I will."
[/fusion_builder_column][/fusion_builder_row][/fusion_builder_container]