CITY & SHORE: Town Hall | Dec. 2014
By DEBORAH WILKER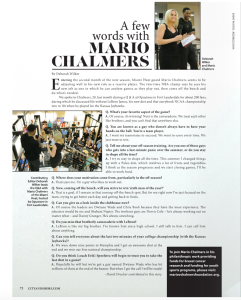 Entering the second month of the new season, Miami Heat guard Mario Chalmers seems to be adjusting well to his new role as a reserve player. The two-time NBA champ says he sees his new job as one in which he can analyze games as they play out, then come off the bench and do what's needed.
I spoke with Chalmers, 28, last month during a Q & A for about 200 fans, during which he discussed life without LeBron James, what keeps him motivated, and that storybook NCAA championship win in '08 when he played for the Kansas Jayhawks. This story is a condensed transcript from our live interview.
Q. What's your favorite aspect of the game?
A. Of course, it's winning! Next is the camaraderie. We treat each other like brothers, and you can't find that anywhere else.
Q. You are known as a guy who doesn't always have to have your hands on the ball. You're a team player.
A. I want my teammates to succeed. We want to score every time. We just want to win.
Q. Tell me about your off-season training. Are you one of those guys who gets into a last-minute panic over the summer, or do you stay in shape all the time?
A. I try to stay in shape all the time. This summer I changed things up with a Paleo diet, which involves a lot of fruits and vegetables. I think as the season progresses and we start closing games, I'll be able to work hard.
Q. Where does your motivation come from, particularly in the off-season?
A. That's just me. I'm a guy who likes to work out.
Q. Now, coming off the bench, will you strive to win 'sixth man of the year?'
A. That is a goal, if I remain in that coming-off-the-bench spot. But for me right now I'm just focused on the team, trying to get better each day, and getting back to finals.
Q. Can you give us a look inside the clubhouse now? 
A. Of course the leaders are Dwyane Wade and Chris Bosh because they have the most experience. The jokesters would be me and Shabazz Napier. The workout guys are Norris Cole – he's always working out no matter what – and Danny Granger. He's always stretching.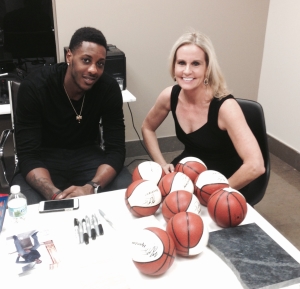 Q. Do you miss that brotherly camaraderie with LeBron?
A. LeBron is like my big brother. I've known him since high school. I still talk to him. I can call him about anything.
Q. Can you tell everyone about the last two minutes of your college championship

[with the Kansas Jayhawks]?

A. We were down nine points to Memphis and I got an awesome shot at the end and we won our first national championship.

Q. Do you think [coach Erik] Spoelstra will begin to trust you to take the last shot in a game? 

A. Hopefully he will but we've got a guy named Dwyane Wade who has hit millions of shots at the end of the buzzer. But when I get the call I will be ready!