BILLBOARD | 11/15/2017 by Deborah Wilker
As digital platforms and social media make it easier than ever for fans worldwide to discover new music and connect with artists (and each other), the industry's top concert promoters say international expansion of live entertainment markets shows no sign of slowing.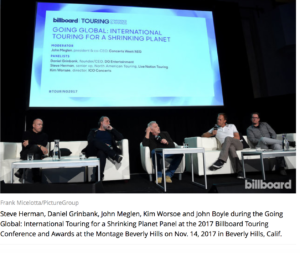 But how best to seize unprecedented growth opportunities? That was among the key points during "Going Global: International Touring for a Shrinking Planet" — a discussion among the world's top concert promoters during Billboard's Touring Conference & Awards event on Tuesday (Nov. 14) at The Montage Beverly Hills hotel.
"The world is now the market," said Steve Herman, senior VP North America for Live Nation. "Due to the Internet everything happens very fast. And you need to be able to take
[artists] places very quickly."
Thirty years ago when artists would embark on world tours, South America "was the last option," said Daniel Grinbank, CEO of Buenos Aires-based DG Entertainment, who has helped transform the live entertainment scene across his continent, making concerts from U2 and The Rolling Stones business-as-usual events there.
John Meglen, president and co-CEO of Concerts West/AEG — who recently shepherded record-setting dates for the Stones in Europe — said it's not enough to keep taking iconic bands into uncharted territory. Meglen, who moderated the panel, said he's on the hunt for new music, new artists and what he calls "a mixture of cultures."
"We have a global media platform that happens to be digital so it means everything can grow exponentially instantaneously. It means we need more content, because the pipe is bigger."
The discussion was rounded out by Copenhagen-based Kim Worsoe, director of ICO Concerts, and John Boyle, chief growth officer and interim CFO of Insomniac, and also focused on the art of boutique promotion for smaller agencies, the need for greater education on currency issues and proper tax planning.
Worsoe spoke of artists who had performed sold-out shows but lost money while touring internationally due to fluctuations in exchange rates.
In an interview with Billboard after the panel, Meglen said what's most important is that the industry rely less on "our Western pop music. It's about us realizing that we live in a big world today and we should operate our business that way. Not like we're in North America and we're a bunch of exporters."
The two-day Billboard conference, now in its 15th year, covers every aspect of the $25 billion-per-year global touring business.