THE HOLLYWOOD REPORTER | 4:01 PM PDT 7/3/2018
by DEBORAH WILKER
CHICAGO — If Cher had ever envisioned a cage match between ex-husbands Sonny Bono and Gregg Allman, it's heartwarming to think she may have done so in the Cher-iest way possible: In one of the strangest theatrical numbers ever, with the men performing "Dark Lady" as a duet while sexy dancers writhe between them. It's excessive, funny and self-deprecating, a lot like the diva herself, and all part of The Cher Show, the Broadway-bound bio-musical due in New York later this year, now finding its legs at the Oriental Theatre in Chicago.
Then again to really — really — appreciate this number and the musical itself, it helps to have been a fan back in the day, to remember the shock that ensued in 1976 when Cher reunited with ex-husband Bono for an awkward reincarnation of their CBS variety show, while she was married to Allman and very visibly pregnant with their son. Not caring what anyone might think — or at least pretending not to — has always been chief among her charms.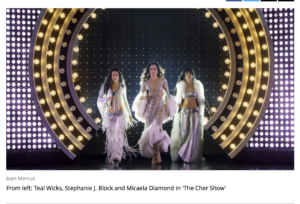 Of course today we all hail Queen Cher, surviving conqueror of music, movies, television, fashion, pop culture, Twitter, everything really. She's an Emmy/Grammy/Oscar winner, but boy did we make her work for it.
READ THIS STORY IN THE HOLLYWOOD REPORTER
Her 56-year career is a playbook in perseverance. By the time she won the Oscar for Moonstruck in 1988, following her resurrection from the sequined wreckage of the 1960s and '70s, she was only just getting started. Two huge, hard-won Top 40 comebacks followed — exceedingly rare for any artist in middle age, particularly in the era before streaming, when FM gatekeepers could either play or bury your song. Almost every new tune from Cher began on the bury list.
Through it all she was mocked for her looks, romances, ambition, fashion sense, her commercial ventures (remember Sanctuary, her collection of soothing gothic tchotchkes?) — all the forward-thinking decisions she dared to make, which today of course are standard-issue for celebrities, in part thanks to her trailblazing.
The Cher Show aims to achieve the unlikely feat of tying a neat two-hour-and-thirty-minute ribbon around much of it — while entertaining the masses and presenting a strong feminist message.
Terrific casting, marvelous costumes (it's Bob Mackie after all, not just behind-the-scenes but portrayed on stage, fabulously by Michael Berresse), delightfully retro dance numbers from choreographer Christopher Gattelli, and of course a bursting catalog more than 50 hits deep — from "The Beat Goes On" to "If I Could Turn Back Time" and latter-day anthems like "Strong Enough" — all go a very long way.
But this earnest work-in-progress also feels both long in places and rushed in others. And the chief framing device, a show within the taping of a TV show, is sometimes confusing; nor is it really needed. What is needed, is more of what makes this legend, now 72, unique.
In the fall of 1998 for example, when FM programmers resisted playing the then 52-year-old's eventual chartbuster "Believe," she personally barnstormed radio stations, flying from East to West each morning so she could pick up time during the day and visit as many outlets as possible. For a woman who had already accomplished so much by that point, why was she still so intensely driven? We're never entirely sure, as the muscle she poured into this particular triumph, ultimately the greatest of her career, is not part of the show.
Then again, editing seven-plus decades into a single evening is hardly simple. To their credit, writer Rick Elice (Jersey Boys), director Jason Moore (Avenue Q, Pitch Perfect), producers Flody Suarez (Rise), Jeffrey Seller (Rent, Hamilton) and Cher herself along with her management team of Lindsay Scott and Roger Davies, all seem determined to make this piece more than just another entry in Broadway's glutted market of ready-made entertainment adapted from music catalogs, movies, books and other sources.
While the narrative is linear the jukebox is not. Songs from her 2001 album Living Proof, 2010 film Burlesque and others are used to frame scenes set decades earlier. Old songs are used in later years — time-jumps that create a timeless effect around the indestructible diva.
In a similar vein there are three Chers — Babe (Micaela Diamond), Lady (Teal Wicks) and Star (Stephanie J. Block) — each representing various life stages: As the teen swept into Bono's orbit at Phil Spector's studio; as the TV star who later falls for the dreamy drugged-up outlaw Allman; and finally as the icon we've known since the big movies, Believe, and the 20 years of record-breaking tours and residencies that followed. The Chers interact full-tilt throughout, reviewing their life choices in humanizing talks and punchlines.
"Are we making Sonny seem like an asshole?" one of them asks in a rapid-fire bit of three-way emotion. "Because I don't really want to do that."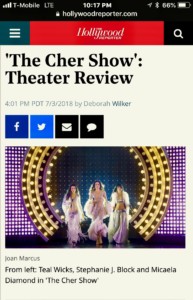 As the wise, current-day diva, Block nails the star's Churchill-like steeliness. Every strut, eye-roll and vocal tick is dead-on. Wicks as Lady is also fun, particularly as she morphs into the confident hair-swinging, hip-smacking put-down artist TV viewers came to know. The trifurcated subject works better here than it does in Summer: The Donna Summer Musical, but this show similarly under-acknowledges the star's deep connection to her adoring gay fanbase.
Emily Skinner as Cher's nurturing mother Georgia Holt and Jarrod Spector as Bono, are also both spot-on. His vocals on a tender "I Got You Babe" elicited instant "ooohhhs" and applause from the Chicago audience Monday night.
Cher also gives serious stage time to the era when she fell for dashing Rob Camilletti (Michael Campayno), the sweet, 17-years-younger bakery worker who was her boyfriend at the height of her movie fame. They adore each other, but alas, he leaves her, setting up a bit of downer ending, particularly when "Believe" is rendered late in the second act as a sort of reimagined "Rose's Turn." Luckily the No. 1 smash gets a second life as a sing-and-dance-along finale.
Though she makes it clear that she loved (and misses) Sonny the most, there's still not yet quite enough drama in the story to keep audiences beyond diehard fans on the edge of their seats. That Cher never had the kind of full-on public meltdowns or drugs-and-booze nightmares that mark the lives of many superstars means her fears, insecurities, heartaches and battles must be more deeply written.
In the meantime the creative team ought to bump up the action on the dance floor immediately, extending "Take Me Home" and "Turn Back Time," while also upping the tempo on both.
And an amazing first-act parade of Mackie's ingenious costumes begs for a reprise. In each other these two both found a daring and enduring muse. They've been together for 50 years. That's a love story worth greater exploration too.
Venue: Oriental Theatre, Chicago
Cast: Stephanie J. Block, Teal Wicks, Micaela Diamond, Jarrod Spector, Michael Berresse, Michael Campayno, Mathew Hydzik, Emily Skinner, Dee Roscioli
Director: Jason Moore
Book: Rick Elice
Set designer: Christine Jones and Brett J. Banakis
Lighting designer: Kevin Adams
Costume designer: Bob Mackie
Sound designer: Nevin Steinberg
Music director: Andrew Resnick
Choreographer: Christopher Gattelli
Producers: Flody Suarez, Jeffrey Seller, Cher, Roger Davies, Lindsay Scott, Larry Poindexter, Broadway in Chicago
DEBORAH WILKER
THRnews@thr.com
@Debwilker