In the years leading to its opening in 1995, The Rock and Roll Hall of Fame and Museum was besieged by negative buzz. Civic groups in Cleveland pledged massive sums to get the thing built there; detractors called it a frivolous use of public money. Environmentalists were also opposed, arguing the museum should not occupy a prime slice of Lake Erie's public shore.
And of course almost no one in the music biz wanted it in Cleveland.
Twenty years later the place generates roughly $100 million a year, along with enormous goodwill for a city that always seems to need it. The museum attracts more than 10 million visitors a year, has a major presence on Sirius XM radio, hosts numerous academic programs free to the public, and stages all kinds of musical performances.
When the buzz is negative today, it's almost always around which artists are inducted into the actual Hall of Fame (the decision-making remains secretive and political), and which are continually excluded.
I think I wrote four or five stories over that grand opening weekend in '95. Today's relentless news cycle would demand four or five posts an hour. But that's another story. Anyway, I enjoyed the museum, and yes, I have been back since. Cool place.
---
KNIGHT-RIDDER/TRIBUNE NEWS SERVICE | Sept. 1, 1995
Rock and Roll Hall of Fame and Museum Opens in Cleveland
By DEBORAH WILKER
CLEVELAND — Baseball has Cooperstown. Football has Canton. But for most rock fans, the closest thing to a hall of fame has been the old concert ticket stubs, albums and posters in millions of personal collections.
But that changes today at noon, when city leaders cut the ribbon at the $92 million Rock and Roll Hall of Fame and Museum – a telling portrait of Americana that is also part of an expansive lakefront rejuvenation here. The occasion will be marked today with a parade through downtown, a gala this evening and an all-star concert Saturday.
Cleveland is well prepared for the onslaught of entertainment luminaries, tourists and the 1,500 journalists who have been arriving all week. More than 700 citizen-volunteers, the mayor, the governor and a host of city officials have been out in force to greet visitors.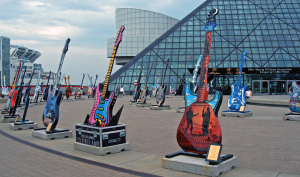 If it all sounds a little too politically correct for a rock 'n' roll event, fear not. Like rock itself, The Rock and Roll Hall of Fame and Museum is big and noisy, chaotic and unsettling, educational and loads of fun.
As doors opened to the media Wednesday and Thursday, it was apparent that it will be the strange and often humanizing celebrity souvenirs that will lure the masses.
John Lennon's 1955 report card, in which teachers call him "lazy" and "hopeless" is among the engaging treasures. Elsewhere there is Bruce Springsteen's 1965 high school yearbook and reams of tattered looseleaf paper with his hand-written lyrics to songs such as Jungleland.
Billy Joel's lyric notebooks are also on display, as is Joe Walsh's guitar, Jim Morrison's Cub Scout uniform, and a surfboard belonging to Bruce Johnston of The Beach Boys.
While the museum isn't open to the public until Saturday, a few locals got an advance peek.
Contractor Allen Petrella, 31, was hired Wednesday to erect a fence. "I was not enthused until I saw this place," Petrella said. "I got in and I just loved it."
Out front, hot dog vendor Phil Mathis said, "It's been like Christmas around here this week waiting for the big day to come. This will be Cleveland's biggest weekend ever."
Souvenirs are already moving rapidly, even though people aren't yet sure just what they're commemorating. At Koenig Sports in the downtown Galleria Mall, Hall of Fame T-shirts have been on sale ince February. "People have been talking about this place forever," said assistant store manager Robert Johnson. "Even people from overseas come in asking for shirts."
A chief booster has been Ohio Gov. George Voinovich, (formerly Cleveland's mayor), who toured the museum endlessly Wednesday and Thursday, pronouncing it a success.
"I don't think this is going to be the kind of place that people hit for an hour and walk out," Voinovich said. "People are going to drink it in."
This carefully executed look at music and pop trends comes after 10 years of planning, and off-and-on financing. The towering white structure anchored on Lake Erie and designed by the famed architect I.M. Pei should confidently take its place alongside America's cultural landmarks.
"We're not pretending this tells the entire story of rock 'n' roll," curator Jim Henke said on Thursday. "But people will come away with a great understanding of recent history."
Aside from the fact that they don't serve burgers, the detail and academic scope is what separates the Rock Hall of Fame and Museum from tourist spots like the Hard Rock Cafes.
Curators have paid great attention to early influences such as Memphis blues, even 1920s performers such as Louis Armstrong, Ma Rainey and Bessie Smith. Activists such as Frank Zappa and Tipper Gore face off in an intriguing news-style display. Sub-movements such as rap, punk, psychedelia, disco and the fashion trends they sparked are also deftly chronicled.
An exhibit about Cleveland disc jockey Alan Freed, who is credited with coining the term "rock 'n' roll," is the catalyst for a look at the influence of radio. Ongoing short film presentations in several theaters trace trends from Bill Haley to Nine Inch Nails.
A terse 1972 memo from a Rolling Stones tour manager demands that the band's backstage quarters be stocked with "good burgers, Chivas Regal, tequila, and apple pie – lots." Mick Jagger and Keith Richards also wanted "soups, plenty of fruit, lamb chops and beer," and "this does not of course include Stevie Wonder," who was touring with the Stones as an opening act.
While the exhibits and photos occupy nearly four floors of museum space, the crowning glory is the actual Hall of Fame itself. Squirreled high above the action is a tiny top-floor cylinder, it's akin to a lighthouse. Only the room is dark and starkly quiet. Backlit portraits of inductees are etched in glass, along with their names and a few telling quotes about them.
Of the intense quiet — an ironic juxtaposition considering the subject matter — exhibit designer Stephen Burdick said, "If you tried to put sound in it, whose sound would you use?''
Museum director Dennis Barrie says the nonprofit center should pay for itself in "roughly 20 years." He is also certain the collection will grow as rock stars and their families see that the museum has an academic purpose.
"Music is our soundtrack," Barrie said. "It is intertwined with our history."