BILLBOARD | Thurs. June 22, 2017
By DEBORAH WILKER
LOS ANGELES — After more than 50 years onstage, Roger Waters could certainly be taking an easy victory lap — if he wanted to.
But the Pink Floyd co-founder, visual visionary and creator of one of the most enduring soundtracks in all of rock seems at age 73 to be as fired up about changing the world now as he was decades ago. His current Us + Them tour — which launched in Kansas City last month and pulled into the Staples Center in Los Angeles for two sold-out shows this week and another coming up June 27 — is a testament to his unwavering political ardor.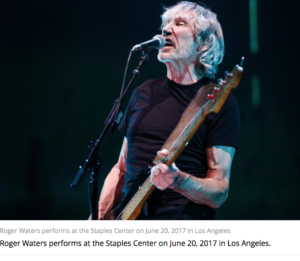 Magical classic-rock catalogs don't necessarily need to be reinvented on tour. (It's still pretty amazing just to see Mick Jagger do "Satisfaction," 52 years after the fact.) But Waters, who has always found fuel in social injustice and political strife, continues to make old tracks from Dark Side of the Moon, The Wall, Animals and Wish You Were Here newly relevant every time he tours —  accomplished once again through deep political conviction and the most striking cinematic theatrics ever employed on a rock stage. There should be Oscars for this kind of work.
While most pop and rock has grown increasingly safe in recent decades, Waters is one of the few true protesters still in the game, caring not a whit whom he offends or how anything might look. Thank goodness.
On Wednesday night at the second of his three Staples shows, Waters once again mounted his next-level Trump assault (updated since its premiere at Desert Trip last October). On three monster video walls — two of which are assembled from 17 screens that drop from the ceiling and hang the length of the arena floor — Trump is portrayed as a toddler, a con artist and a poorly endowed plaything of Vladimir Putin. Later, some of Trump's more absurd quotes are flashed across the arena, among them, "The beauty of me is that I'm very rich."
This was during "Pigs," the fitting prelude to "Money," during which images of the president's bankrupt Taj Mahal casino shared screen time with beauty pageant contestants, golf courses and hotels. The song had begun with Waters inserting an audio loop of  Trump exclaiming, incredulously, "I won, I won!" in between the familiar coin clinks and cash-register rings of "Money."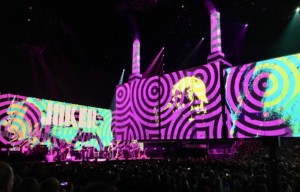 Yet midway through, Waters reclaimed the song — replacing the political imagery with close-ups of his own nimble handiwork, pumping out the familiar bassline while drummer Joey Waronker brought the number to an urgent finish.
Agile and muscular, Waters still cuts a dashing rock-star pose — fists raised, his silver hair a bit longer than usual and now flopping over his eyes. Dressed simply in black, as were his nine bandmates, he presided over the evening with the air of a professor about to take his students on a guided museum tour. Or maybe an acid trip.
Of course all the seductive dreaminess of these songs and the orbs, prisms, starry skies and spaceships around them cannot obscure their depth. During "Us and Them," for example, recent images of protest signs, children scrounging for food in garbage dumps and militarized American police girding for battle with fellow citizens were all jarring reminders of ongoing global tragedy. And what could be more sobering than "Time," with its cartoon clocks flying by?
There was new material as well — the touching "Last Refugee" and "Picture That" (more political vitriol) from Waters' first new studio album in 25 years, Is This the Life We Really Want?
Throughout this perfectly paced evening — nearly three hours in two acts — Waters switched off on bass and acoustic guitar, ceding some lead vocals and the guitar spotlight to bandmates. "Wish You Were Here" was a showcase for lead guitarists Dave Kilminster and Jonathan Wilson, whose work so closely matches Floyd co-founder David Gilmour, it hardly seems to matter that the band is never getting back together.
Vocal duo Jess Wolfe and Holly Laessig, who are part of the indie band Lucius, were the evening's other secret weapon, reimagining the demanding female vocal part on "Great Gig in the Sky" while adding crucial texture elsewhere. They also helped lead the children's chorus (students from L.A.'s Sound Art music education program) during "Another Brick in the Wall Part 2."
Credit for propelling Pink Floyd's catalog so deftly into this new age also goes to Waters' longtime visual collaborators, creative director Sean Evans along with Jeremy Lloyd, whose eye-popping graphic designs and immersive architectural installations are unmatched in the business.
By the time the show wrapped with a rainfall of confetti at the close of "Comfortably Numb," the animated hands that had disintegrated during "Wish You Were Here" had come back to life and found their way into a tight embrace. The imagery seemed to be a fitting metaphor for the critical thinking Waters wants his fans to do. The confetti also had a message: "Resist" was emblazoned across each tiny piece of crinkled tissue of paper. On this tour, even the throwaway gestures are laced with meaning.