BILLBOARD | Thurs. July 13, 2017
By DEBORAH WILKER
LOS ANGELES — In the 10 months since Shawn Mendes released his sophomore set Illuminate, the Canadian singer-songwriter has graduated from theaters to arenas on tour — a big step for the 18-year-old, who just five years ago was still teaching himself to play guitar via YouTube tutorials.
His homemade Vines and other bedroom releases catapulted the young troubadour to fame, and Mendes continues to prove himself worthy of the adulation. In a sold-out Staples Center show in Los Angeles on Wednesday night, he drew from his most recent album as well as 2015's Handwritten during a packed 90-minute set that featured two stages and Mendes seamlessly switching off on electric guitar, acoustic guitar and grand piano.
Now that his dream has materialized, Mendes rises to the occasion, putting over hits such as "Stitches," "There's Nothing Holdin' Me Back" and the sing-along set-closer "Treat You Better," with the kind of confidence one might expect from far more seasoned performers.
And when he sings, "Darling, I wanna see every inch of you," from 2016's sexy "Lights On," it's clear he wants to be viewed as a maturing artist. Wise beyond his years as well on the bluesy breakup tune "Don't Be a Fool," Mendes definitely made his point.
But there were throwbacks too. "This is a song I wrote a coupla years ago in my bedroom," he said while introducing "A Little Too Much," explaining to fans how that song and others found an audience around the world.
Midway through the show, he disappeared briefly, then re-emerged on a smaller second stage at the back of the arena floor, surrounded by fans on all sides.
Intimate renditions of "Three Empty Words" and "Patience" seemed to have concertgoers in a frenzy. The crowd — predominantly female and young (and some very young) — did not seem to mind that in addition to his prodigious musical skills, the strapping 6-foot-2 Mendes also looks like a movie star. With a modeling contract already in hand, can Hollywood be too far off?
Opener Charlie Puth — who also gained early fame with homemade music and also plays his own instruments and writes beautifully — had the unenviable task of kicking off the evening while much of the crowd was still trying to get into the building.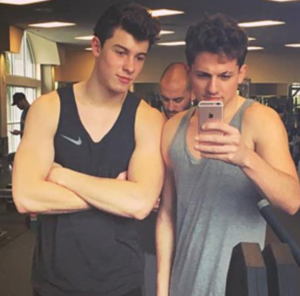 But he too, is a pro — and a comparative veteran at the advanced age of 25 — who was able to instantly corral distracted fans as they filed in to his Billboard  top 10 hit "We Don't Talk Anymore."
He closed with his blockbuster single "See You Again" (recorded with Wiz Khalifa), which just this week supplanted PSY's "Gangnam Style" as YouTube's most-watched video with nearly 3 billion views. "I wrote this song on my first day in L.A.," Puth said. "And it changed my life completely."
At just six songs, Puth's 30-minute set was way too short, but it hinted at even better things to come.