MOVING PICTURES: Cover Story  | July 2009
By DEBORAH WILKER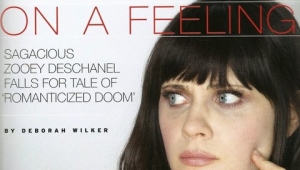 Zooey Deschanel has been heralded more than once as Hollywood's next new thing. If only she'd followed the plan.
This actress/singer-songwriter – whose raw talent looks to be ever more boundless the longer we know her – has little interest in blowing up, crossing over or following any sort of blueprint designed to catapult her to super-stardom.
" That just doesn't work for me," she says of film careers created by committee.
" I've been doing this for a long time – and every time I try to scheme, it always backfires – so I figure there's no point in ever trying to fool anybody," says Deschanel, who moves comfortably between the fringe and commercial fare such as "Yes Man," "Elf" and "Weeds" – as well as a critically praised music career. "I just basically make decisions by the seat of my pants."
During a recent day off in Seattle, where she spends time with fiance Ben Gibbard, (guitarist for the alt-rock band Death Cab for Cutie), she said she rarely weighs the pros and cons of any career choice. "It's not that I don't put thought in to my decisions. I do. But it always has more to do with a feeling."
Lately her intuition appears to be dead-on. Her latest film, Fox Searchlight's "(500) Days of Summer" – about an insecure greeting card writer (Joseph Gordon-Levitt) who falls for a woman who says right up front their union is doomed – arrives with so much Sundance buzz it's being sent into battle at the height of summer.
With it's out-of-sequence narrative, novel use of split-screens and even a clever send-up of Disney's "Enchanted" (complete with dancing in the streets), it's an ambitious release for first-time director Mark Webb, known until now for his work in commercials and music videos.
" It did have a lot of unique story-telling elements in the script," Deschanel said. "Though it was pretty well described on the page, I was curious to see how exactly it was going to play out. In the end it's just a very realistic look at a love story. It's romanticized doom – which is much better than straight doom," she says with a laugh.
Amid the hot movie talk, Deschanel is also continuing her ascendant recording career as one-half of the acclaimed indie pop act She and Him, which she fronts with guitarist-producer M. Ward.
She penned most of their melodic debut album, 2008's "Volume One," which landed on several year-end best lists. They are now making the second one. Skillful production in the styles of Phil Spector, Brian Wilson and George Martin — and her crystalline vocals – have drawn comparisons to vintage Joni Mitchell and Linda Ronstadt.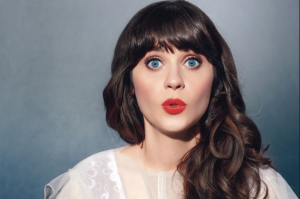 " I feel very proud being part of independent cinema and independent music," she said. "It's important to keep it alive. When I set out to make movies it was with the intention to make art films – so I'm about one step more mainstream than that – somewhere between where I originally set out to be and where I am."
Deschanel certainly isn't the first young performer to champion independent thought and eschew corporate-think. But she's probably one of only a few who can pull off an entirely mainstream TV commercial while saying so.
Along with singer-songwriters Miranda Lambert and Jazmine Sullivan, Deschanel also now stars in one of three new "Fabric of Our Lives" commercials for Cotton Incorporated. In the spot, she plays a version of herself – a beautiful girl out and about for the day — thumbing through titles in a secondhand record shop, trying on clothes and composing at an old upright piano. She wrote the music, sings it, backs herself up on piano and of course models all the clothing effortlessly.
The song is very pretty – and so is the ad, with its cinematic, even arty look. But still – it's a commercial.
" It seemed like a great challenge," she said, "and sorta fun. I'd never really written a song this way. They gave me a set of rules – it has to be 30 seconds long; has to have these lyrics in it – 'the touch the feel of cotton' – and I wrote the melody and the verse.
" We used clothes I really liked and discussed things that I would really do on a day off – like going record shopping, or to the flea market. It's always my intention to be open to things and not thinking too much about what other people will think. This sounded like fun – you might as well do it."
Much has been written about Deshcanel's show business upbringing and how it has shaped her thinking and approach to the industry. Her older sister Emily stars in the Fox series "Bones;" their mother Mary Jo is a working actress ("Twin Peaks," "The Right Stuff," "House"); father Caleb is an ASC award-winner and five-time Oscar-nominated cinematographer, most recently lauded for "The Spiderwick Chronicles" and "Passion of The Christ."
Deschanel graduated from Santa Monica's elite Crossroads prep school (alongside her future "Almost Famous" co-star Kate Hudson), but she describes her early years as sometimes difficult, as she and Emily also attended other schools in far off cities around the world.
" I had all these experiences that I wouldn't trade for anything – but at the time did not enjoy," she said. "We traveled to a lot to locations, not on sets so much but just in the town that my dad had to work in. We lived on a tropical island off the east coast of Africa; Yugoslavia; London.
" I had trouble being uprooted all the time. You have to leave all your friends then you come back home and everyone is like 'who are you?' I really hated traveling. But when I look back now it was character-building."
That both she and her sister now enjoy such strong (if dissimilar) careers doesn't surprise her.
" It's nice. She has her thing and her world, and I have mine. We're both working and doing what we want to be doing. We're very fortunate. Having artistic parents who are accepting of being an artist and making a living that way was really great."
Despite the chasm between their audiences, Deschanel says she and Emily have been approached about working together and do discuss the possibilities.
She was all set for a guest spot on "Bones" last year she says, "but then I couldn't because I was working."
" I don't know that we'd ever work with each other on an extended basis – that's just inviting a lot of family stuff to come into it. So no, we probably wouldn't go out and do a TV series together. But it's possible we'll do something soon. That would be totally fun."