TRIBUNE PUBLISHING | JUNE 2016
BY DEBORAH WILKER
With her 2013 Broadway musical Kinky Boots at $200 million in grosses, and with productions in London, Toronto, Australia, and on tour across the U.S., Cyndi Lauper should be basking in a career triumph. The show won six Tonys, including one for Lauper's original score — the first ever awarded to a lone female composer on Broadway.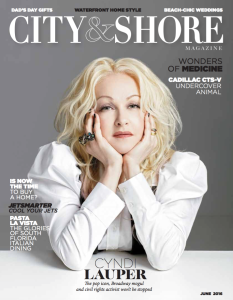 And yet Lauper, who also won a Grammy for the KB score (to go with an earlier Grammy from her recording career and her Emmy for the '90s sitcom Mad About You), hasn't allowed any of it to sink in.
"It really hasn't hit me," she says, three years into this later-in-life career surge, which now also includes an acclaimed new album of country classics called Detour, and a corresponding concert tour, which has her on the road worldwide through fall.
Read this story in City & Shore magazine
With her profile ascending once more, Lauper, 62, has been in a swirl of headlines in recent months over her decision to play a June 4 tour-stop in Raleigh, N.C., rather than cancel shows in protest as Bruce Springsteen, Pearl Jam, Ringo Starr and Maroon 5 have done. The issue is North Carolina's divisive HB2 "bathroom bill," which requires individuals to use only the public bathroom corresponding to the sex on their birth certificate.
Lauper — a decades-long advocate for the LGBT community — is grateful for the spotlight Springsteen and others cast on the bill, but has aligned with artists who kept their North Carolina tour dates, among them Joe Walsh, Dave Matthews, Journey and 5thHarmony.
"I felt we could go down to North Carolina and teach people how to help themselves and protect their civil rights," Lauper says from New York. "Fear is fear, and education is the way."
Proceeds from her performance there will go to Equality North Carolina, a non-profit that seeks justice for the region's LGBT citizens.
"There's all kinds of people in the world and there's room for all of us. You never know in this world when that discrimination is gonna turn toward you. Oh maybe your hair's pink, that's bad! You're different — no good!"
The rounds of back-to-back interviews, talk show appearances, the new record, overseeing the global juggernaut that Kinky Boots has become, (and two new stage musicals on the horizon) — all of it seems to be making her head spin at the moment. Not that she isn't used to attention. Everything about Lauper's outsized New Wave appearance, the rainbow hair, punk couture and comic delivery, from the time we first encountered her more than 30 years ago, was always performance art — calculated to delight.
But these days are different. She was inducted into the Songwriters Hall of Fame last year and now words like "legend" are tossed around. For an artist who temporarily lost her footing after smash hits such as Girls Just Want To Have Fun, Time After Time and True Colors made her a superstar, Lauper has been much more circumspect over the years, taking her time to think through decisions, and recording only music she genuinely enjoys.
"I made a half a penny a record in the beginning. I was lucky to have a record deal, I thought," she says of her label at the time, Epic Records. (She went on to sell 50 million records while they battled for years). "And when you start to make a dollar a record, that's when they look for another sucker. And that's how it goes. But unfortunately they weren't gonna let me go. After a while I knew I had to diversify."
What amazed her most about Broadway, she says, was that she could write "anything she wanted."
It was the kind of artistic control and freedom she had sought her entire career.
"I just wanted to do something different and I wanted to work with Harvey," she says of her friend, actor Harvey Fierstein, her partner in Kinky Boots. "So I asked him, 'what are the rules?' He said, 'there are no rules. Just write.' So I wrote.
"I could draw on all the musical styles I had learned that I wasn't allowed to use in pop music."
It was a fresh reminder to stay the course and follow her instincts.
From Broadway, it was soon on to Nashville where she made Detour, which features collaborations with Vince Gill, Emmylou Harris, Willie Nelson and Jewel — and classic songs such as I Fall to Pieces and Misty Blue.
"When I was growing up I used to listen to radio stations that played everything together. I didn't know Patsy Cline was a country artist. I thought of her as a beautiful famous lady who was a rocker, just singing on the radio."
To get the album made she teamed with famed record exec Seymour Stein who runs the Sire imprint at Warner Bros.
"I wanted to be on Sire in the '89. But better late than never – I'm there now. He's the last great music guy."
***
Cyndi Lauper's success has often been late-blooming. That first-ever Tony award came just weeks before her 60th birthday. And when she crashed through our TV screens in 1983, leading a parade of teenage feminists in GJWTHF — while she looked to be all of about 16 years old — she was already 30.
"Everything happened late," Lauper says. "Everything! It did. I got married at 38. And I finally got my driver's license the same year!"
Marriage in 1991 to actor David Thornton, whom she had met on a Miami film set, helped her get her life back on track.
"The '80s were a tough time. It was also very sexist, which I was kinda protected from, until I tried to grow. I felt after a while I was fighting for my own survival."
She was still rebuilding when — in 1997 at age 44 — she was signed as the opening act for Tina Turner's world tour. Lauper was now pregnant ("I did do everything late!") but made only a few adjustments to her act.
"I tried to play instruments so I wouldn't jump around so much — cause when you sing and you perform usually the spirit takes you and you're half outta your mind.
"The only pregnant clothes they had at that time looked like sacks. And I didn't wanna wear a potato sack so I said the hell with that, I'm gonna get me some trashy lingerie!"
She zipped herself into all sorts of skin-tight creations and went for it.
"I had one with stretchy stuff under black lace which made me look like I was nude a little bit."
(Son Declyn, now 18, was born soon after the tour ended, no worse for wear).
How much longer will she keep at it? When we start talking about age, and that she'll be turning 63 this month, she cuts me off.
"Can I ask ya a question? I feel that the way ya say that, you wanna check under the hood, kick the tires, see how much mileage is left? I think there's a lot ageism. You can do whatever you want as long as you stay healthy."
When I explain my point — that she's long been an inspiration to many a late-bloomer — she agrees.
"There's a lot of gatekeepers that tell people to march together like little sheep and we all go and sit in this compartment and that compartment — kind of the way we are forced to listen to music today — everything, everybody has a compartment. But I don't think you should think of your age as what people tell you what you're supposed to be."