BILLBOARD | Tues. June 27, 2017
By DEBORAH WILKER
LOS ANGELES — The Queen + Adam Lambert experiment — which began tentatively in 2012, three years after the legendary U.K. band joined the American Idol finalist on stage during the show's season finale, and has been touring the globe for much of the half-decade since — has now been fine-tuned, to the point where it should really be a permanent partnership.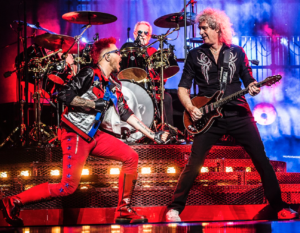 This isn't to say Lambert doesn't deserve his own career. But fronting Queen should probably be the pop star's full-time gig. Perhaps not since Mick Fleetwood stumbled upon Buckingham Nicks at Sound City 43 years ago has there been a more serendipitous fusion of two established recording acts.
But most important is the tone. None of it takes itself too seriously — crucial when a group is replacing a legendary member. If concert promoters need a primer on how to keep a band going after the unthinkable, Queen + Adam Lambert is a pretty good case study.
"These two gentlemen are legends of rock n' roll," Lambert said on stage Monday night while introducing Queen's founding members, drummer Roger Taylor, 67, and guitarist May, who will turn 70 next month. "Every time I take the stage with them, it blows my mind at what an honor this is — to be singing the music of Queen."
This came about five songs in, after Lambert, 35 had ridden in on a 3-D skull (modeled after the sci-fi album cover of Queen's '77 set News Of The World), singing a glorious "Killer Queen," decked out in a shiny pink suit and high-heels. The song was a showcase for his theatrically trained vocals, one of several during which he put his stamp on things in a way that was faithful to the band's past, but kept it all in the now.
"I know what some of you might be thinking — he's no Freddie Mercury," Lambert said, acknowledging the obvious. "I know guys, I know. Of course I'm not Freddie. I'm a fan, just like you."
Lambert's devotion to the catalog shows, not just on big numbers like "I Want It All," "We Will Rock You" and "Radio Ga Ga," but on trifles like "Bicycle Race," during which the saucy former reality star whipped out some perfect light-opera and a couple of cute sight gags.
For his part May remains a marvel on guitar, racing around the multilevel stage, infusing the band's genre-busting catalog with every possible six-string flourish, and veering off into crunchy mini-jams as in "Fat Bottomed Girls," during which Lambert dashed off for the first of five costume changes. May took a couple of acoustic moments center stage, notably on "Love of My Life." He seemed to become emotional when a video of Mercury appeared. The duo finished the song in unison and then Taylor joined in on drums down stage with Lambert, to continue the acoustic segment with a buoyant rendition of 1980 Hot 100-topper "Crazy Little Thing Called Love."
When it was over Lambert and May embraced, walking arm in arm toward the other band-members (including Spike Edney on keyboards and Tyler Warren on percussion) for their final bows. The moment was one of many during which the two men appeared happy and quite connected on stage. A classic guitarist and his muse, carrying on.