TRIBUNE PUBLISHING | July 2013
By DEBORAH WILKER
It doesn't take much to get Jeffrey Dean Morgan in the mood.
"You just kinda walk around here and the attention to detail is such that I put on my tie, and my awesome suits, I step onto my set – and I can practically hear Frank Sinatra singing in the background."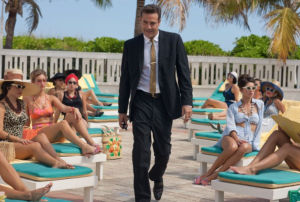 On Magic City, the sumptuous 1950's mob drama, Morgan plays Ike Evans, the charismatic owner of the  glamorous Miramar Playa Hotel – a setting based loosely on the mid-century glory days of The Fontainebleau, Eden Roc and other Miami Beach destinations. He's kind of timeless movie hero on the show– a family man in a deal with the devil.
"He's definitely straddling that line," said Morgan, an alum of Supernatural, Weeds and Grey's Anatomy. "I want him to stay on that hero side. But it's hard."
Marked by precise late-'50s detail, Magic City, airing on the STARZ network, also features an eye-popping mix of sex and danger, all set (deceptively of course) against calming waves and blue skies.
In the hotel's Atlantis Lounge, naked women frolic in an aquarium behind the bar. The men also bare all on this show, among them Golden Globe nominee Danny Huston, who plays evil, skinny-dipping mob boss Ben "The Butcher" Diamond.
Beyond the gorgeous people, and their predilections for chancy entanglements, Magic City distances itself from just about everything else on television at the moment, with cinematography, set design and a mood so exquisite it has drawn comparisons to Mad Men, The Godfather trilogy, even Miami Vice.
Yet Magic City doesn't really borrow much from them. The show is based on longtime screenwriter Mitch Glazer's recollections of the celeb-and-mob-studded Miami Beach of the '50s and '60s. Through his father, an engineer who worked at the Eden Roc, Glazer got an up-close view of Rat Pack entertainers, parties and East Coast culture that defined the early Kennedy era.
"I'd love to say that I immersed myself in all sorts of research for this part, but the truth is these scripts are so well written," Morgan says, "the characters so fleshed out – Mitch has done such extensive research on the period, he can tell me anything I need to know. We really show Miami Beach as the place it was."
A tour of the show's sets reveals a 1950s world so real you can almost smell the Aqua Net and Kools. A crew-member points out that not a single prop "isn't period-specific." Set designers stalked antique sales and storage units for classic beauty-parlor hair dryers, wallpaper, sconces, rotary phones, jukeboxes, vintage gowns and ashtrays.
As the story picks up, Ike's determination to regain sole control of his hotel forces him into intense wrangling with an even bigger mob boss played by guest star James Caan.
But if Morgan has his way there are lines Ike will not cross, among them, cheating on TV wife Vera, (Olga Kurylenko).
"Even when things get very dark and Ike pushes away many of the people he loves, the one thing we can count on is that he loves his wife," he says.
Morgan was just turning 40 and had been kicking around for a while when he landed the career-changing role of cardiac patient Denny Duquette on Grey's Anatomy in 2006.
No matter how big the movies or suave the TV roles in his accelerating career, can we ever really look Jeffrey Dean Morgan in the eye and not picture him as Dying Denny — Katherine Heigl draped upon him in that voluminous pink ballgown? Can we ever un-see Hologram Denny, haunting the hallways of Seattle Grace, prone to imaginary sex with Izzy?
"I'd still be on that show if I'd been allowed not to die! I think of Denny in only the best possible way."
In fact he's still a Grey's viewer. And wife Hilarie Burton was a recent addition to the cast.
"There's just a certain amount of comfort I find in it," he says of tuning in to the show. "I loved that job – I owe everything to that job. I wouldn't be here right now without it."
[Update: JDM has since gone on to
The Good Wife, Extant, Batman v. Superman
and
The Walking Dead
. I think we can un-see Dying Denny now!]