SOUTHFLORIDA.COM | Oct. 11, 2016 12:49 PM | SOUTH FLORIDA SUN-SENTINEL | Oct. 14, 2106
By DEBORAH WILKER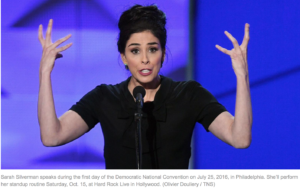 Sarah Silverman didn't mean to coin a catch phrase. But when she lectured Bernie Sanders' extremists at the Democratic National Convention in July ("to the Bernie or bust people — you're being ridiculous"), she created a moment that continues to resonate through this election season.
"I don't know what their long game is," Silverman says of the devout Sanders supporters who say they won't support Hillary Clinton. "They're going against Bernie's wishes. They love him so much? And yet, what? That's not what love is. I'm a Bernie supporter. He values the voice of the people. And when we get Hillary in office, he will listen to the people. They work well together in my opinion."
Read this story on SouthFlorida.com
The comedian, Emmy-winning writer and actress, who is bringing her standup show Saturday, Oct. 15, to Hard Rock Live, says Donald Trump should be "thanked for bringing the invisible gas of racism, xenophobia and misogyny to light." This is not the time for disaffected Democrats to stand on ceremony, she says, calling this election season "disheartening and scary."
A longtime political voice, Silverman says it was her parents who shaped her activism.
"My mom's jewelry box was filled with political buttons. She worked for the McGovern campaign," she says of her mother, Beth Ann O'Hara, who died last year. "My dad
[Boca Raton resident Donald Silverman] owned a discount women's clothing store, and in the winter in New Hampshire, he kept the vestibule open and heated for homeless people to sleep in. I like humanity. I'm interested in it."
"It was so random," she says of the life-threatening bout of epiglottitis she endured just before her appearance at the DNC. "I was on the road, and I got a perfect storm of bacteria somehow and I had a shitty sore throat. When I got back to L.A., I got the sore throat again."
Though the ailment was seemingly benign, Silverman uncharacteristically went to the doctor.
"It's a good thing, because I had a huge abscess on the top of my windpipe which was about to kill me," she recalls. "It was either going to grow another millimeter and block my air intake, or it was gonna burst and kill me, because what was inside was poisonous.
"He did surgery on me that day. It was 50/50. They couldn't guarantee I would make it. He told me weeks later he was terrified."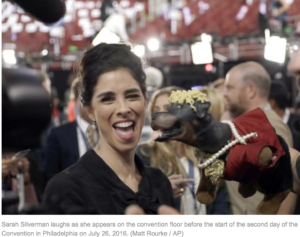 Silverman was in the intensive care unit at Cedars-Sinai Medical Center for five days. "I rallied to do the DNC," she says, "and I rallied to shoot this thing for my friend [comic Pete Holmes' new HBO show, 'Crashing'], and all the other time, I'm sleeping. I went back to work way too soon."
On the day of this interview (three months after the ordeal), she was still feeling the effects of her surgery, but was easing back into her standup dates and workout regimen.
"I like to get my sweat on," Silverman says. "Sweating out stuff is how I survive. I also like to stretch. I need to stretch. I'm too old to not stretch."
At 45, Silverman has also been stretching creatively. While she has had a long career as an actress and voice artist (she'll appear Oct. 16 on the 27th edition of "The Simpsons' Treehouse of Horror"), lately her roles have become more meaty.
She's been a revelation on the Showtime drama "Masters of Sex," and in 2015's "I Smile Back," her first leading role in a feature film, her portrayal of a drug-addicted housewife won raves. Next year, she will be seen in Fox Searchlight's "Battle of the Sexes" with Emma Stone and Steve Carell, and in the drama "The Book of Henry" with Naomi Watts.
How does she account for these expanding opportunities, particularly during a time of life when Hollywood is typically inhospitable to actresses?
"It's not like I'm Julia Roberts and I just did 'Pretty Woman,' " she says. "I'm not on that visibility level. I'm fringe. 'I Smile Back' was something that came to me. It looked really interesting, so I did it."
Silverman says she's able to accept only the work that intrigues her because she's frugal. Plus, she genuinely enjoys a pared-down lifestyle.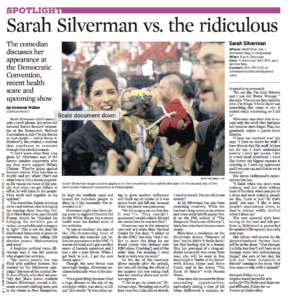 "I keep my overhead low," she says. "I have no desire for stuff. I have friends that like stuff. It's just not for me. I don't understand jewelry. I don't 'get' purses. I live in a very small apartment. I don't like clutter. My biggest expense is ordering in. I own my apartment and I own my car, and that to me is freedom."
She keeps Hollywood's expectations low, too.
"I think when you don't wear makeup, and you dress schlepy most of the time, when you put on a dress and wear makeup, people are like, 'Look at you!' So that's good," she says. "I like to keep people's expectations down, so they're always wildly thrilled when I dress up."
The new material she's been honing on the road and will perform in Hollywood is earmarked for another HBO special, due early next year.
Her father, well known for his @rantsfromboca Twitter feed, will be at the show. "That changes it a little, but they'll still have to sit through some very embarrassing things," she says of her dad, his wife and "their thousands of friends" coming to the show. "But they seem to take with it aplomb."
Deborah Wilker is a Los Angeles-based journalist who writes for The Hollywood Reporter and Billboard. Follow her on Twitter at @debwilker.