THE HOLLYWOOD REPORTER | 8:32 PM PST 11/20/2017 By DEBORAH WILKER 
"For the longest time people had me convinced there was something wrong with this music." So goes the lament of Donna Summer — five-time Grammy winner, Rock & Roll Hall of Famer, Queen of Disco — and the latest icon to receive the stage musical treatment. In writer-director Des McAnuff's Summer: The Donna Summer Musical, world-premiering at La Jolla Playhouse, it's her mistreatment that's hammered home. Men abuse, managers steal, cancer comes calling, but worst of all, her art is derided.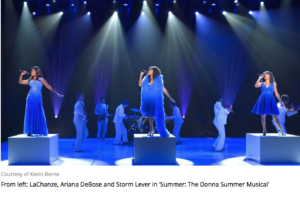 This retelling of Summer's life, which reportedly is aiming for Broadway next season, not only examines an ebullient era in music but aims to give the trailblazing songstress, who died in 2012, her rightful place in pop culture. Summer was, of course, so much more than a dance-club hitmaker. A brilliant songwriter, conceptualist and riveting live performer whose vocal range was off the charts, she made deep-track concept albums — efforts that did not receive their critical due amid the 1970s disco haze.
Her catchy songs, turbulent life and billowing ball gowns are all rich source material, but this show — a quick one hour, 45 minutes without an intermission (rare for a musical) — moves almost too fast. While sprawling iconic lives can never quite be tidily summed up in such productions, a few too many milestones in Summer's career are missing here. Adding some of them would go a long way toward helping the creative team make its point about her overlooked genius.
Despite its missteps, there is still so much to like about The Donna Summer Musical, particularly the three women portraying the title character in different phases of her life. Broadway veteran LaChanze (a Tony winner in 2006 for The Color Purple) is a marvel as the assured, rafters-raising "Diva Donna"; Ariana DeBose (an original Hamilton ensemble member, more recently of A Bronx Tale: The Musical) is both nervy and vulnerable as anguished midlife "Disco Donna"; and young Storm Lever, a real find, is a scene-stealer as "Duckling Donna." Moments when the three sing together produce all the requisite chills.
The story traces Summer's rise from Boston church choirs to the cast of an overseas touring company of Hair, where she becomes a curiosity among her white friends in Munich, marries young, meets producer Giorgio Moroder and starts penning seismic compositions such as the 17-minute opus "Love to Love You Baby," which would become the blueprint for so much club music that followed.
In one remarkable late-'70s span, Summer and Moroder created seven transformative albums, three of which were double sets — making her the only recording artist in history to have three consecutive double albums reach No. 1 on Billboard's album chart. Even more compelling, these intricate records emulated the great rock albums of the '60s and '70s, telling complete stories without any of the dud filler tracks that would later become standard-issue in the post-MTV music business.
But these accomplishments are largely glossed over in the stilted narrative from librettists Colman Domingo, Robert Cary and McAnuff, who tell Summer's story in such a rudimentary fashion, it's as if they believe she's a complete unknown to the audience.
And what to make of McAnuff's decision to cast some — not all, just a few — of the male characters with female actresses, notably the pivotal role of Moroder? Perhaps it's a nod to the "whole new world of mystery and androgyny" referenced early in the script. Or maybe he's trying to out-Hamilton Lin-Manuel Miranda, casting way outside audience expectations. Whatever the case, it's a needless distraction, though Mackenzie Bell as Moroder and Jenny Larouche as Norman Brokaw do acquit themselves as well as can be.
However, performances by Aaron Krohn and Jessica Rush as hustlers Neil Bogart and wife Joyce — the founder of Casablanca Records and Summer's manager, respectively — are not as successful. Both struggle mightily with their attempts at a New York dialect, to the point where that too detracts from all the positives. Bring in a genuine New Yorker to get this right.
Adding sweet-natured uplift to the whole thing is Jared Zirilli as bassist Bruce Sudano, who becomes Summer's second husband, standing by for every high and low. Their introduction to each other in the studio, depicted here during the joyous recording of her 1978 smash "Heaven Knows," is pure bliss.
McAnuff's staging is also a star, similar in feel to his groundbreaking work on Jersey Boys. Clean, post-modern sets by designer Robert Brill float in and out as if by magic; crisp projections by Sean Nieuwenhuis and dazzling costumes by Paul Tazewell complete the show's splendid visual look. Choreographer Sergio Trujillo, another Jersey Boys alum with a host of Broadway credits, astutely conveys the excesses of the Studio 54 era with spot-on humor and precision.
The familiar hits — "Bad Girls," "I Feel Love," "MacArthur Park," "No More Tears," "Dim All the Lights," "Hot Stuff," "I Love You" and more — are well integrated into the plot, given sparkling orchestrations by Bill Brendle and Ron Melrose that raise the proceedings well above the standard jukebox musical.
But several great tunes are missing, notably "Spring Affair," "Rumor Has It" and "Try Me, I Know We Can Make It," along with mid- and late-career successes like 1989's "This Time I Know It's for Real" and 1999's "I Will Go With You (Con te Partiro)." The omission of songs like these from the narrative implies that after 1983's "She Works Hard for the Money," Summer retreated to suburban life in Thousand Oaks, California, homeschooled her kids, painted paintings and faded from view. Not so.
And then there's the inevitable show-closer, "Last Dance" — Paul Jabara's Oscar-winning disco anthem, which even back in the day came with its own spectacular club mix right out of the gate. But it's the shorter radio cut that appears to be the template here, and despite the choreographic, visual and vocal glory of this confetti-fueled number, it's ultimately something of a letdown. Bring on the long version of this song and let the terrific dance ensemble go to town during that extended interlude!
With the life story of Tina Turner (Tina: The Musical) set for the West End in March, Cher's biography (The Cher Show) hitting Broadway next fall and Beautiful: The Carole King Musical still running full-tilt, the competition among feminist musical-icon bios will be fierce. But Summer earned her place alongside these greats, and while this version of her life isn't quite Broadway-ready, it has all the potential. I feel love.
Venue: La Jolla Playhouse, La Jolla, California
Cast: LaChanze, Ariana DeBose, Storm Lever, Jared Zirilli, Jessica Rush, Aaron Krohn, Anissa Felix, Drew Foster, Ari Groover, Afra Hines, Jenny Laroche, Mackenzie Bell
Director: Des McAnuff
Book: Colman Domingo, Robert Cary, Des McAnuff
Songs: Donna Summer, Giorgio Moroder, Paul Jabara and others
Set designer: Robert Brill
Costume designer: Paul Tazewell
Lighting designer: Howell Binkley
Sound designer: Gareth Owen
Projections designer: Sean Nieuwenhuis
Orchestrations: Bill Brendle & Ron Melrose
Music director: Victoria Theodore
Music supervisor: Ron Melrose
Choreographer: Sergio Trujillo
Presented by La Jolla Playhouse[/fusion_builder_column][/fusion_builder_row][/fusion_builder_container]