BILLBOARD | Thurs. Aug. 3, 2017
By DEBORAH WILKER
LOS ANGELES — Just four days ago, Christine McVie and Lindsey Buckingham were lording over Citi Field in New York, performing with their Fleetwood Mac bandmates Stevie Nicks, John McVie and Mick Fleetwood for more than 40,000 fans at retro-rockfest the Classic East. A mirror-image of the event had been held two weeks earlier for 50,000 fans at Dodger Stadium in Los Angeles. Both weekends ended with a massive fireworks display, timed to towering video close-ups of McVie behind the keyboards on her enduring 1977 showstopper "Don't Stop."
But amid those two mega-dates (Fleetwood Mac's only concerts this year) has been the tiny-by-comparison Buckingham McVie tour, a passion project for the band's guitarist and keyboardist, featuring eight new songs from their new self-titled duet album of effervescent pop songs.
That the pair has been leading double-lives this summer as they've whipsawed between over-the-top renditions of their classic hits in baseball stadiums and untested material in theaters isn't lost on them.
"Christine and I were engaged in the idea of moving forward and sharing a creative process," Buckingham said onstage to a full house at the Greek Theatre on  a sweltering night in Los Angeles, where their duo tour resumed Wednesday. "A lot of people who have been doing this as long as we have tend to fall into chasing the brand, doing what is expected of them."
It's not often that rock legends depart their comfort zones and pair off for experimentation. But doing the unexpected has been Buckingham's thing for decades, and in this current 19-song show with McVie, there is just enough of it — plus enough of the familiar — to create a truly intriguing evening.
The best of their new songs, among them "Too Far Gone," "Lay Down for Free," "Sleeping Around the Corner" and the sparkling "Love Is Here to Stay," hold their own against anything in Fleetwood Mac's sprawling catalog. It will be interesting to see which of these songs are added to the band's live repertoire when it embarks on a reported (possible farewell) tour in 2018.
For these songs, "Trouble," "Wish You Were Here," "Never Going Back Again" and "Shut Us Down," it was mostly the other way around, Buckingham in control, earning the first of several spontaneous standing ovations as he brought "Never Going Back" to a tortured end.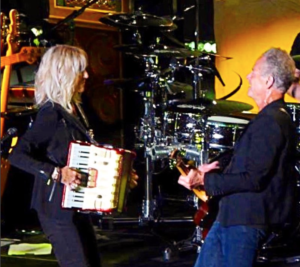 But as they launched into the new material, McVie took the reins, particularly on "Too Far Gone," an edgy rock tune in the vein of "World Turning" that's perfectly suited to her comforting alto.
McVie, now 74, and Buckingham, 67, were soon facing off on "Tusk," complete with their weirdly satisfying accordion-guitar duel and Buckingham's maniacal laugh and yelps. How are they still so terrific at this 50 years in?
As if to prove they're human, Buckingham called a halt about 10 seconds into the start of another new song, "Red Sun." "Let's try that one again," he said. "That's the L.A. nerves for you right there." They started over without a hitch, not caring a whit what anyone might think (McVie's patented style) — just two pros jamming.
And who'd have expected Buckingham to include "Go Your Own Way" on this tour — a song written as a dagger to former lover Nicks after she spurned him four decades ago. When he threw out the classic line, "Packing up, shacking up is all you want to do" — it didn't seem quite right landing on McVie's shoulders. But she countered his barbed lyrics with a bit of trademark bad-assery — retrieving a baseball bat from beneath her keyboard and shaking it as a warning in his direction.
"But would there be any vocabulary left for us to share, or would the moment have been lost?" Buckingham said to fans on Wednesday night, recounting some of the early uncertainty that briefly marked her return to the fold.
"And we might've hated each other," McVie chimed in, her droll wit intact.
Buckingham and McVie then took a moment for themselves, embracing center stage with hugs and kisses that looked to be heartfelt. What this tour also looks like is the start of some promising new material for Fleetwood Mac. Presenting it first in the low-pressure setting of a theater tour seems to have been just the right move.