SOUTH FLORIDA SUN-SENTINEL|KNIGHT-RIDDER/TRIBUNE News Service |February 13, 1994
By DEBORAH WILKER
(BALTIMORE) — Veteran piano man Billy Joel is one of few industry workhorses whose bankability shows no sign of fatigue. He still holds the Florida indoor box office record for his six Miami Arena sellouts in 1990 and has five Miami Arena shows slated this spring.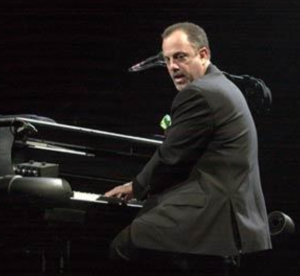 At 44, he's the father of 8-year-old Alexa Ray, and has been married to Alexa's mother, model Christie Brinkley, 40, since 1985. But their quiet life on Long Island's remote far-eastern shore is on hold at the moment while Joel continues his sold-out River of Dreams tour through 1995. The album, which debuted at No. 1 on Billboard, just received four Grammy nominations.
One of few superstars to openly call the music business "larcenous," Joel's candor hasn't exactly endeared him to the industry's hierarchy. We joined the multi-format chart-topper on the road last fall, to ask why he thinks his live shows are still so popular; what's wrong with the music business (grunge posing for one; Mariah for two); what's right about it; his low-low ticket prices, and the worst (!) song ever written.
Q. You said on PBS recently that it's easy to shine because everyone else is so mediocre. Did you really mean that?
A. I don't think what I do is extraordinary. I'm just competent in an age of incompetence.
I'm no Beatles. There is no Beatles leading the pack. Who is? Is it U2, Pearl Jam?
As good as these bands are, they don't write songs like the Beatles did. I'm not saying I wanna go back. But there's really nobody to look to.
Q. But why is no one leading? Why – and where – has this business gone awry?
A. TV has pretty much ripped the guts out of what rock 'n' roll used to be. MTV is not the essence of rock. Even back in the '70s Don Kirschner and Dick Clark were tryin' to gut the thing. Once you have a product that is air-time sellable, it's over, man.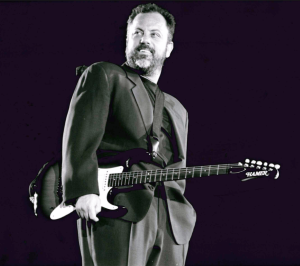 I like Pearl Jam, Stone Temple Pilots, Urge Overkill, but the pose … the image. What IS that? So they're rebelling. Rebelling against what? What's with this Bohemian pose, this rebellion. C'mon.
I remember a conversation I had once with Mariah Carey. I asked her when she was gonna tour. And she said 'I'm not gonna tour. I don't have to tour.' I said, `Mariah, of course you're gonna tour. If you wanna have a following and an alternate way to make your living, you have to tour.'
So I asked her how many records she had sold and she said, '9 million' and I said, 'Well Mariah, I guess you're not gonna tour.' You see it's all TV. We're in a new era.
Q. You still play multi-nighters in many cities, but you've cut down on consecutive nights. Now you're giving yourself a day off between most performances. Is that because you're getting old?
A. That's something that should have happened a long time ago. I'm not a teen-ager anymore. The older get, the crankier I get! I'm the manager now, so the animal is running the zoo. The animal understands the tempo and rhythms. I'm being more humane.I'd rather end up alive and healthy than burnt out. And now I'm not burnt from the night before. It's fresh for each audience. Why not give people their money's worth?
Q. Talk about getting your money's worth, no major concert act has a lower ticket price than you do. You vowed to keep it at $28.50 and you have. But since you can easily get more, why don't you?
A. Yeah, I know. Scalpers love me for that. They can easily triple and quadruple the price And people pay it.
But my idea was to try to get the ticket at a price where young people could afford to come. That makes for a good crowd and a good crowd makes for a good show.
When you get an older crowd – and believe me I appreciate all the baby boomers in these crowds – they're not as vocal as teens; not as excitable. When you look down and see girls dancing, that's great.
Q. But some people in this industry might say, you're underpricing yourself and therefore undervaluing your own talent. When relative newcomers like Whitney Houston can charge $50, and your peers are getting $75, and you're at $28.50, is something wrong?
A. We've never been above $30. That's it. The undervaluing thing, that's a particular cirrhosis of the mind in this business.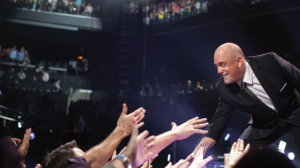 I had a big argument with Barbra Streisand's manager, Marty Erlichman, about this.
He said to me, (affecting thick, deep, Marlboro-stained New York accent): 'Billy, we can charge $2,000 a ticket, and we'll get it.' I said, 'you know Marty, you can make a perfectly good gross without having to do that and that would allow younger people to come.'
Barbra doesn't mind telling people what she thinks about politics. She's been very vocal. She's supposed to be representative of working people. She's adamant about her democratic beliefs. But if she's gonna sell tickets at $2,000 a piece she's catering to Republicans.
Q. Unfortunately though, your lower price does help make incredible profits for scalpers.
A. I know, they're making money off my back, bilking the true fan. I look out some nights and I see an audience of high rollers who spent way more than they should have.
I'm sick and tired of scalpers bilking the public. And that's one of the reasons I'm not gonna do these long tours anymore after this.
I don't trust the
[official) ticket distributors either. I get letters all the time – thousands of 'em – from people who stood in line for hours and end up in the back of the hall time after time.
It's impossible. First you get a number, then a wristband, then you walk over here, and then over there, and by the time it's your turn, your lot has been sold. How can real fans get good seats? It's larceny on every level.
And all these other people just want a percentage. Promoters don't care. Accountants don't care. Lawyers don't care. Scalpers don't care. The only person who can care is the artist.
Q. Do you think maybe, because of the $90 million you say your ex-manager stole from you, and all the litigation you've endured, that just maybe, you're a little paranoid? Is it really larceny on every level?
A.Yeah, I am paranoid. But just because I'm paranoid doesn't mean they're not after me!
I'm the only one who's shouting fire. And there's been a fire for years and nobody does anything.
Most artists start out with no money and no business acumen. They're happy to have the Cadillac, to be gleaned and roto-tilled.
They have no idea what goes on. My road crew, which has also worked with Bruce Springsteen and Michael and everyone, they always say to me, 'You know Billy you're the only one who knows anything, who asks about money, equipment, personnel, logistics.' The others are content to concentrate on the art, and keep themselves in that high ivory tower.
Managers hate me for this, but whenever I see these young kids out on the road I always ask them, 'Have you looked in your bank account lately? Is your manager really worth 20 percent of everything you make?'
Q. So what's the status of all that litigation now?
A. It's far from wrapped. It's in the hands of attorneys, which is one of the reasons I'm still out on the road.
Some of it has been resolved to my satisfaction. Now he's also claiming that I owe him commissions. He's expecting me to accept being raped and then pay him for it. He's crazy. I will not rest 'til this is done.
I make a nice living and no one should shed any tears for me. I put myself back in the black, but I'm not where I should be at this stage.
Q. What's the most valuable lesson you've learned from all this.
That there is no justice. There are only lawyers. Ultimately you just have to have faith in yourself and faith in the music.
Q. What's it like for you right after a show?
A. Like a shock – a tearing away. The second I'm done, I run from the arena, which is filled with screaming people, to a quiet van and I drive back to my hotel. There is no gradual decompression.
You are just torn from this huge, raging, screaming crowd into this little tiny cubicle. Then you rush to your hotel room and you're just sitting there and it's quite disturbing. You've just been out there like a gladiator and then it's a sterile environment where there's nothing. TV doesn't make the same sound.
I'm isolated. Alone. It's very bizarre.
Sometimes I go to another room, hang out, talk about the show. It takes about an hour for the adrenalin to fade.
Q. You just received four Grammy nominations. Will we see you at the ceremony in N.Y. on March 1?
A. I can't get out of it. When it's in L.A., I can say 'Oh, I stubbed my toe, can't make it.' But I'm a New York booster, so I have to be there.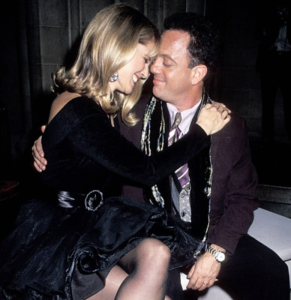 Q. What do you love most about living on Long Island?
A. It reminds me of who I am. We're not from East Hampton. I'm from Hicksville and Levittown. In the old days there were farms and fishing villages. Where I live now in the Hamptons – this is the Long Island I remember.
But in the summer, we're inundated. We become the sixth borough. And the gossip press comes out and reports on us as if we're just visiting, like 'Christie Brinkley and Billy Joel were seen at …' You know, that's ridiculous because we're always there. That's our home.
Q.What do you drive at home?
A. A Land Rover. Not a Range Rover, a Land Rover. I love that car. I also have a `Deux Cheveau.' That's French for `two horses.' Inspector Clouseau had a Deux Cheveau. It's the ugliest little car. It looks like a metal-shop project. It's made out of tin. It reminds me of France.
I had a pickup also, but my wife stole it. I had a motorcycle too, but I gave it to the Harley Cafe (in New York City). So if you wanna see my motorcycle, that's where it is.
Q. What do you eat for breakfast?
A. Orange juice. Some kind of a fruit. And a well-done English muffin. I'm off butter and margarine. I try to eat 'em dry. Sometimes I use a little fruit spread or something. I'm even cutting back on the grain thing.
Q. So, whaddya weigh?
A.I'm close to 170. For my height that's too much. My father's a little fat guy, so I know this is always something I'll have to deal with. I gave up smoking five years ago, and little by little from not smoking, you know what happens.
On a show day I eat only one meal, a brunch and that's it.
Q. Would you like more kids?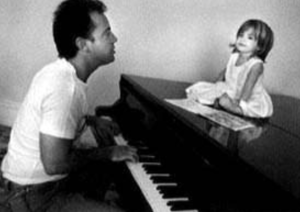 A. I gotta be around. I love my daughter. She's the light of my life – the greatest thing I ever did.
When I was little my parents split. My father wasn't there. From then on, I always said, 'I'm gonna be a presence.' I still feel bad that I'm Willy Loman. I'm not home enough, so for the time being, no. Not until I finish this tour. This is how I make a living. I had 10 years (of income) stripped away from me. I still have to make up for that, and this is the last time I'm gonna do this.
That's not to say I'm never gonna tour again. Just not every state in the union.
Q. What drives you?
A. I love the stuff. I love the game. I look at it like a sport. I love rock 'n' roll. I've always loved music. I was always enchanted by it. And I love the game too much not to play it well.
My child is musical. She sings every second of the day. We call her boom-box. She makes up great songs. She's got it. She's really got it. It's either a blessing or a curse.
Q. Your stage show has been exactly the same – same set, same feel – for 18 years. Ever get a hankering to mix things up?
A. We've been doing arenas since the '70s and we're good at it. We've even gotten it so the shape of our stage maximizes the seating for a good show. There's no reason to change.
You know I don't like stadiums. Unless I was packaged with another artist – packaged for good value for a ticket – I'm not into stadiums. You have to put so much money into production and balloons, it's like a Roman orgy. I don't think people who come to see me want to see that.
Q. What's your favorite song?
A. 'Here's That Rainy Day.' I don't even know who wrote it. I don't even know all the words to it. Here's that rainy day, da da da … (he's singing now).Wait a minute. I take that back. My favorite song is 'The Man I Love' by George Gershwin.
Q. Is there any song – yours or anyone's – that you absolutely hate. I mean really can't stand?
A. Well, 'Feelings' would definitely have to be among the top ten worst. Also, 'The Worst That Could Happen' by The Brooklyn Bridge. Girl … (he's singing again, this time like a hotel lounge lizard) … I heard you're getting married …
No wait. The theme song to 'Three's Company.' That's the worst. (Singing again): Come and knock on our door … Ugh! That's probably the worst song ever written. Ever.
Q. Where do you see yourself in 10 years?
A. Italy.
Q.Thirty years?
Italy. I love Italy. They know the secret of life. Good food, good wine. Art. Love. Sex. Great architecture.
And they take the middle of the day for themselves. They shut the door. They take a nice long lunch; they take a little snooze. They reopen the store at 4 or 5 o'clock. They understand what human beings really need.