Editor's note – Jan. 1, 2016:
This interview with Debbie Harry has always been one of my favorites. She was kind and candid – and particularly generous with her time given that she had a concert just a few hours later.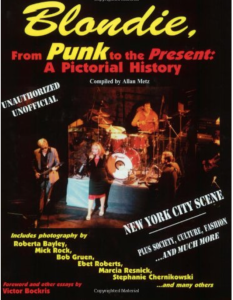 This one started out as a twofer – I was reporting for The Fox News Channel while writing a print piece as well – but it eventually became a three-fer, when my story landed in the 2002 book, Blondie From Punk To Present (left), compiled by Alan Metz, with forward by Chris Stein.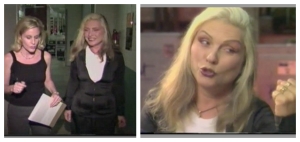 The photos at right are screen-grabs from my Fox News interview with Debbie, during which I asked her  "had getting older made her wiser?"
That was the only time she threatened to punch me out.
________________________________________________________________________________________________________________________________________
KNIGHT-RIDDER/TRIBUNE News Service | Nov 28, 1999
BLONDIE FROM PUNK TO PRESENT | MUSICAL LEGACY PUBLICATIONS, 2002
By DEBORAH WILKER
MIAMI BEACH, Fla. — There is no entourage when Deborah Harry enters a room. She is fresh off the bus after an 11-hour travel day that began three time zones and two plane rides away. She has come in through the loading dock of the Jackie Gleason Theater in Miami Beach, sneaking through an unlocked door, carrying her own bag, a water bottle and a stack of papers.
The other members of Blondie, who reunited last year after 17 years apart, trickle in just as unobtrusively, followed by a road manager and a handful of technicians. There are no handlers, hairdressers or publicists by her side, no one in her orbit at all.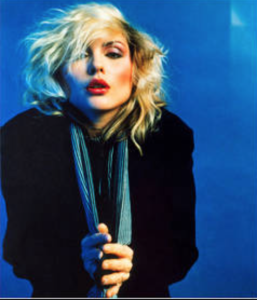 It's a world away from the days 20 years ago when Harry defined New York's fanciful New Wave scene; when she was muse to Warhol and seductress of all Manhattan; when the fortunes of the city's nightclubs rose and fell on a mere appearance by her.
Though she is once again the undisputed centerpiece of Blondie, Harry is less a celebrity and more a workaday musician than she has ever been — performing concerts, introducing her new music to radio programmers, taking her vitamins and trying to get as much rest as her schedule allows. A current tour has taken her all over the world this year, including a recent stop on South Beach this week, and where she will perform again on New Year's Eve. Among her many charms is her elegant, almost serene manner offstage — a complete turnabout from the nightly hell-raising she orchestrates in concert. In person she projects instant warmth, much as she does when she's acting in films and on television.
Her long-running side-career as a character actress has included memorable TV guest shots and, more notably, dozens of movies, spanning the art-house landscape from Woody Allen's New York Stories to the helmet-haired mother in John Waters' Hairspray.
Just before sound check, she settles in backstage to talk about this busy past year, a time of critical success, personal reflection and solid commercial returns. She makes it clear right off that Blondie did not reunite for the fame and fortune, but doing well sure is fun.
In fact, there were more reasons to stay apart than to get back together, but eventually her former partner and bandmate Chris Stein wore her down.
"I thought it was a stupid idea, that he was mad, completely off his rocker; that he had just … slipped a few gears," she says, circling an index finger in search of some imaginary brainwaves. "But little by little, he just sort of convinced me."
Chief among her worries was that a reconstituted Blondie could turn out to be a lazy cash-grab, a walk down the greatest-hits aisle with nothing new to offer.
"You know, I think it's fine to sort of go out there and bang that old gong. I don't think it would be fair not to play that stuff," she says of classic Blondie hits such as Call Me, Dreaming, Heart of Glass and The Tide Is High.
"It's fun and it is very rewarding to have the fans loving it. But to make it real, it has to be current."
So with the promise that they would indeed create something new, Harry acquiesced, going back to Blondie with Stein, keyboardist Jimmy Destri and drummer Clem Burke. The band's early guitarist, Frank Infante, and bassist Nigel Harrison were not asked to return, and Harry won't discuss the uninvited players.
She emphasizes that there was never any dispute with Stein, once her romantic partner and still her closest friend. The story of how she sidelined her own career for years during the 1980s to nurse him through a rare, debilitating disorder called pemphigus is well known to her fans.
Yet by 1987, with Stein's health restored, the romance foundered. Still, the two remained close, collaborating on her solo albums and various side projects, and rarely going a day without speaking.
They have always worked in something of a secret shorthand, a vibe that frames their current stage shows as well.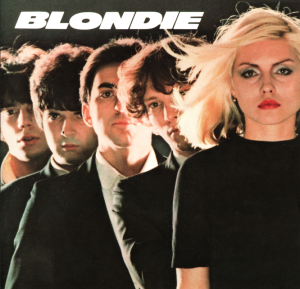 "Chris and I both always had that urge to be groundbreakers. We both came from conceptual places … to want to do things that are startling."
There are now two albums to show for Blondie's rebirth: the well-received 1999 studio set "No Exit," and "Blondie Live" (in stores last week), a chronicle of this year on the road.
The live set inevitably includes lots of familiar hits, and for that Harry does not apologize.
"We are proud of what we've done. They're really good songs. In some cases we've reworked them and rearranged them and brought them into a different time period."
She knows it's a different time in her own life as well. At 54, she doesn't kid herself about the Top 40 or Hollywood and what it means when time marches on in show biz.
When she stopped making music temporarily in the 1980s, her acting career soared, placing her among the most sought-after faces in independent films. But the calls don't come as frequently these days. "It's running away from me, but I'm after it," she says with a laugh. "I'm always pursuing it."
Nor is it quite as easy to get a song on pop radio. Despite its effervescent hook, making a hit out of "Maria," the first single from "No Exit," took a lot of work in a market dominated by teens. And though she agrees there is always room for a handful of veteran voices on the air (comebacks by fifty-somethings Santana and Cher come to mind), she says her band has another problem in that it's tough to classify.
"We created our own dilemma," she says of Blondie's penchant for dabbling in everything from rap to disco, reggae to rock, punk to pop. "In an age of specialization, we were always taking things and mushing them together."
Still, it's been a rewarding year, with plans under way for another studio album. Gone, she says, are the jealous battles and rampant mismanagement that tore the band apart at its height during the early 1980s.
"You know, the guys were teenagers, some of them, when we started. We had a difficult situation. I was the lead singer, I was the pretty girl, I had the blond hair and I got all the focus."
The attention left her guilt-ridden, on edge and full of anxiety.
"Now we all sort of know who we are and who each other is. It's more relaxing. More fun. Our ambitions are in a better place. There's no insecurity about having a position in the band.
"I can understand the tragedy of Kurt Cobain," she says of the rock superstar who committed suicide in 1994. "I know it personally. I look back and think `My God.' I really admire kids today that have such massive success and can hold on. I am completely in awe of Madonna. She's able to take that success and live with it and remain sane. I say that with a smile, you know."
These days Harry has no struggle with her own sanity, enjoying side gigs as a sometime jazz singer and a contentment that eluded her years ago.
"I'm proud of it now. I'm very proud to be Blondie. And you know, I know that I am Blondie."