TRIBUNE PUBLISHING | May 2013
By DEBORAH WILKER
On Scandal — ABC's off-the-wall political thriller — even the heroes do ugly things. They cheat on their wives, scrub murder scenes, rig the voting booth. But unlike the other hits from writer/producer Shonda Rhimes (Grey's Anatomy, Private Practice), Scandal makes little attempt at redemption.
With its wayward White House and viewer-discretion warnings, it's become the rare network drama to cultivate a growing audience. On Thursday evenings when new episodes air, Scandal generates so much social chatter among real-time viewers it tends to dominate Twitter's entire top trends list.
"Audiences have a much bigger appetite for darker behavior," says Tony Goldwyn, who stars as the lovesick president, Fitzgerald Grant. "They expect it now. They don't want things sanitized."
That Goldwyn, about to turn 53, became the leading man in all this was a bit of a surprise to him. Not because he's not dashing and presidential. But the former villain from Ghost 23 years ago, had been devoting much of his recent time to the family business — producing and directing for the movies and television.
He's been behind the camera on Justified, Damages, The L Word, Without A Trace, the Law & Order franchise and Dexter, produced by his older brother John Goldwyn for Showtime. He directed Diane Lane in A Walk On the Moon and Hilary Swank in Conviction.
From making the rounds of important film festivals, to suddenly-shirtless in primetime wasn't exactly in his plans. It was while he was directing an early episode of Grey's in 2005 that Scandal mastermind Rhimes saw something in him.
"Shonda has this ability to see the potential in an actor that's never been shown before. She seems to understand me as an actor better than I do."
Yet when we caught up with Goldwyn last month he was actually back behind the camera, shepherding one of Scandal's high-stakes sweeps episodes airing this month. Making time for a few questions, he tells us what the broadcast networks must do to keep pace with cable and streaming, why he thinks Scandal hits a nerve and how he handles those love scenes with Kerry Washington.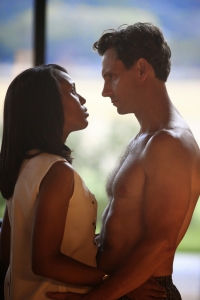 Deborah Wilker: What is it about this show? Why are people so fascinated?
Tony Goldwyn: Olivia and Fitz are in the kind of affair that makes everyone really uncomfortable. I don't know that 10 years ago, or even five years ago on network television, you could have gotten away with an affair like this – that I'm the President and I'm married and it's adulterous. We take the sentiment out of things. We're not afraid to be unlikable.
DW: You weren't worried when you learned your character wouldn't just be flawed, but was in fact going to murder a Supreme Court judge?
TG: No I wasn't. It's really a dream for an actor to play a character where you get to swing 180 degrees. I was a little concerned at first because I wasn't so interested in him only as a philanderer. Ultimately I knew it would be messy and complicated and very interesting.
DW: But can the show continue to make serious statements about race and politics and social justice when the behavior is so bad?
TG: I think so. Scandal is unique because it really mushes genres. Competition
[from cable] has been very good for the creative community because it pressures the broadcast networks to be more adventurous. The sex in the closet for example – it wasn't very graphic, but I agree it was pretty out there.
DW: This stuff could not be comfortable to shoot.
TG: It's just one of those weird things you have to do for your job. The key to it, if you're working with another good actor – you can just throw yourself into it and not feel self-conscious. Kerry and I have a lot of mutual trust. I think it's harder for Kerry – harder for women. They do feel more exposed.
DW: How do you feel when you see it? Do you actually watch the show? Does your wife?
TG: I do watch. I think it's really fun. Our cast gets together, we watch together.
My wife doesn't watch as much. But she's used to this. Our daughters are grown – they watch. But whenever there's anything sexy my younger one will take a screen-shot and then send me a text that says 'grrrrooooosssss.'
DW: Funny – but seriously, what if advertisers agree with her – that maybe it's all just a little too much?
TG: [Laughing] – I don't know because I don't speak to them but I'd guess maybe some are nervous. But they also want the eyeballs. So they're publicly ambivalent and trying to figure out where it's all going.
DW: Where is it all going?
TG: It's such a dynamic time in television and all of entertainment right now. The idea of just turning on the TV and seeing what's on is great. But I think where it's going, and I can only speak for myself – is the consumer having complete control over what they watch and when.
DW: It's interesting how the show started solidly when it premiered last spring, but really took off a few months ago as more people talked about it online.
TG: The exponential power of Twitter is mind blowing. I didn't understand it at first – that's part of being over 50 I guess – and the idea in general, I just had a knee-jerk reaction against it.
But ABC asked us to get on – we started live tweeting with fans during the show [yes, it's really him] – and it really opened my eyes, the power of it, the opportunity to communicate directly with people.
One of the things I like most about the success of this show is that it just caught on like a brushfire. And as the show kept getting better, new fans kept discovering it, largely due to each other on Twitter – as opposed to a publicity machine grinding out press releases and spending millions to promote something.
And then the more intellectual press got on board – The New Yorker, The Nation, Rolling Stone – people who would have ordinarily been snooty about a Shonda Rhimes show – the guilty pleasure soap opera aspect of it.
DW: You directed Scandal's May 2nd episode. How do you do everything you're supposed to do as an actor while watching over it all?
TG: I directed myself in Dexter and The L Word. It wasn't as difficult as I thought it would be, because as the actor you already know in what direction the scene needs to go and how you're going to stage it.
DW: You must feel a little like you're back in time right now. I know you've worked steadily the last 25 years, but women swarming you on the street and at airports again, this has to be a re-adjustment for you and your family.
TG: The only other time I have ever experienced anything on this scale was when I was in Ghost. I was completely anonymous before that. The idea of being recognized was shocking to me. That was a big adjustment.
Now I find myself just very appreciative of it. I can feel the energy – everywhere I go, people want to talk about Scandal. We've been chased down streets! I'm glad that I'm where I am now in my life, because at this age I can appreciate it and also recognize, it's a moment. Hopefully it lasts for a while.