THE HOLLYWOOD REPORTER/REUTERS: Lifestyle-Music | Sat May 19, 2007 9:00pm PDT
A second summer for Roger Waters' dazzling Dark Side
By DEBORAH WILKER
WEST PALM BEACH, Fla. — Roger Waters, the premier conceptualist, composer and a co-founder of Pink Floyd, is back on the road stateside with his "Dark Side of the Moon" tour, a transcendent evening that's been a commercial and critical smash worldwide for the past year and continues to shine above all else the concert industry has to offer at the moment.
Friday's all-ages, sold-out show at the 20,000-capacity Sound Advice Amphitheatre was the first of a new round of dates in North America — the kickoff of a summer run that plays through mid-July.
While the hits alone certainly would be more than enough to sustain any evening, Waters — still a wiry and handsome bassist at 63 — prefers (as always) to be the architect of something far more imaginative than the standard nostalgia run-through.
Incisive anti-war commentary and thematic ties to his long career set the mood as iconic imagery sails blithely overhead (pigs and prisms fly, of course), bubbles and confetti rain down, a massive human hand creeps in to turn an old FM dial and an astronaut tumbles in slow-motion from his mothership. Designer Mark Fisher's startling three-dimensional images — worthy of a George Lucas extravaganza, or at least a high school hallucination — merge so seamlessly with the eye-popping pyrotechnics and pristine musicianship that it's almost impossible to tell where the enormous cinematic wall leaves off and the real-life action begins.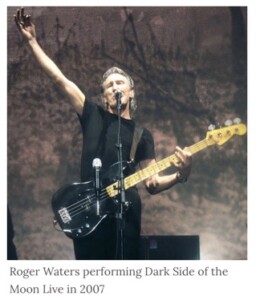 Considering the scope of what Waters and his ultra-tight 10-piece band have put together in the past year, it hardly seems to matter anymore if he and Floyd guitarist David Gilmour ever mend their fences to form a full-fledged reunion. Waters' Dark Side tour is Pink Floyd — maybe even better; it's just that satisfying.
Structured in two exquisitely paced acts, the show's first half is once again devoted to dreamy Floyd classics such as "Have a Cigar," "Wish You Were Here," "Shine on You Crazy Diamond" and provocative solo work such as 2004's "Leaving Beirut."
Act II is pure fan heaven: a dazzling track-for-track retelling of "Dark Side of the Moon," the ethereal Billboard chartbuster that gave us the searing "Money" and operatic classics such as "The Great Gig in the Sky," "Brain Damage," "Us and Them" and "Speak to Me/Breathe" — all as lyrically relevant today as in 1973.
And as if that weren't enough, there were bonus songs too, among them "Another Brick in the Wall, Part II" and the perfect set-closer, "Comfortably Numb."
This was clearly a very expensive show to produce, to say nothing of the value of the epic catalog. Yet at roughly $145 for the best seats, an average of $80 in the middle and with thousands of lawn seats at $30 or so, this is irrefutably the industry's best bargain at the moment — particularly because it can be savored from even the farthest seat back. While the imminent reunions of the Police and Genesis may have the mainstream media heat, it's Waters' Dark Side that will once again be the tour of summer.