The speed and enthusiasm with which fans now trade, e-mail, upload and consume all kinds of comedy — everything from short films to isolated sketch bits, classic TV moments and entire stand-up routines — has become a "huge driver of business," say industry executives who gathered here for the second annual South Beach Comedy Festival, which wrapped Saturday night.
The fest, a 26-show joke-off conceived by WMA and co-presented by Comedy Central, drew more than 25,000 tourists and locals who spent five days gamely shoehorning themselves into the city's small theaters, jammed streets and tiny Art Deco clubs and hotels.
Powered by headliners Jon Stewart and Bill Maher, the fest also featured a range of cult favorites, old-school staples and rising hot shots, among them Lisa Lampanelli, Robert Schimmel, Artie Lange, Andrew Dice Clay, Roseanne, Jim Breuer, Margaret Cho and Hal Sparks.
With its organic buzz and fast sellouts, the event was a boon for festival promoter Jon Stoll, founder of Fantasma Prods., who said comedy is lately a much bigger part of his live-entertainment business than it used to be.
"Technology is definitely propelling both the industry as a whole and rising talent," Stoll said.
The primary reason is simple: Comedy isn't pretty. Even the most pedestrian video-sharing sites like YouTube can be the perfect platform for isolated bits.
"It just works very well on different types of screens," said Mitchel Fried, senior vp promotion and marketing at Comedy Central. "Whether you see Artie Lange on a 20-foot screen or your phone or your iPod, it doesn't matter, he's funny. And stand-up in particular, it's just one body there. You don't need a landscape."
"We go out there with a microphone and whatever shirt is clean," said Lange, a founding member of the Fox sketch show "MADtv" and since 2001 a co-host of Howard Stern's show, now heard on Sirius Satellite Radio.
"What we do is so low-tech," Lange says of his stand-up shows. "I'm not Diana Ross — we can just get this stuff out in the stratosphere so quickly. It's a mind-boggling time. And with the right phone anyone can have the whole Museum of Broadcasting in their hands," he said of fans' newly acquired instant access to all manner of archival clips.
Once consigned to the fringe, the hard-partying, pancake-gulping comic now has a recurring role on HBO's "Entourage" and a brisk online DVD business. He even headlined a recent sold-out gig at Carnegie Hall.
But the true measure of success? One of Lange's old "MADtv" catchphrases — "Don't make me break my foot off in yo' ass" — is now a popular bootleg ringtone.
"If 20 years ago every teenager in the world could have had Sam Kinison on their cell phones, he would have been through the stratosphere," Lange said.
With entire episodes of some shows and stand-up acts freely traded among fans (and most copyright-holders either looking the other way or hammering out new partnerships), comedians are enjoying unprecedented promotion. And because much of it is viral, it carries the added prestige of peer endorsement, those in the industry say.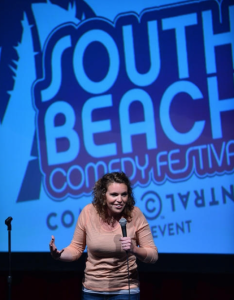 "There's an enormous amount of talent out there, and all you have to do is really just let it loose in this new environment," said Tony Fox, executive vp corporate communications at Comedy Central.
With its street-fair setting, small theaters in close proximity, free-admission outdoor stage and free television show tapings, the South Beach fest clearly was geared toward the consumers who are propelling all this.
"Last year people came from 34 states, "said Raul Mateu, Miami Beach-based executive vp at WMA. "And we pride ourselves in that for some of this stuff, you didn't have to spend a single dime, other than parking."
Judging by the buzz among festivalgoers, fans do indeed feel a greater sense of kinship with their favorite comedians — the kind of loyalty that comes from discovering material organically.
"I love that connection," Lange said. "It's like I got friends everywhere I go."