CITY & SHORE | January 2013
By DEBORAH WILKER
When lifelong dancer and choreographer Robert Battle decided to start his own dance company years ago, he heard all the familiar warnings about financial suicide.
"They all said 'why would you want to do that?' But look what it led to!"
While "Battleworks" didn't quite go the distance, Battle's choreography and vision did. Selected in 2011 to be artistic director of The Alvin Ailey American Dance Theater, Battle is just the third person ever to lead the celebrated dance company.
When he was handed the reins to the company by director Judith Jamison upon her retirement, Battle didn't hesitate to take full charge. "We have a relationship of mutual respect and mentorship."
Today they stay in touch and she does stop by the rehearsal hall periodically, he says. "But when she said 'It's yours' – she definitely left the decision-making to me."
A graduate of Miami's New World School of the Arts, Battle was as a kid, so determined to make it, he converted the front porch of his Liberty City home into a makeshift studio – with security bars doubling for a ballet barre.
"The floor was marble. It totally wasn't to code, but I didn't care," he said during an interview by phone from New York. "When we talk to young people and they say, 'but I can't get to the Ailey' – I say you already have everything you need. Just start where you are."
Battle's devotion resulted in a full scholarship to Juilliard and now a place in history, where as leader of the The Ailey he is charged with stewardship of one of this nation's unique cultural institutions, known for some of the most inventive choreography and athletic dancers in the world.
"I think what audiences see on stage more than anything, is a reflection of possibilities – that anything is possible," Battle said.
"When you see a modern dance company started by this young black man
[Ailey] in 1958, on the brink of the civil rights movement – he had everything against him but with his imagination, he had everything for him."
Though soon after it was founded the company began welcoming dancers of all races, the artistic focus on black heritage and cultural experiences remains at the forefront.
To be selected for the cast today, dancers don't have to be any particular race, but they do have to have "a story," says Battle. "That's what makes it interesting."
"On stage we are celebrating our common humanity," he says. Everyone who comes to see us, no matter what your background – has this spiritual understanding of what's happening – that it has to do with hope.
"In Moscow, when audiences come to see Revelations," (the company's signature piece), "they're clapping to-and-fro and rocking in their seats and they didn't grow up in the Baptist Church or hearing spirituals.
"There is something that art does that breaks down these walls.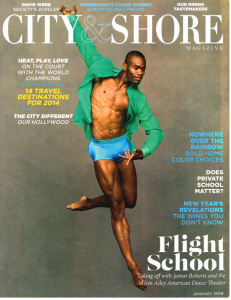 "But I also see it as something universal. I think that's why Mr. Ailey called it the Alvin Ailey American Dance Theatre.  It was sort of what like The Reverend Martin Luther King did in I Have a Dream. He would quote things such as "all men are created equal." Well that wasn't a black thing. He was just expressing 'I am an American too.' Which drew at the consciences of people who wanted to dismiss an entire race."
Among the dancers in the current 30-member company is break-out star Jamar Roberts (pictured on our cover), who, like Battle, is also a New World graduate. Of his bold, athletic style, Dance Magazine said, "He has movie-star good looks and an Olympian physique to match."
Growing up, Roberts turned to local dance studios to escape life in "what you would definitely call a ghetto."
Among the lessons Battle and Roberts continue to share with young people through student outreach programs and special classes they teach while on tour, is that it's up to them to redefine their reality.
"There's a quote I love," says Battle – it is something like "If reality can destroy the dream – why shouldn't the dream destroy reality?"
But what about real-world issues such as paying rent and buying groceries? Isn't it only a tiny fraction of dancers who can turn this art into a living wage?
"I think we have to think differently about what we mean by supporting yourself. Part of supporting yourself is feeding your soul. If within your soul you need to create a dance company – that's a form of supporting yourself. It's good to warn people, but I think people have to then follow hearts."
Battle sees a bit of destiny in that he grew up on 54th Street in Miami, and the Ailey's Manhattan headquarters are at  54th Street and 9th Avenue.
"It does feel like a dream. I have moments like when the announcer says, 'And now the artistic director of the Alvin Ailey American Dance Theater,' and they say my name – I'm kinda like 'Oh YES! – that's me."
On Stage: The Alvin Ailey American Dance Theater – Five performances including the work of choreographers Bill T. Jones, Ronald K. Brown and Wayne McGregor, Feb. 20 – 23, at The Adrienne Arsht Center for the Performing Arts. Tickets are $25 – $120. For more information visit http://www.arshtcenter.org/tickets/calendar/2013-2014-season/masterworks-dance/alvin-ailey/